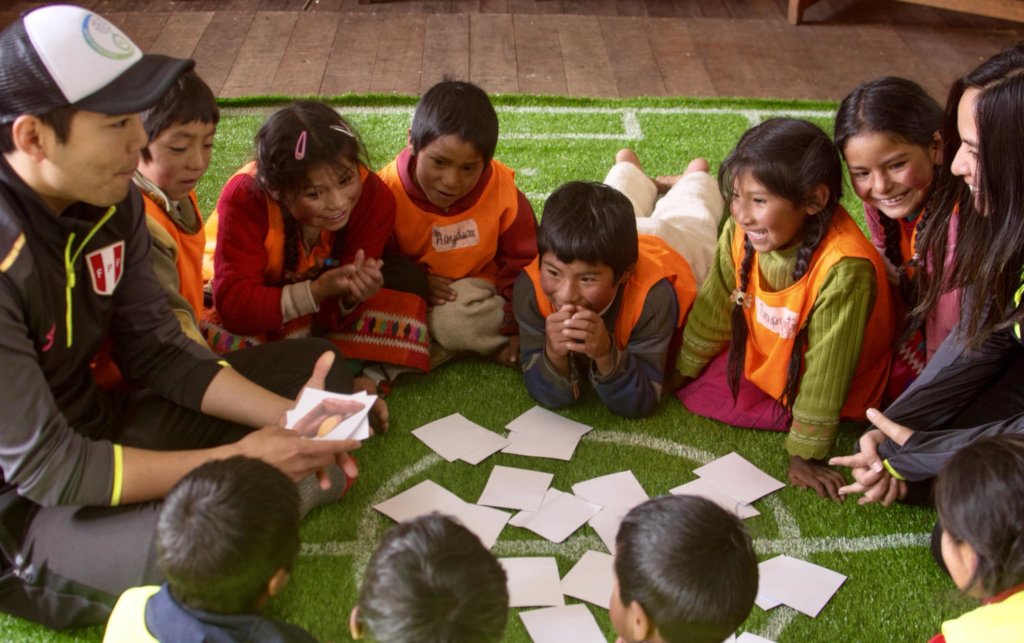 [English]
Good night, everyone!
It's been so long since we sent our last report. We apologize for this!
From August we started working in another city to support 50 families to improve their living conditions by working together to design a sanitation system for them! It's been very interesting and rewarding. The new community is called Playa Blanca and it is located in Piura (northern region of Peru!). In these months, we are traveling 1302 miles from Cusco to Piura and 1302 to go back to accomplish our goals. Nothing makes us happy!
No matter the distance, we have been able to continue with our commitment in Cuncani and that makes us happy and proud. As it was included in this project, besides providing daily nutritious lunches, we wanted to provide education workshops to the children of the school.
We reflected a lot about how to design them. How we could make them interesting, fun and an opportunity to learn about health issues? After a lot of considerations, we thought: what if we implement it within a context in which they learn while they have fun? with a LOT of excitement we decided to design it inside a SOCCER field. How this sound?!
Thanks to the support of one more geneours donor, we were able to:
- Play soccer
- Implement a soccer field inside the classroom
- Provide hygiene education and tools for the children to plant and take care of vegetables within the school greenhouse!
It has been amazing!
We have been able to do 3 workshops and we will do the last one of the year within a coupe of weeks.
Thank you so much for your help! We couldn't have done this without your help! And we hope you can keep supporting our efforts in the future.
Have a lovely night, everyone!
Nexos Comunitarios team.
--------
[Español]
¡Buenas noches a todos y todas!
Ha pasdo mucho tiempo desde nuestro último reporte. ¡Discúlpennos por ello!
Desde agosto hemos empezado a trabajar en otra ciudad para apoyar a una comunidad de 50 familias a mejorar su condiciones de vida a través del diseño e implementación de un sistema de saneamiento. ¡Ha sido una experiencia muy interesante y enriquecedora! La comunidad se llama Playa Blanca y está localizada en Piura (al norte del Perú). En estos meses estamos viajando 2095 km desde Cusco hasta Piura y 2095 de regreso, para cumplir con nuestro trabajo. ¡Nada nos hace más felices!
Sin importar la distancia, hemos podido continuar con nuestro compromiso con la comunidad de Cuncani y eso nos hace muy felices y orgullosos. Como estaba incluido en el proyecto, además de proveer los almuerzos diarios, queríamos brindar talleres de educación a las niñas y niños de la escuela.
Le dimos muchas vueltas a cómo diseñarlos de la mejor manera. ¿Cómo podíamos hacerlos más interesantes, divertidos y una oportunidad para aprender sobre los temas de salud? Después de reflexionar bastante, pensamos, ¿qué tal si lo implementamos dentro de un contexto en el que mientras aprende, se divierten? Con MUCHO entusiasmo, decidimos diseñarlo dentro de un campo de FÚTBOL. ¡¿Cómo les suena?!
Gracias a la donación de un donante generoso, fuimos capaces de:
- Jugar fútbol
- Implementar una cancha de fútbol dentro del salón
- Proveer talleres de higiene y de herramientas para que los niños puedan sembrar y cuidar de sus vegetales en el biohuerto de la escuela.
¡Ha sido genial!
Hasta la fecha, hemos podido realizar 3 talleres y haremos uno más dentro de las próximas semanas.
Muchas gracias a todos y todas ustedes por su colaboración. No podríamos haberlo hecho sin ello. Y espero que puedan seguir apoyándonoso en el futuro.
¡Que tengan una linda noche!
El equipo de Nexos Comunitarios