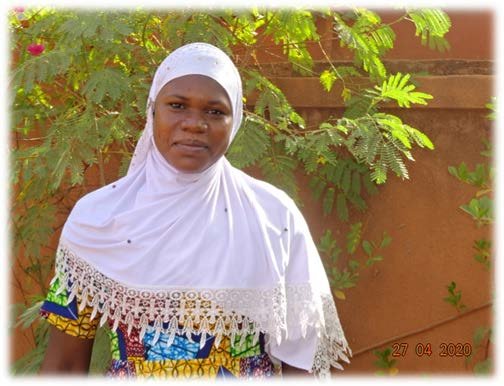 Mark your calendars: on July 15, GlobalGiving will match donations to this project as follows: 15% for donations from $100 -$499; 30% for donations from $500-$749; and 50% for donations from $750-$1,000. This is an excellent opportunity to increase the value of your donation to the postsecondary education of young village women in Burkina Faso. Details of this Bonus Day will be forthcoming in July.
Now, please meet Raketa, one of our outstanding scholarship recipients in 2015-2017. She shares with us her appreciation for her scholarship which enabled her to become a teacher, and her experience as a teacher.
To my very dear partners,
My name is Raketa. I received one of your primary teacher training scholarships from 2015-2017. My first year of training was in the classroom at the National School for Primary Teacher Training. My second year consisted of supervised practical training in a primary school. It was at this point that I began to appreciate the realities of teaching. I am now a teacher at a government primary school in the village of Kingria. I teach second grade, with a class of 99 students: 44 boys and 45 girls.
I thank Friends of Burkina Faso and Association NEEED most sincerely. You are the reason for my happiness.
Concerns about the coronavirus pandemic led to the closing of the education system throughout Burkina (including the National School for Primary School Teacher Training where your donations support postsecondary scholarships for young women from indigent families) in March. In mid-May, the Ministry of Education re-opened professional schools and the university and plans to re-open primary and secondary schools soon, adopting a calendar to enable students to complete the school year in August; and enable the next school year to begin in October. Thus, our scholarship recipients will complete their training as planned and a new population of qualified young women from indigent families will vie for scholarships for the coming year to enable them to receive the training they need to become teachers and contribute to the expansion of the education of village children in Burkina.
A special thank you for your past and continued support for these very deserving and hardworking young women!