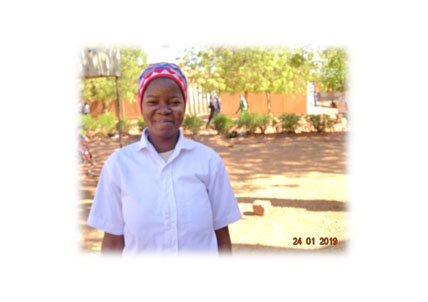 Hello Global Giving friends. This is Zoenabou, from l'Ecole Nationale des Enseignants du Primaires (ENEP) in Ouahigouya, Burkina Faso. Thanks to your generous support, I am in my first year of primary school teacher training. I am extremely grateful for the opportunity to receive this training. Following an unwanted pregnancy four years ago, I was obliged to leave home and to go live with other relatives. Life has not be easy for my child and me. When I heard of the possibility of a teacher training scholarship from Assn NEEED, I had to ask a neighbor for money in order to complete my application.
My commitment to teaching children is strong. The development of my country is only possible through the education of its youth, both boys and girls. To everyone who supports Assn NEEED with these scholarships, I am so thankful to have been given this chance to contribute to the education of the next generation of children in Burkina Faso.
And for myself, Safieta, I am also a first year student at the National Training School for Primary School Teachers. I finished my secondary education with an emphasis in science. My parents are indigent and unable to help me pursue my studies. With the scholarship I received from Assn NEEED, following the completion of two years of training, I will earn a Certificat Elémentaire d'Aptitude Pédagogique (a diploma in primary school teaching). I adore this profession as it will allow me to be in permanent contact with children. As well, it will enable me to support myself and to take care of my family.
On behalf of these young women and all of the eight women who received teacher training scholarships this year thanks to donations you have made to enable them to become teachers, our heartfelt thank you ! It takes a village to give them this opportunity and you are part of that big and wonderful village.