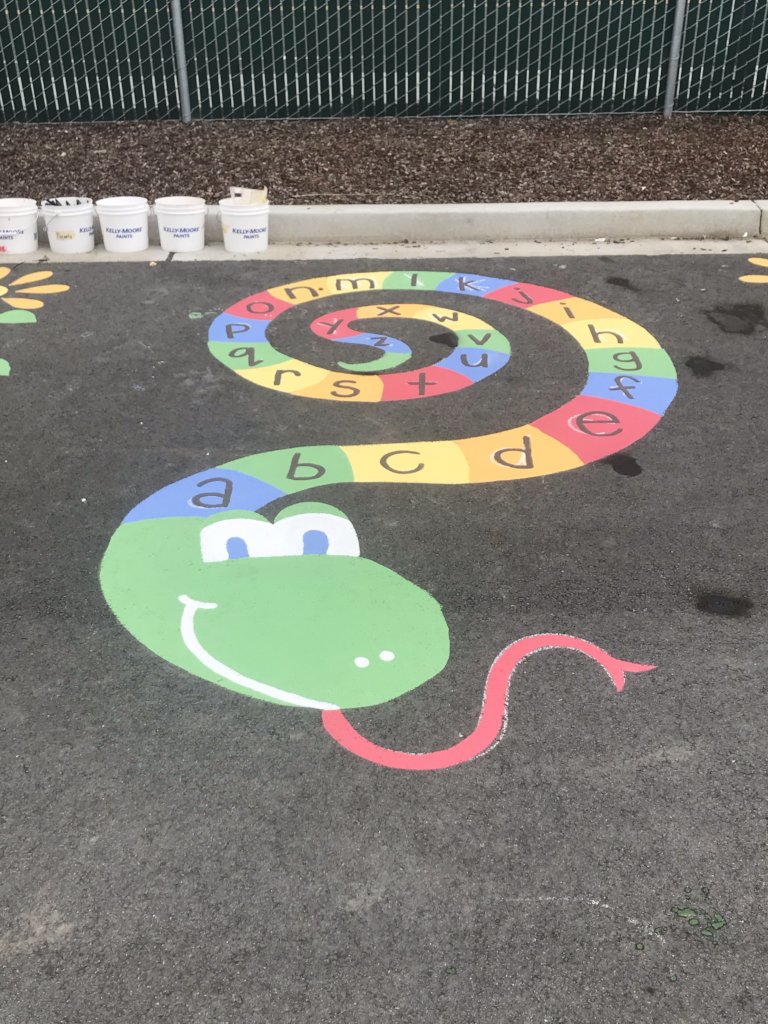 Each Spring, our AmeriCorps coaches hold an event focused on addressing a need in their school community. They work with their principal and other school staff to identify the need, and then thoughtfully plan an event that addresses that need in a fun setting. These events are called Community Engagement Initiatives, and the goal is to have as many students and their families participate as possible. This is no easy feat, especially since most of our schools struggle to engage adults in the community.
Read ahead to hear about 3 of the CEIs our AmeriCorps coaches hosted this year. All of these coaches spent an immense amount of time and energy to plan and prepare their events, and used creative strategies to ensure families in their school communities attended.
Coach Lexsi's Playground Beautification at The Primary School
A new partnership this year, The Primary School is our most unique school for many reasons. Firstly, The Primary School only serves the most needy families in East Palo Alto, and focuses on providing health services to those families in addition to educational services. Secondly, The Primary School opened just 3 years ago, so their oldest students are in first grade. Third, since The Primary School opened 3 years ago, their campus consists of portable buildings situated in the middle of a converted parking lot. Aside from a grassy area with play structures, students play in whatever open spaces of blacktop they can find. Coach Lexsi noticed it was hard for her students to play games like four square, tetherball, and basketball without courts painted on the ground, and the lack of boundary lines confused kids who couldn't tell the difference between the play space and the rest of the campus. As an arts and crafts enthusiast, she decided her CEI would be a school beautification to address these issues.
Since her oldest students are in first grade, Coach Lexsi knew she would need to make modifications so that everyone could participate and feel like they contributed to their school. Coach Lexsi started preparing very early on. First, she created several imaginative designs, such as a circular four square court bordered by colorful shapes, a coiled up snake with the alphabet on its scales, and a free throw lane for the school's small basketball hoop. In order to have a variety of colors, Coach Lexsi organized an in-kind donation of paint and supplies from Sherwin-Williams. Next, she created stencils so students and their families could paint the designs without help. Then, she decided where each design would go and created stations for families to go to with a set of directions in English and Spanish. On the days leading up to the event, Lexsi stayed after school to chalk out all of the designs so families would know where to paint and what it would look like. Finally, on the morning of her event, Lexsi had free breakfast available to participants, which was donated by a cafe she used to work at.
Coach Lexsi's CEI was a huge success. More volunteers and families showed up than she expected, and everyone had a positive experience. Students were excited to paint designs they could interact with at recess, parents were thankful for the opportunity to paint permanent activities for their children to engage with during the day, and teachers were delighted by the new splashes of color, "It actually feels like a playground for kids now." Since Lexsi's CEI took place on the first Saturday of spring break, all of the designs had time to dry before students came back for recess. Even though Lexsi also had time off for spring break, she came back to the school a few times to make touch-ups.
Lexsi certainly achieved her goal of creating, "a more safe, inclusive, and independent play space for the students," and in her reflection she recognized that the beautification "definitely made a positive impact because the painted playground is being used each day and has created more activities for the students and a safe place with permanent boundaries."
Coach Crispin's School Clean-up at Edenvale Elementary
Coach Crispin has the longest commute out of any of our coaches, but he never complains about it. Crispin might live an hour and a half away from his school now, but he used to live in the very same neighborhood as his students, in East San Jose. When he was in elementary school, Crispin walked to school on sidewalks littered with trash, which contributed to the image of an impoverished community with gang activity. Now back in his community, Crispin not only noticed the trash, but he occasionally saw young adults smoking on the playground on the days he left work late. He recognized that the school environment wasn't safe for his students, and that the campus wasn't being respected as a place where children go to learn, so he decided to host a community clean-up for his CEI.
In order to make his event fun and engaging for participants, Crispin partnered with the Boys and Girls Club after school program at his school, which was planning on hosting an egg hunt for Easter on the same day Crispin scheduled his CEI. In addition, Crispin made sure to have game stations available for kids after they picked up trash, which was also a great way to showcase his Junior Coaches and their game facilitation skills. Crispin solicited in-kind donations from local stores so he could provide snacks and funds for the event, and he received litter pick-up materials from the City of San Jose to ensure everyone's safety.
The day of his event happened to coincide with Earth Day, which resulted in a larger turnout than expected. Crispin had 15 high school volunteers, several families, and six teachers participate, which surprised him, since it's usually hard to get school staff to come to extracurricular events. He sent everyone out in groups to pick up trash from the neighborhood, and they ended up filling up more than 5 bags, which exceeded their goal. In Crispin's reflection, he wrote, "Students said they really liked it and were competing to see who picked up the most trash. I had a few teachers that also participated and were pleased to see the students and families take action to clean up the school." After the clean-up, participants could play games with the Junior Coaches or socialize over snacks, and the event was concluded by an egg hunt, which was very popular. Overall, Crispin achieved his goal of bringing the community together to create a safer environment for students, and he even managed to bring awareness to the ways we treat our environment.
Coach Melissa's Game Day at Mckinley Elementary
Coach Melissa is a bit of a celebrity in her school community. Not only is she a Playworks AmeriCorps Coach at McKinley Elementary, but she's the girls basketball coach for Andrew P. Hill High School, which went undefeated and won the championship this fall. Melissa continued to coach girls basketball for our Playworks developmental league in the winter, and the sport became so popular among McKinley students that the boys at her school requested a boys basketball league for the Spring, which the other San Jose Playworks schools also opted for instead of the traditional dodgeball league. Clearly, basketball is a beloved sport in South San Jose schools, so throughout the year Melissa has used basketball and other sports to encourage respect, inclusivity, healthy play, and healthy community on her campus. By maintaining high standards for her students and by being consistent with expectations and her role as a caring adult on campus, she's helped her school staff reduce behavioral problems on and off the playground.
Coach Melissa knows that positive habits and behaviors also need to be reinforced at home, so she decided her CEI would be an event for the whole community to participate in. It made the most sense to engage the community in sports play, but she also wanted to her event to be inclusive for people who felt more comfortable participating in other kinds of activities. Melissa's solution was to create arts and crafts stations alongside the sports stations, and she even coordinated a face painting station for extra fun. Each station was organized by color, and each person received a card that could get stamped off after they participated in each activity. Students who completed every station got prizes, including high value ones, such as San Jose Giants tickets, which Melissa in-kinded in advance.
On the day of her event, a record 85 students students showed up, and the amount of family members were "too many to count." This was a result of her early promotion, which involved visuals posted around the school and announcements at the end of every recess. 18 volunteers came to help, and many of them were students from the local high schools. During the basketball tournament, non-players participated in the game and arts and crafts stations, and expressed that they were happy there was something for everyone to do. This CEI was clearly a community oriented event, and Coach Melissa succeeded in bringing everyone together to engage in healthy play. Since she was so positive, organized, and prepared for her CEI, no one would have been able to guess that Coach Melissa struggled with scheduling, school support, and food donations. In fact, she even had participants ask her when her next event would be.
The dedication and commitment Coach Lexsi, Crispin, and Melissa have to serving students and families in their school communities not only enrich our Playworks programming, but foster an environment of respect, inclusion, and healthy play on the playground, in the classroom, and at home. Community Engagement Initiatives teach school staff, students, and families to value schools as places where students can learn, play, and feel safe and supported, especially when many neighborhoods and living situations are dangerous or stressful. With your support, we're able to provide our Coaches with the resources they need to be caring and consistent adults on and off the playground.