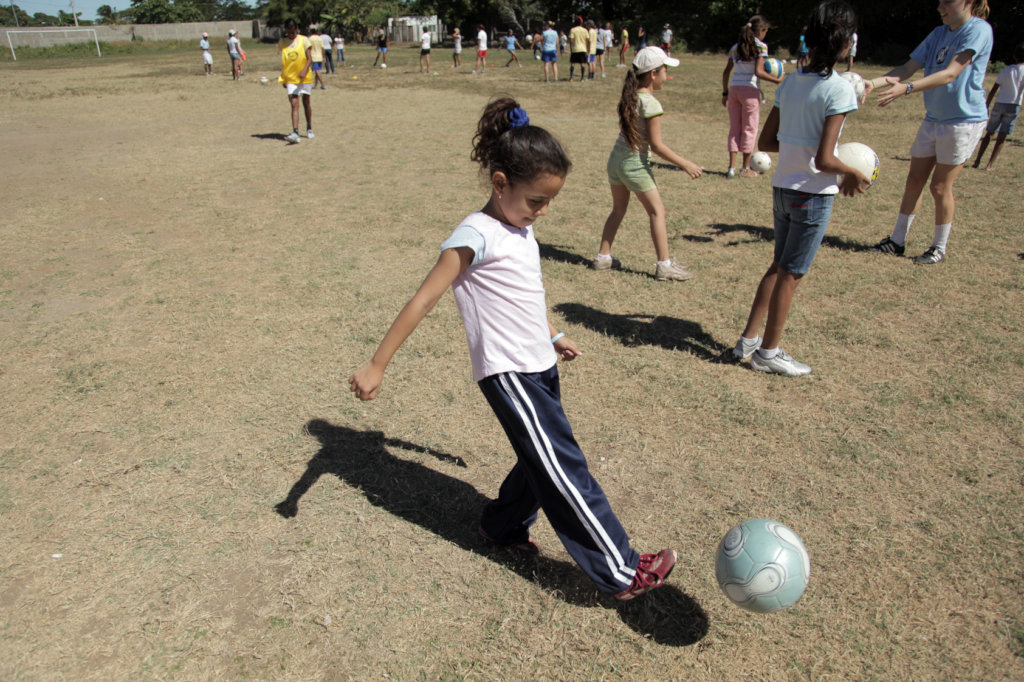 Natalia lives across the street from our Soccer Without Borders youth center in Granada. She is about to finish her 8th year with the program and, more importantly, this week is her high school graduation. Natalia and her teammates are re-writing the story for girls in Nicaragua: they are playing soccer, they are finishing high school, and they are going to college. Just 48% of students in Nicaragua even make it to secondary school. Graduating, especially as a girl with many responsibilities at home, is not a given.
Through their hard work and the support of their coaches, teammates, and our secondary school scholarship program, Soccer Without Borders maintained a 97% academic advancement rate from 2016 to 2017. It is Natalia and her classmates, our graduating class, who set the tone for all of the younger girls- showing them that the norm is not to drop out, but to thrive and set your sights on college.
We are thrilled to announce that we have been able to triple the size of our University Scholarship program for 2018, as we had more girls qualify for it than ever before. Natalia is among the three graduates selected, with nearly perfect attendance at practices, games, tutoring, leadership workshops, and team-activities, and recommendations from their coaches. She will head to the University of Managua in February.
In our sector, we rely on a combination of individual gifts, grants, and other revenues to make our program activities sustainable for our 150 year-round participants, and 700 additional girls we serve throughout the city. We are proud to have created camps, an ambassador program, and team trips to generate revenue that supports nearly 60% of our annual program budget. Our Education program, supported by two generous family foundations, represents another 30%. For the remaining 10% each year, we need you.
"FSF en un lugar donde puedo jugar y divertirme, aprendemos mucho de valores y nos sentimos felices de ser quien somos....Soccer Without Borders is a place where I can play and have fun, we learn a lot of values and we are happy to be who we are"- Ashly, age 11
Without the support of individuals like you, we would not be able to provide the only girls-specific after-school program in the entire city of Granada. Our youth center is open to the girls 47 weeks per year, 6 days/week with access to mentoring, tutoring, computers, internet, printing, homework help, workshops, a library, an equipment exchange, and- best of all- their teammates and coaches.
TODAY FOR GIVING TUESDAY, GLOBALGIVING IS MATCHING DONATIONS! The match is proportionate, so the more donations we get the more of the match we unlock. Thank you for considering another gift to Soccer Without Borders Nicaragua!