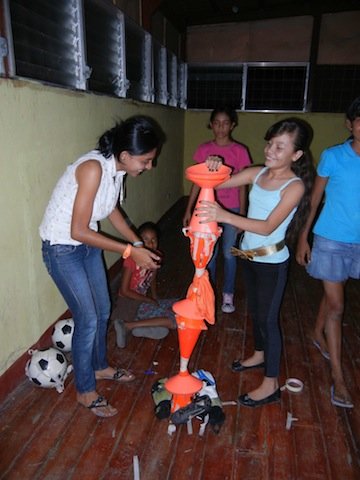 To the dedicated supporters of SWB in Nicaragua,
Since our last update on International Women's Day, the girls of SWB Granada have been enjoying the various activities and events that make up an SWB "season." From team-building activities, to a two part workshop on Entrepreneurship, to a meet and greet with a Nicaraguan National Team player, to iSoccer skills, to as many friendly matches as we could schedule, it has been a very busy few months!
As the season draws to a close, we will welcome back to the US our dedicated Team Leaders, Alex, Alex, and Brittany. In the last 4 years, more than 150 volunteers from North America and Europe have spent time with SWB Granada. Many have joined the SWB Nicaragua family as a part of our camp program, unique weeks throughout the year where our girls can look forward to an influx of female student-athlete role models, new activities, and exciting team challenges. Others, like these three, have relocated to Granada for a year, dedicating themselves to the program alongside their Nicaraguan peers.
During this time, I have watched these individuals give generously of their time and talents, answer many questions about their lives outside of Granada, and form bonds across cultures, yet it is clear to me that this collaboration is incomplete. For most of these volunteers, this was not their first flight, their first time leaving their country. Many rallied the support of friends and family to make their trip possible via online fundraising or events. Most didn't think twice about having a license to board the plane, a passport to go through customs, or a suitcase to travel.
The challenges of turning the tables, bringing representatives from our Nicaraguan staff to the United States for training and a similar cross-cultural camp experience, are many. The average young adult is just as likely to have an ID card as to not have one. A passport? Even less likely. Once these are secured, the visa process to enter the US as a tourist or on a short business trip is arduous, complicated, and prohibitively expensive (more than a month's pay, for most), requiring several online applications in English (access to computer? to a translator?) and an in-person interview. A far cry from the 30 second interaction and $10 entrance fee going the other direction.
If we seek to truly collaborate on this effort to bring opportunities to girls in Granada, and broaden the lens through which they view their place in the world, we need to break down some of the perceived and real barriers to growth. One such barrier is the feeling of limitation, of being isolated and pre-determined to lead the life prescribed by statistics, averages, and stereotypes.
As such, SWB was determined to deliver a Reversal of Roles: to bring members of our Nicaraguan staff to the US for an intensive Leadership Training in July. Each staff member had the chance to apply, and we proudly extended invitations to two of our female coaches, Veronica and Hassell. Veronica is 24 years old and is arguably the most respected female soccer player and coach in Granada. Aside from her rare perseverance in her soccer career (her team has disbanded more than 5 times for lack of players), Veronica is a college graduate and licensed Psychologist. She divides her time between her clinical work and working as a Team Leader with the SWB Estrellas, girls ages 11-15.
Hassell's transition from participant to Team Leader marks a program milestone. Hassell is 20 years old and discovered her love for soccer late in her teen years but dedicated herself immediately. Upon aging out of the program, it was clear that she was meant to stay a part of it, and has been an invaluable member of the Mariposa coaching staff, working as an assistant Team Leader for girls ages 7-11.
Hassell and Veronica began the lengthy process of acquiring passports, filing a 7 page visa application, securing an interview slot, practicing for the interview, memorizing their itinerary and supporting documents from SWB, and heading to the capital for their interview. Both were denied.
The reasons for this are complicated, and overwhelmingly political. To oversimplify it to unfair or frustrating is to ignore a long and complex relationship between nations who have been intertwined for far longer than SWB has existed. On one hand, the denial is a setback, as this training would have be invaluable to Hassell and Veronica's growth as leaders within the program. That we will seek to overcome with continued in-country trainings and leadership opportunities closer to home. On the other hand, it is a reminder that there are very real, structural barriers that our girls face if they seek to change norms. Skills of self-advocacy, mediation, critical thinking, and problem solving will be crucial in that change; it is a challenge to us and our youth-serving counterparts to emphasize and teach these.
Thank you, as always, for your support and commitment to our girls in Granada. As our spring season comes to a close this Saturday, we are anxious for the season that lies ahead. The road isn't always without bumps and turns, but resilience doesn't come any other way!
If you are considering making another contribution to our program, please consider doing so today, a Global Giving Bonus Day! All donations today (June 13th) will be matched by funds from Global Giving.
With much appreciation,
Mary