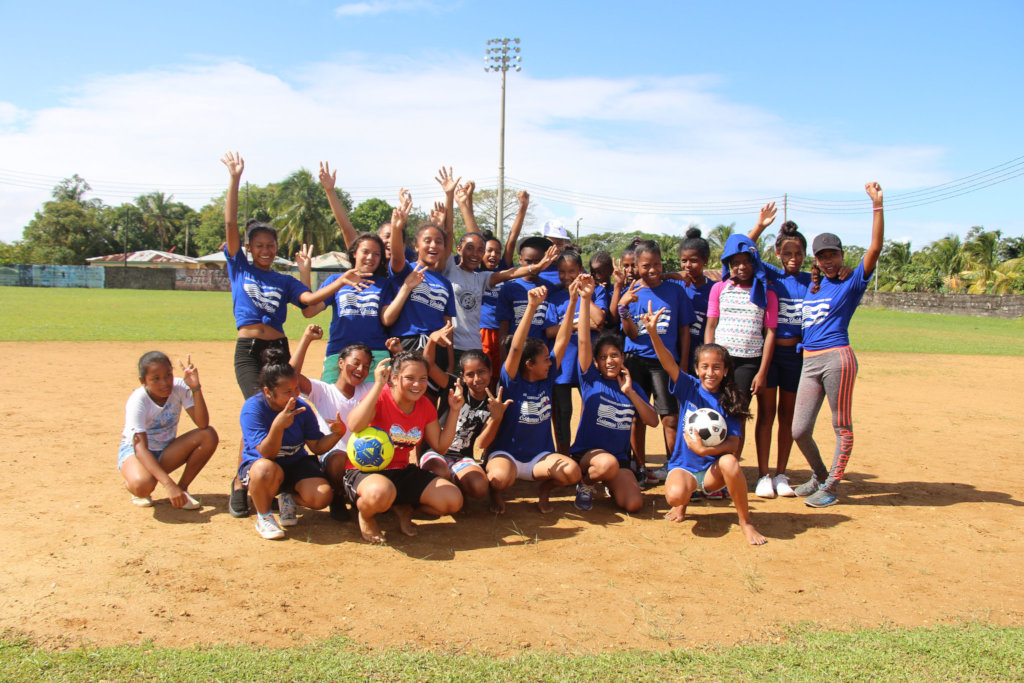 "I had so many moments that made me realize how lucky I was to have grown up playing sports, but more importantly how essential it is to keep sharing sports to all those who feel unreachable. The power sport had to bring 6 different communities together, and empower young girls to be strong and confident leaders was truly inspiring."
- Dani Weatherholt, Women's Sports Corps Fellow with Soccer Without Borders & professional player for Orlando Pride
In partnership with Women Win, Soccer Without Borders is thrilled to announce Women's Sports Corps, a unique fellowship opportunity that adapts and expands our existing Team Leader program to focus on women and girls globally. Made possible by the U.S. Embassy, Women's Sports Corps is kicking off with a series of camps and coaching clinics throughout 2018-19 with an aim of increasing girls participation in soccer, building girls' leadership skills, and identifying and supporting the growth of female coach role models in communities across Nicaragua.
On January 29th, a team of 5 FSF coaches & American fellows collaborated with local partner FADCANIC on the first camp. Together, they led a week of soccer programming and leadership workshops with more than 100 girls from Pearl Lagoon and 5 surrounding communities, most of whom were playing for the very first time. The design was inspired by our annual T.E.A.M. Camp in Granada which, for the last 10 years, has begun the New Year with a week of soccer camp and team-building activities with the girls in our core program.
"We had no idea what to expect for our first camp in Pearl Lagoon. We had gotten the chance to help coach week-long camps in Granada and also participated in many camps growing up in the US, but what would it be like in Pearl Lagoon? How old are the girls? Are they accustomed to playing sports? Do they know how to play soccer? What language will they speak? In the end, camp is about forming relationships with players, local coaches, community members, and partner nonprofits, all while highlighting examples of positive female leadership. This could not have been truer for our time in Pearl Lagoon," reflected Fellow Brittany Williams.
This approach of expanding opportunities through strategic partnerhips marks the beginning of a new strategy to better meet the overwhelming gap and need for girls' sport and leadership programming across the country. Getting to know each context is a new challenge, as each region of the country has its unique culture, identity, logistics, and histories. Local partners are essential.
"Pearl Lagoon was an incredibly welcoming community… Girls participating in the camp came in from six communities: Pearl Lagoon (Laguna de Perlas), Raitipura, Awas, Haulouver, Kukra Hill, and Kahkabila. Some walked in from town. Some traveled an hour by bus. Some rode across by boat. The modes of transportation differed, as did the languages and dialects each community spoke (Spanish, English, Creole English, Miskito...), yet all of the young women arrived with energy, enthusiasm, and a desire to play soccer each day," explained Fellow Katie Petit
As we move further into 2018, we are continuing to lay the foundations for consistent programs beyond Granada through collaborations with organizations like FADCANIC. By providing training, equipment, and female coach role models, we are able to incorporate soccer into their existing community programs, giving girls a unique opportunity to experience the benefit of sports and grow their leadership.
We need your support! Starting TODAY MARCH 1st, we are participating in the Girl Fund Challenge hosted by GlobalGiving. Between March 1-15, each individual person that donates $10 or more to our GlobalGiving project page will count as a vote. The six projects in the Girl Fund Challenge with the most votes between March 1-15 will secure their spot for the year as a Girl Fund project, receiving ongoing funding through the rest of the year!
Please consider casting your vote with a $10 donation to help us continue to build on this progress in Granada and beyond.