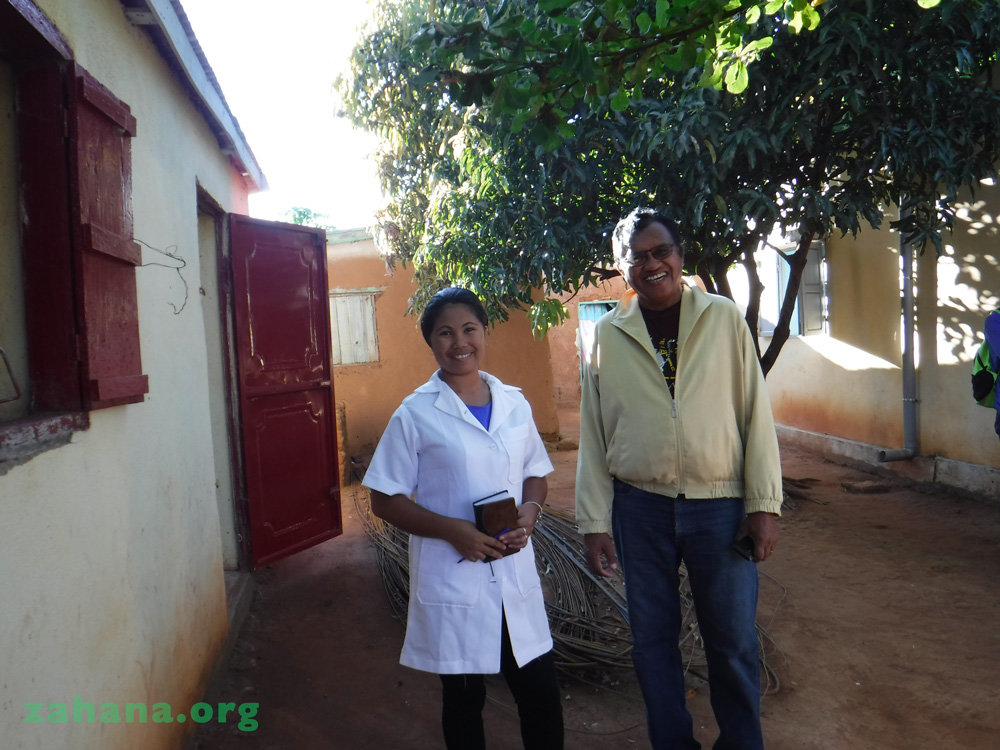 We have a new midwife at our health center in Fiadanana!

As public servants, paid by the Ministry of health, midwives get rotated to different posts every few years. With this one, we are turning an exciting new page in the history of our CARMMA, with a woman as midwife. Recently graduated, she has the most up-to-date knowledge possible. She jumped right in and personally visited all household in ours and the other 4 surrounding villages that are served by our CARMMA. Going door-to-door, she sought our all pregnant women in her CARMMA's service area of 1801 people (number subject to change). She met each woman personally to talk about the advantage of prenatal exams. This is the first time a maternal health worker took the word out-reach literally, personally assessing the scoop of need out there. She is highly respected by the community for her efforts.
She also brought an adorable little daughter and her husband into the community. This is an exciting new development, because her husband is very interested in sports and immediately took over as coach for the football clubs. He is therefore continuing an important tradition, that sports activities and our health center are intertwined. He also has become the pro forma new driver for our health center. Our midwife is tasked with outreach to neighboring villages, to provide health services where there is no Health Center and administer the mandatory child vaccinations outlined in the millennium development goals. To meet this tremendous need in neighboring communities most efficiently, Zahana provided her with a motorbike. Mobility allows her to do within a few hours, what in the past required two or three days of walking. With a personal driver at her disposition, she can attend to medical needs and emergencies immediately after arrival. And with less spend time spent on the road, she can spend more time at the CARMMA, focusing on maternal and child health and providing a safe and sanitary birthing environment.
Dr. Evelyne, MD, one of Zahana's board members and a retired maternal health specialist, has offered to provide her with additional tailor-made training. This is a very generous offer, and we can greatly benefit from Dr. Evelyne's expertise of over 30 years working in this field. In a long public service career, she has been a medical inspector on a provincial level, and is very familiar with the challenges and settings in rural communities on the village level.
Background: Our Health Center is one of the 26 CARMMA in Madagascar, inaugurated in May 2014. CARMMAs, as brick-and-mortar buildings are uniquely Malagasy, because they combine the traditional health center with a strong maternal health focus. In other countries in Africa CARMMA is a theoretical program, only in Madagascar CARMMA are brick and mortar facilities. People from neighboring villages without a health center also seek services there. More about this on our website.
Last but not least. We are proud to report: Since we build the clean water system in2006, until now, in 2019, no child has died in the village. In our CARMMA, infant as well as maternal mortality is zero, which is a fancy way of saying no mother or baby have died during birth. Uncontrolled bleeding is one of the most common and preventable causes of maternal death. In rural Madagascar this is preventable, if you are lucky enough to give birth in a CARMMA with much needed medicines stored in our solar refrigerator.