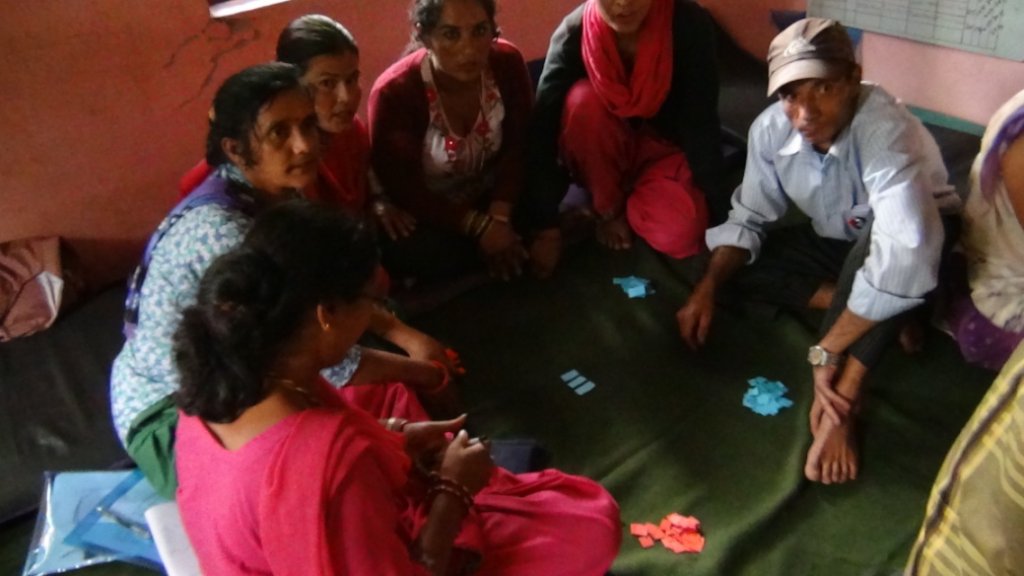 When Miss Goma, a maths teacher in Grade IV, enters the classroom with her pink school kurta and smiling face, students greet her with enthusiasm and awe as they know it's time for an interesting and fun lesson.
"Children what do you know about angles? Can you show me an angle in or around the classroom?" she asks and students eagerly raise their hands.
Miss Goma knows from the Awareness Level Training conducted by PHASE Nepal that it is crucial to build curiosity in the classroom in order to open up the children's minds for learning. As the class goes on, I can see students making acute, obtuse and right angles with their elbows; students gather in groups to discuss and solve a particular question they were asked, before doing sums in their notebooks.
This is an observation made by Bikash, a Master Trainer of PHASE Nepal, who has been conducting training in remote schools in Nepal. Goma teaches at Devi Secondary School, one of the 16 schools in Thumpakhar that benefited from the Teacher Training programmes that were run by PHASE Nepal. Thumpakhar is situated in the Sindhupalchowk district – about 4 hours drive from Kathmandu, Nepal's capital.
The PHASE Nepal Education Team carried out a four day long Subject Specific Training programme for 52 primary level teachers in Thumpakhar, Thulopakhar and Petku after the success of the Best Teaching Practices and Mentorship training in the area. During the training, the teachers were taught and practised several interactive activities for teaching mathematics and English.
After attending the Subject Specific Training on maths by PHASE Nepal, Miss Goma told the trainers: "The Best Teaching Practices training transformed my way of teaching and your follow up training on maths gave me several brilliant ideas of employing best teaching practices in the classroom in more effective ways. I especially like the use of algebra tiles to consolidate the abstract algebraic concept, like negative addition and subtraction. Thank you to PHASE Nepal for making all these good things possible."
Shyam Thapa, the Resource Person of Thumpakhar, who personally took part in all the training and follow-up events by PHASE Nepal on behalf of the District Education Office of Sindhupalchowk, said:"I feel great about working with PHASE Nepal. I have personally attended every session of your trainings – Awareness Level Training, Training of Teachers, and now the Subject Specific Training on Math and Science. As an Resource Person, I have seen classes taught by the teachers and I am amazed by how effectively the teachers are incorporating new ideas in their classroom."