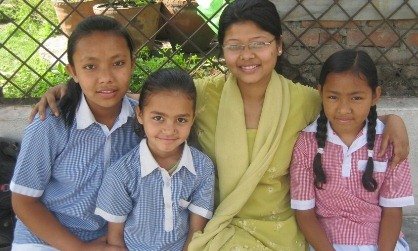 NTTI Empowers Women: Sumi's Story
"When I started my teaching career, I was not a trained teacher. I just joined the teaching profession to make a living, but then I discovered that I was very passionate about teaching and really wanted to make learning fun for my students. Being part of Nepal Teacher Training Innovations (NTTI) has been a great opportunity for me. Being with NTTI has helped me in my professional development by giving me lots of ideas and teaching methods and enabling me to feel more professional and confident as both a teacher and a person. Female students and teachers now tell me that I am a good role model for them because I am strong and independent.
Being part of NTTI has also improved the quality of my life for me and my family because my salary has enabled us to install electricity and running water in our house. Before, we had no electricity and we had to get all our water from the neighborhood well. Sometimes we had to wait in line for a long time and then the water might even run out. Now we even have a computer and I love learning new things from the Internet, like every day expressions in English from You Tube or how to feed my cat Panda her pill.
When I first joined NTTI I was a teacher. Then I became a trainer and now I am the Educational Coordinator for the Project. I never thought I would go so far in my life and that I would feel so proud of myself. NTTI has opened up my world and made me more confident than I ever thought was possible for me."
Sumi the Superstar
Sumati comes from a single parent family. Her father died when she was 13 and ever since then she has been the family's sole breadwinner. Although her mother has only an eighth grade education, Sumi is getting her Masters in Arts from. Tibhuvan University. When we first met Sumi, she was working as a primary-level teacher making less than $56/month.
Sumi participated in the first NTTI training and we were immediately impressed by her ability to apply what she learned to her own teaching. As soon as NTTI received it's first grant, we hired her to be our Assistant Trainer. Within a year she was promoted to Master Trainer and began conducting trainings and providing feedback to teachers, including male teachers, who sometime have more education and/or experience then she does and who are often from "higher " castes.
In May of 2013, Sumi became NTTI's Educational Coordinator and is now responsible for supervising all NTTI programs on ground in Nepal. She is our Superstar!
NTTI Empowers Women
Sumi's experience is one example of how NTTI empowers women. By being active participants in NTTI trainings and working as Mentor Teachers who provide on-going coaching to their peer teachers, NTTI-trained female teachers are challenging prevailing stereotypes of women as being intellectually inferior to men and are proving themselves to be catalysts for positive change in their schools. NTTI has trained more than 500 female teachers from 11 districts across Nepal. 45 of these female teaches are now working as Mentor Teachers coaching their peers, including male teachers, and working with school principals to uplevel the quality of instruction for students.
Supporting this project will enable us to train 100's of additional female teachers who, like Sumi, will serve as powerful role models and sources of hope for the women and girls in their communities. If you make a contribution today, March your donation will be match and NTTI will get twice the amount.
Thanks in advance for your support.