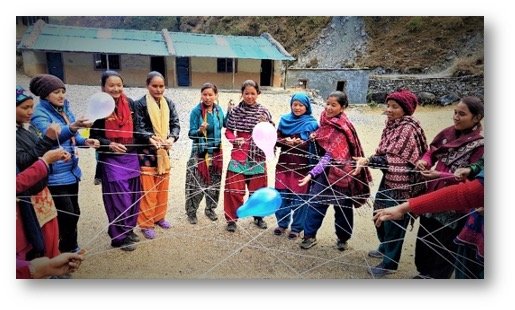 In this report we will cover the major achievment in the Education project this year. Despite challenges, we were able to accomplish a list of activities in the school sector.
PHASE Nepal aims to improve the quality of school education by improving physical facilities as well as enhancing the capacity of teaching faculty as well as the school management. In addition, PHASE's education programme also trains and mobilises adolescent youths as well as school child clubs to build leadership in children, develop extracurricular activities and to promote gender equality.
Since March 2020, the education sector has been completely shut down and we hope that the pandemic situation will change soon. Nevertheless, we summarize the range of such activities funded by different international partners in several project locations in the completed fiscal year.
Girls' Empowerment Programmes
PHASE has been running a series of empowerment programmes intended to address the issues of several geographical regions and cultures. With support from PHASE Worldwide (BLF) and PHASE Austria (City of Vienna) we worked in Gorkha and Bajura districts with the main aim to address cross cutting issues of girls and women in the society and mitigate them with joint mobilization of trained girls and boys for social advocacy and work on gender equality. In addition, the programme motivates and prepares the young girls to complete their schooling and aim for higher education and a career while discouraging the practices like early marriage. The programme is run by the local female facilitators who are trained and mentored by PHASE. The facilitators work closely with adolescent boys and girls of the school and coach them in a peer to peer model in formal and informal sessions. The programme is run in close co-ordination with the school management committee and the local government. A summary of the activities done in this fiscal year is as follows:
The programme was conducted in January and February before the closure of the schools. The remaining school and community level activities will be continued after the situation settles.
During the programme a total of 32 female facilitators were successfully identified and oriented on facilitation skills (20 Bajura and 12 Gorkha). They were able to conduct three batches of empowerment workshop for girls and boys (1 batch in Bajura and 2 in Gorkha). A total of 400 children (127 boys and 273 girls) from Bajura and Gorkha were directly involved in the empowerment workshops. In Gorkha, young part
Teacher's Training and Capacity Development
Through a series of interactive teachers' trainings, PHASE aims to encourage collaborative learning and critical thinking methods within the students. We work to enhance the capacity of the teachers working in the remote locations; this year we organised a short practical series of Teacher Training and refreshers trainings that promote the most practical and easy to use methods in rural and low resource settings. This fiscal year PHASE education team conducted the following 2 different trainings, the Best Teaching Training and the School Mentorship Training to 52 teachers of Gorkha.
Extracurricular Activities on Fridays
Starting from the second week of September, we have been running several extra-curricular activities each Friday in PHASE supported school. We support in facilitating the event and announce the prizes to the winners which is of great interest to the children.
Since the start of the programme, numerous activities such as quiz competition, public speech competition, debate competition, essay competition, math quiz, singing competition, volleyball, and relay race have been organized. With these weekly programmes, children have become confident and are interested to come to school thus showing active participation in the daily classroom activities too.
With these activities, we have been able to take the learning they have in the classroom to practical sessions and have supported active learning. PHASE Nepal's continuous support in school infrastructure, training for teachers and children-focused activities have contributed remarkably in improving the quality of education in the last 5 years.
Principal
Manju Shree Secondary School
Better ECDs, Better Schools
We were aware of the importance of early childhood education for the physical, mental, emotional and social development of child but did not have sufficient infrastructure and training. With PHASE's support in training and materials our school has well equipped early childhood class and skilled teachers. In addition to upgrading the classroom materials, furniture, and teaching materials, the room has a smart TV screen that enables children to watch several educational materials via a USB stick offline. We are very grateful for PHASE Nepal's support. Although our school is in a remote village parents' area comparing the ECD classes we provide with those of the private schools in the urban areas. The children are very keen on learning with the child-friendly play way method introduced to us by PHASE. I am glad that PHASE has supported all 3 ECD classes in our ward.
- Teacher, Early Childhood Class, Kashigaun
PHASE will continue working in the sector of Education Improvement with additional focus on the recovery after covid-19 crisis and school closure.