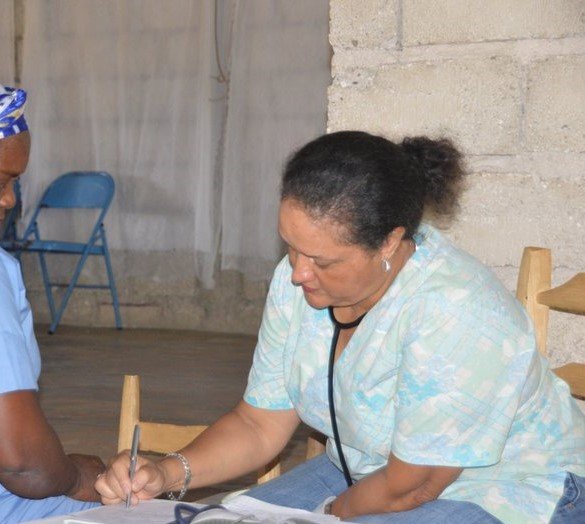 Greetings from Asosyasyon Peyizan Fondwa (APF). We are pleased to share our first report to the donors that not only made it possible for APF to become permanent partners of GlobalGiving, but who are continuing to fund the APF Clinic.
Soon (at the end of March), we will have exact numbers of people served in the first quarter of 2020, but until those numbers are available, we want to share some stories to give you an idea of the services provided by, and the daily challenges of, the APF clinic in rural Haiti.
Talking to "Dr. E" today, I received an idea of what she encounters day-to-day. While February statistics have not yet been delivered, Dr. E reports that since January, 136 patients have been seen, including 44 children under 5 years old. She also reported that 60 children were vaccinated according to the schedule of the Ministry of Health of Haiti. And, additionally, Dr. E conducted a mobile clinic in Gessome, where she saw 40 patients.The predominate illnesses remain high blood pressure, diabetes, and intestinal parasites.
She reflected on three stories from the past two months.
First, she talked about how many babies and children come to the clinic. The Haiti Ministry of Health encourages people to bring children to clinic on the first Thursday of each month for vaccinations and assessment. Attached is a photo of those women and children at the APF clinic in December. As you can see, the clinic is still under construction, but totally functional.
Dr. E told me of one recent case of a 45-year-old man who came to the consultation with a severe hypertensive crisis, and possible early stroke. APF clinic and Dr. E were able to provide emergency treatment, and the patient was improving within a few hours.
Dr. E also shared a tragic case of a 45-year-old woman, with a fistulae abscess in her neck. Dr. E and the patient consulted several clinics without improvement. Sadly, the patient was hesitant to cooperate and receive treatment. She recently died. Dr. E continues to pursue the pathology of this women, and believes that understanding the underlying cause (possible HIV) of this situation will help her treat others in rural Haiti.
We look forward to sharing more about the work of APF clinic. This is Haiti – which is undergoing a very challenging time – where stories are at times good news and at times sad news. We learn from each case. But, the APF clinic continues to provide access to the care that so many need in rural Haiti.