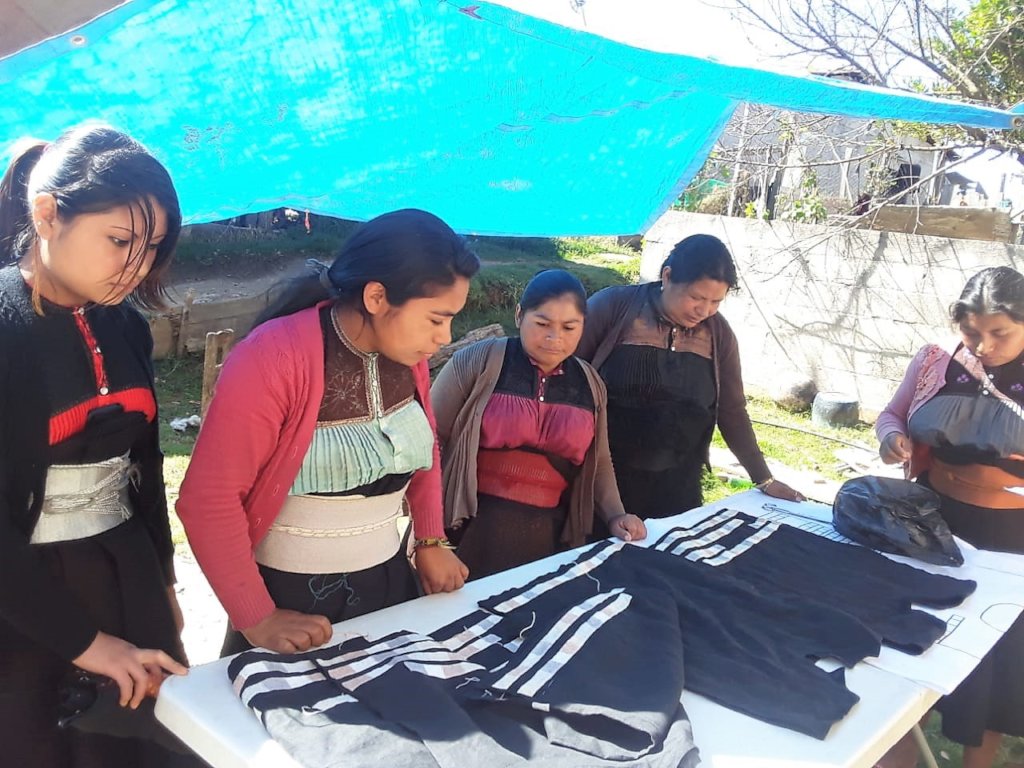 Durante el 2020 y 2021 en medio de la pandemia que ha sufrido el mundo entero llamada SARS-COV-2 o COVID19, y que detuvo casi todas las actividades, también nos afectó como organización, al tener que cambiar nuestras formas de trabajo y cercanía con las artesanas, al detener nuestros cursos, talleres de reflexión y capacitaciones que se desarrollaban de forma presencial.
Sin embargo, continuamos impulsando el trabajo productivo y de organización, se generaron alianzas importantes como la iniciativa Ensamble Artesano, impulsada por Fundación Haciendas del Mundo Maya A.C. que busca reactivar la economía del sector artesanal de nuestro País, en la que participamos con 14 Empresas Sociales de Mujeres Artesanas, de los estados de Chiapas, Puebla, Hidalgo, Oaxaca y Chihuahua, beneficiando a 164 mujeres artesanas, quienes durante los meses de octubre, noviembre y diciembre desarrollaron una colección de edición limitada, asegurando ingresos seguros durante este tiempo.
En el proceso creativo participaron diseñadoras de forma voluntaria para el desarrollo de las colecciones bajo la curaduría de Design Week México, el equipo operativo estuvo en constante comunicación con las artesanas y con las diseñadoras de tal modo que se de genero un dialogo importante entre la innovación y la tradición bajo principios de respeto, valorización y reconocimiento de los conocimientos de las artesanas, como parte de los sistemas de la Red Binacional.
Debido a la limitación de la movilidad se utilizaron plataformas de comunicación con las artesanas como zoom, llamadas y videollamadas de whatsapp, y aplicando los sistemas propuestos por la Red, las artesanas calcularon los costos de producción y la capacidad productiva de la ESMAS para planear la producción.
Para el desarrollo de la iniciativa, la Red Binacional brindo capacitación y acompañamiento a distancia a través de los siguientes sistemas empresariales:
Sistema de innovación artesanal.- Considerando que las colecciones son de edición limitada, se capacitó y acompaño a distancia a cada una de las ESMAS, para asegurar la calidad total en cada etapa del proceso productivo, para ello se diseñaron fichas técnicas y patrones, además de la investigación y planeación de la cadena de suministro de materias primas.
Sistema de organización interna y para la producción, a través de los equipos de dirección en cada una de las ESMAS, fue posible realizar la distribución del pedido de forma equitativa y se fortalecieron las estructuras organizativas internas de cada una de las ESMAS. Para ello la Red Binacional diseño y fortaleció los reglamentos internos de producción y la capacitación colectiva, como un activo importante en la transferencia de conocimientos que les permite fortalecer sus habilidades y posicionarse en mejores condiciones en los mercados.
Sistema contable y aspectos fiscales. - Las artesanas a través de sus representantes, transitaron a la formalidad al registrarse en el Régimen de Incorporación Fiscal (RIF) para expedir facturas, para ello se diseñaron materiales audiovisuales para resolver las dudas de las artesanas y acercar los conocimientos sobre; los impuestos, implicaciones del Régimen de Incorporación Fiscal, sus derechos y obligaciones. Además se les brinda capacitación para que a través de los sistemas contables tengan el acceso y control de sus recursos.
Sistema comercial. - A través del equipo de dirección de cada una de las ESMAS, se aplico el sistema comercial que permitió asegurar en tiempo y forma el pago del anticipo para iniciar la producción, así como el pago final, asegurando que cada una de las artesanas recibieran el pago de los productos que desarrollaron.
Las colecciones de edición limitada que se desarrollaron por las ESMAS para Ensamble Artesano se encuentran disponibles en https://www.ensambleartesano.org/productos?filt=0&ordenar=NOAZ&m=18
++++++++++++++++++++++++++++++++++++++++++++++++++++++++++++++++++++++++++++++++++
During 2020 and 2021 in the middle of the pandemic that the whole world has suffered called SARS-COV-2 or COVID19, and which stopped almost all activities, it also affected us as an organization, having to change our ways of work and closeness with the women artisans, by stopping our courses, reflection workshops and trainings that were developed in person.
However, we continue driving the productive and organizational work, important alliances were generated such as the Ensamble Artesano initiative, promoted by Fundación Haciendas del Mundo Maya A.C. which seeks to reactivate the economy of the artisanal sector of our country, we participate on the initiative with 14 Social Enterprises of Artisan Women from the states of Chiapas, Puebla, Hidalgo, Oaxaca and Chihuahua, working with 164 women artisans, whom during the months of October, November and December developed and produce a limited collection, ensuring safe income during this time.
In the creative process, designers participated voluntarily for the development of the limited collections under the curatorship of Design Week Mexico, the operational team was in constant communication with the artisans and the designers, on such a way that an important dialogue was generated between innovation and tradition under principles of respect, valorization and recognition of the knowledge of the artisans , as part of the Binational Network systems.
Because of the mobility limitation, communication platforms with artisans such as zoom, whatsapp calls and video calls were used, applying the systems proposed by the Red Binacional, the artisans calculated the production costs and productive capacity of ESMAS to plan the production.
For the development of the initiative, the Red Binacional provides remote training and accompaniment through the following business systems:
Artisanal innovation system.- Considering that the collections are limited edition, it was trained and accompanied remotely to each of the ESMAS, to ensure the total quality at each stage of the production process, for this purpose technical data sheets and patterns were designed, in addition to the research and planning of the supply chain of raw materials.
Internal organization and production system, through the management teams in each of the ESMAS, it was possible to carry out the distribution of the order equally and the internal organizational structures of each of the ESMAS were strengthened.
For this end, the Red Binacional designed and strengthened internal production regulations and collective training, as an important asset in the transfer of knowledge that allows them to strengthen their skills and position themselves in better market conditions.
Accounting system and tax aspects. The artisans through their representatives, transited to formality by registering with the Tax Incorporation Regime (RIF) to issue invoices, for this purpose audiovisual materials were designed to solve the doubts of the artisans and bring the knowledge about; taxes, implications of the Tax Incorporation Regime, their rights and obligations. They are also trained so that through accounting systems they have access to and control of their resources.
Trading system. Through the management team of each of the ESMAS, the commercial system was applied that allowed to guarantee in a timely and form the payment of the advance to start production, as well as the final payment, ensuring that each of the artisans received payment of the products they developed.
Limited edition collections developed by ESMAS for Artisan Assembly are available in https://www.ensambleartesano.org/productos?filt=0&ordenar=NOAZ&m=18