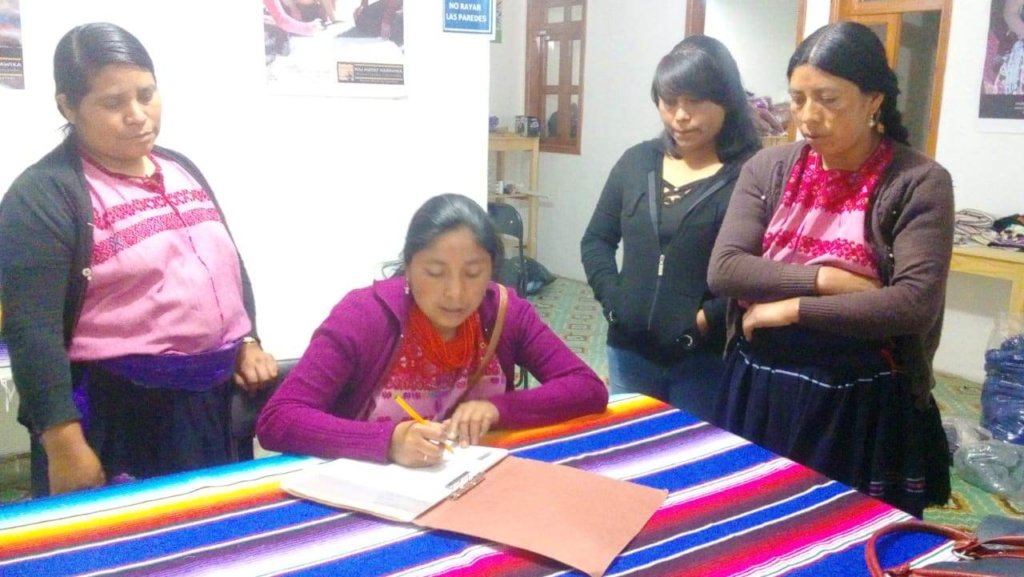 En el mes de julio concluyó el proyecto "Senderos hacia la autonomía: empoderando a las mujeres tzotziles", sin embargo, la Red Binacional es una Organización que establece relaciones y compromisos de largo plazo con las artesanas, es por ello que se ha dado continuidad a los programas de capacitación y acompañamiento para no interrumpir los procesos de empoderamiento y construcción de la autonomía económica de las mujeres artesanas tzotziles de los altos de Chiapas.
La crisis de salud pública, económica y de falta de seguridad alimentaria generada por el SARS-COV-2, ha afectado gravemente a las mujeres artesanas indígenas ya que debido a las medidas de confinamiento se han cerrado sus mercados en todos los niveles, es por ello que la Red Binacional a través de sus canales de comercialización y de diversas alianzas estratégicas ha impulsado la producción y comercialización de productos artesanales, de esta forma las artesanas han podido hacer frente a la crisis que estamos viviendo.
Para contrarrestar la crisis alimentaria, en conjunto con Fundación Origen y Fundación Banorte se entregaron 300 despensas en 5 comunidades de la región de los Altos de Chiapas.
Con el acompañamiento de la Red Binacional se han fortalecido los liderazgos empresariales de las artesanas de tal modo que con mayor fuerza asumieron los procesos de dirección de sus Empresas Sociales de Mujeres Artesanas, que implica:
La Organización interna de su empresas
La Organización para la producción
Esquemas fiscales y de facturación que les ha permitido incorporarse a la formalidad y emitir facturas por la venta de sus productos artesanales.
El uso de celular y aplicaciones como WhatsApp han sido aliados importantes para la comunicación con las mujeres artesanas, de esta forma ha sido posible dar seguimiento a la producción y sus empresas, sin embargo en algunas comunidades no existe señal de telefonía e internet lo que incrementa la brecha digital de género, tan importante actualmente para que las artesanas se mantengan en comunicación con su red de apoyo y sus clientes.
*****************************************************************************************************************************
In July, the project "Paths to Autonomy: Tzotzil women's empowerment" was completed, however, the Binational Network is an Organization that establishes long-term relationships and commitments with artisans, which is why the training and accompaniment programmes have been continued so as not to disrupt the processes of empowerment and construction of the economic autonomy of the artisan women tzotziles of Highlands of Chiapas.
The public health, economic and lack of food security crisis generated by SARS-COV-2 has severely affected indigenous artisan women as due to the confinement measures their lmarkets have been closed at all levels, which is why the Binational Network through its marketing channels and various strategic alliances has boosted the production and commercialization of artisanal products , in this way the artisans have been able to confront the crisis we are experiencing.
To counteract the food crisis, in conjunction with Fundación Origen and Fundación Banorte, 300 food pantries were delivered in 5 communities in the highland of Chiapas.
With the accompaniment of the Binational Network, the business leadership of the artisans has been strengthened in such way that with greater force they assumed the leadership processes of their Women Crafts Social Enterprises, which involves:
Theirs company's internal organization
The Organization for Production
Tax and billing schemes that have allowed them to join the formality and being able to give the proper invoices for the sale of their handmade products.
The use of cell phones and applications such as WhatsApp have been important allies for communication with artisan women, in this way it has been possible to track production and its enterprises, however in some communities there is no telephony signal, internet which increases the digital gender gap, so important today for artisans to stay in communication with their support network and their customers.