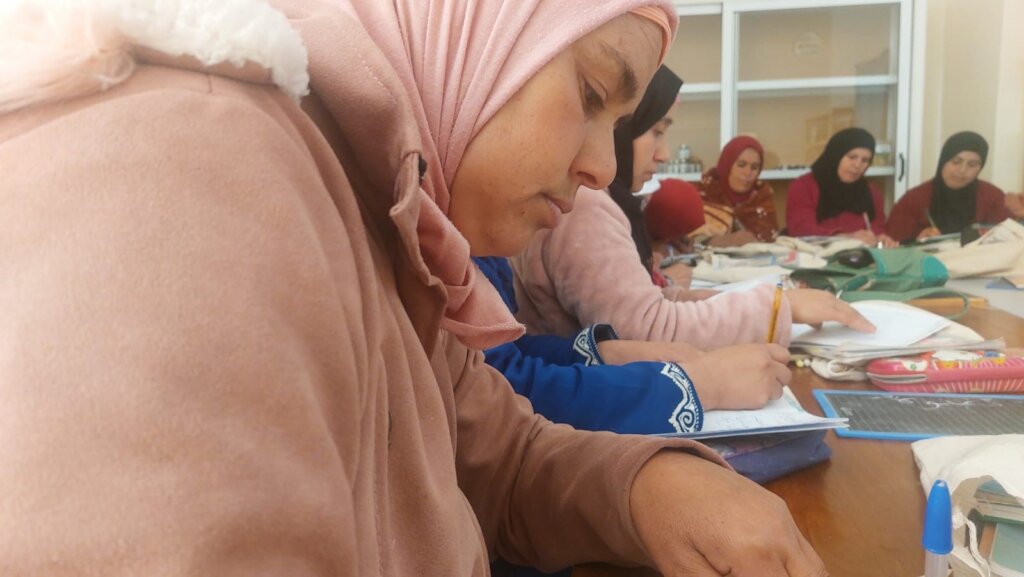 HAF staff recently traveled to the Beni Mellal-Khenifra region to assess the progress of HAF's literacy programs, funded by the European Union. Three hundred seventy-eight (378) rural women have participated in the literacy programs, which began in July 2022. They received reading, writing, and math education. To ensure the effectiveness of the program and its implementation, the team is currently conducting monitoring and evaluation fieldwork, in which they visit cooperatives and groups of 411 women aged between 30 and 70 who are attending the literacy classes.
Sanae, HAF's Program Manager, and Bouchra, HAF's Field Coordinator for Beni Mellal Khenifra's Family Literacy program, began the field trips on February 7, 2023 by attending classes alongside participants to assess their progress. The instructors have taught a total of 192 hours since July 2022, with each group studying 24 hours per month. They devote six hours to each subject included in the program: math, reading comprehension, writing skills and memorizing the Holy Quran. The team employed data collection techniques to gain a deeper knowledge of which aspects of the program are having an impact and what needs improvement. To evaluate the status of participants' learning, they score the participants' proficiency in math, reading, writing, and memorizing the Holy Quran. Additionally, they evaluate the instructors' efforts and whether they apply what they learn to the instructors' instruction.
The field tours began in the province of Beni Mellal with three cooperatives of 34 women (Yamna cooperative, El Yad El Wahida cooperative and Lahlinou cooperative). The team then traveled to the province of Fquih Ben Saleh to conduct evaluation and monitoring for Akhawat Kharouba cooperative with 20 participants. Finally, it was time to travel to the province of Azilal to attend classes with four cooperatives made up of a total of 46 women (Tislit Nourtan cooperative, Abrid Nlkhir cooperative, Nisae Aska cooperative and Wardat Al Atlas cooperative).
Through these field tours, HAF staff observed that every group of women was different in some ways. In certain instructors' classes, the previous expertise, hard work, and high teaching motivation of the instructor were very obvious. Other instructors, however, used the team's suggestions to enhance their classes and encourage more women to attend and work hard in class.
The team will visit the other cooperatives and groups of women in March.