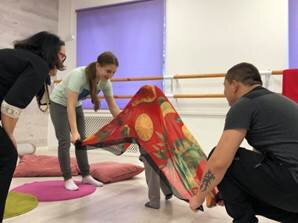 First of all, I want to thank all of you for your remarkable response to our Giving Tuesday appeal. In just one day we raised just over a third of our annual budget for our work with parents who grew up in orphanages and their children. It is wonderful to see such compassion for this very stigamtised group. Your generosity is helping sustain a new venture of ours, reaching out to families in a new, far-flung suburb of St Petersburg.
Lensovietsky is a new suburb of St Petersburg, which has become a "settlement of orphanage-leavers". A high number of care-leavers have been housed here despite it's underdeveloped infrastructure. Its crime-rate and anti-social behaviour make it notorious. Understandably, orphanage-leavers are not popular with other residents. Quite apart from their antisocial lifestyle, they have run up debts for heating and water supply, and residents have complained about the disconnection of such necessary services.
It is in this chaotic environment that we have set up a small parenting group for six families. We also provide home visits for those in the greatest crisis. The group is still in its early days and we are working hard to establish trust and to motivate the parents. The task is urgent, because already we see in their young children delays in their development across the board: in their communication, and in their physical development and in their emotional control. The children are even prone to self-harming like hitting themselves or banging their head against a wall.
Although their children's development is delayed, the parents have unrealistic ideas about what they should be able to do. For example, Katya's mama is demanding that she "stop being lazy and learn to walk". Katya is nine months old. The parents also behave unpredictably. For example, their child might be busy playing and they come up behind them and with no warning cart them off to check their nappy. This unpredictable world makes the children anxious and reluctant to interact with adults.
Our group sessions involve a number of activities, but one of the keys is our Theraplay sessions. We work individually with parents and their children to teach them age appropriate games they can play together. We show the parents how to behave like calm, empathetic parents so that they can make more positive contact with their children. The games are simple ones, which come naturally to parents from loving backgrounds, but they are difficult for our parents and their children. Gradually, our parents are having more success and are learning to trust our process. A mama of a 1-year-old boy discovered that, "he's scared to swing on a swing, but he likes being swung in a blanket." Another of our mamas said that her son, "will play with me here, but he doesn't want to at home." That evening she sent us a video of the two of them playing together really well at home. This feedback is very important for us. We can tell that not only the child is experiencing a safe, stable environment, but also that his mother has enough trust in us to try out our activities at home.
Gradually, we build on this virtuous circle. Already, our group circle time is calmer. The children are able to sit still and listen, rather than running off, and their parents are able to keep their interest without shouting.
So we count our first few months with this group a success. We have some foundations of trust, and enough small successes to give the parents a glimpse of a different kind of relationship with their child. There is still a great deal to do and we have to be patient. We can only move at a pace our families can cope with, all the time keeping our goal of happier, healthier families in mind. We will let you know how they get on.