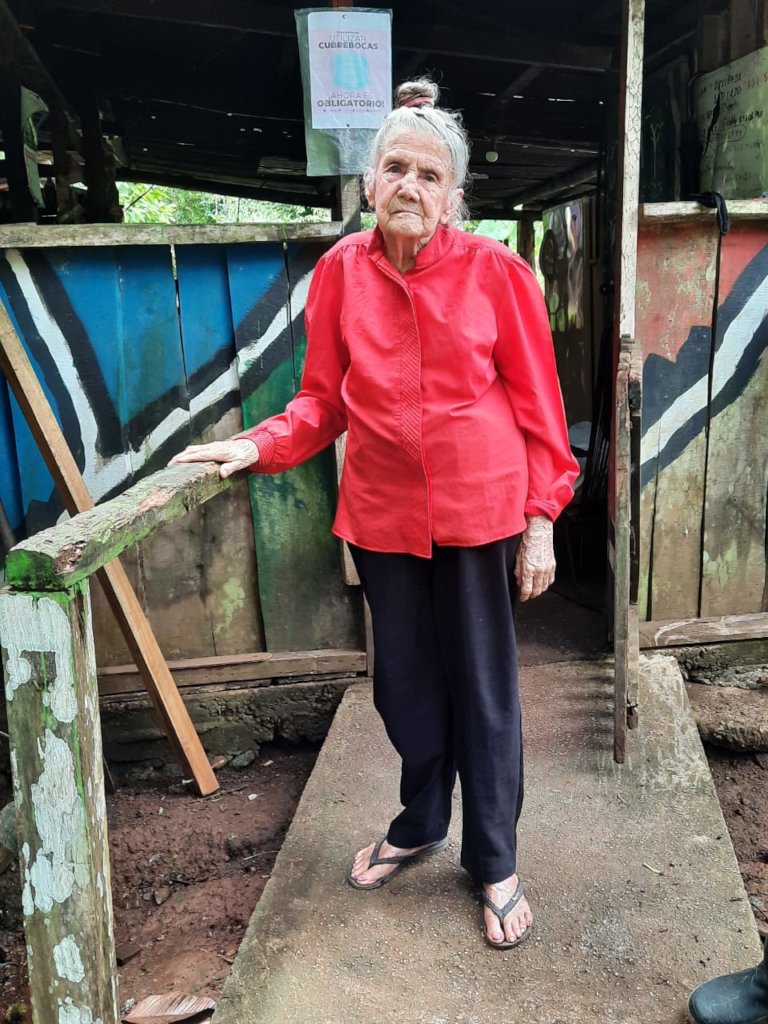 Please help the Corcovado Foundation continue making grocery deliveries for seniors and the most impoverished families in Drake Bay.
SPANISH BELOW
During the COVID 19 Pandemic, the economic situation in Drake Bay has been extremely critical. Drake's population lives directly or indirectly from international tourism, and families have been idle for months without any income.
The elderly are the most vulnerable sector of the population. Most of them survive with the help of their sons and daughters, who currently do not have a job or income. For this reason, we have taken on the task of collecting donations to bring these very vulnerable individuals a package with food once a month, which allows them to survive with some dignity while we wait that the world goes back to normal.
Helena and Mayra, our environmental education and community management team in Drake Bay, are the ones who have taken on the task of studying each family and each case to determine who the most destitute and needy people are. They receive the purchases, separate the packages, distribute them house to house, ensuring that older adults do not have to leave their home, or put themselves at risk of catching COVID19.
Our team tells us that the gratitude that they receive from these families when they are distributing these packages is very touching. They never leave without a "May God bless you for what you are doing."
Drake Bay's Seniors are Survivors! They raised their families in a tremendously isolated area, where the roads are unreliable, where getting to a medical center involved a day trip, and where they had to work hard to survive. They have known what it is like to distribute a hard-boiled egg among five members of the family; it is time to help them.
Since the beginning of the country's closure from the COVID 19 Pandemic, we have been collecting donations from beautiful people who, with the most incredible generosity in the world, have supported our efforts. Thanks to them, we raised USD 7,998 between March and June. With this, we made 250 deliveries of food packages on five occasions to the 50 most needy families in Drake Bay. We have a balance of USD 1,300, thanks to a donation of USD 500 made by the Steller-Ludwig Foundation, which will allow us to make the sixth installment. But we need to continue supporting these older adults until the end of this year. This pandemic will not last forever, Drake Bay will recover, but regular tourist activity is not expected to return until possibly after December. The coming months are critical. We need to continue to show solidarity and extend our hand to those who need us most.
Please help us continue to support them; a small donation can make a big difference for them. From the 14th to the 18th of September, GlobalGiving will be launching the little by Little Campaign. Every donation of $50 USD or less will be matched at 50%.
Ayúdenos a hacer realidad la sétima entrega de víveres para adultos mayores y las 45 familias más necesitadas de Bahía Drake.
Con la Pandemia del COVID 19, la situación económica en Bahía Drake ha sido sumamente crítica. La población de Drake vive directa o indirectamente del turismo y las familias llevan meses paralizadas sin recibir ingresos en sus hogares.
Los adultos mayores son el sector más vulnerable de la población. La mayoría de ellos sobreviven con ayuda de sus hijos e hijas, los cuales en este momento no cuentan con trabajo o ingresos. Por ello en la Fundación Corcovado nos hemos dado a la tarea de recolectar donaciones para poder llevarles una vez al mes un pequeño diario de comida básico, que les permita sobrevivir con alguna dignidad mientras sus familias se recuperan de esta crisis.
Mayra se ha dado a la tarea de estudiar cada familia y cada caso, para poder determinar quienes son las personas más desvalidas y necesitadas. Mayra, con ayuda de Helena y voluntarios de la zona, reciben las compras, separan los paquetes y los van a distribuir casa por casa, asegurándose de que los adultos mayores no tengan que salir de su casa, ni se pongan en riesgo de contagiarse de COVID19. Ellas nos cuentan que el agradecimiento con el que los adultos mayores reciben este pequeño diario es inmenso y nunca nos vamos sin un "Que Dios les bendiga por lo que están haciendo".
¡Los adultos mayores de Drake son supervivientes! Ellos mantuvieron a sus familias en una zona tremendamente aislada, donde los caminos son pésimos, donde llegar a un centro médico implicaba un viaje de un día, saben lo que es que trabajar duro para sobrevivir. Ellos han sabido lo que es repartir un huevo duro entre 5 miembros de la familia, es el momento de ayudarles a ellos.
Desde el principio del cierre del país con la Pandemia del COVID 19, hemos estado recolectando donaciones de gente maravillosa que, con la mayor generosidad del mundo, han apoyado nuestros esfuerzos. Gracias a ellos recaudamos 7998 USD entre marzo y junio. Con ello hicimos 250 entregas de paquetes de alimentos en 5 ocasiones a las 50 familias más necesitadas en Bahía Drake. En este momento tenemos un saldo de $1300 USD, gracias a una donación de $500 USD realizada por la Fundación Steller-Ludwig, que nos va a permitir hacer una sexta entrega. Pero necesitamos seguir apoyando a estos adultos mayores hasta finales de este año. Esta pandemia no va a durar para siempre, Bahía Drake se recuperará, pero no se espera que vuelva a haber una actividad turística normal hasta posiblemente después de Diciembre. Los próximos meses son críticos, necesitamos seguir siendo solidarios y extender nuestra mano a los que más nos necesitan.
Ayúdennos a seguir apoyándoles, una pequeña donación suya puede hacer una gran diferencia para ellos.