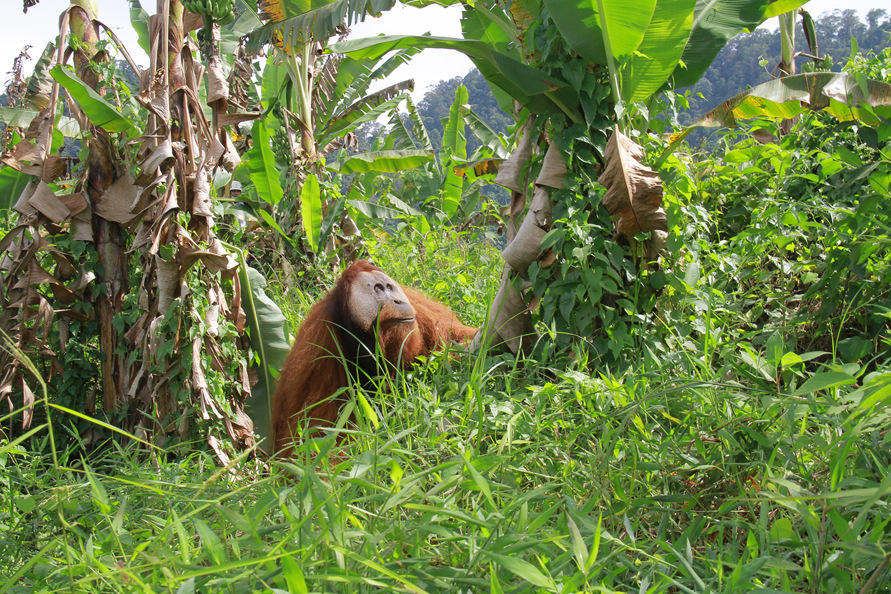 Sumatran lowland rainforests are disappearing at an alarming rate, and unfortunately the Leuser Ecosystem, the last stronghold of the Sumatran orangutan, is not spared from this destruction.
The expansion of farmlands, especially oil palm plantations, continuous forest and national park encroachment by smallholder farmers, the development of roads and other infrastructure, all lead to the disappearance of this beautiful species' home, making it more vulnerable to humans and extinction every day. But thanks to your wonderful support, orangutans have a lifeline: the Human Orangutan Conflict Response Units!
Since the end of July, our HOCRU teams in Aceh and North Sumatra provinces rescued and assisted 8 Sumatran orangutans (3 babies, 1 female and 4 males). The 4 males had been found in community farmland near the shrinking rainforests. The loss of their habitat brings an increasing number of orangutan near human settlements and agricultural land where they are in danger of human attacks, air riffles shots or captivity - the fate of the 2 babies and 1 female our HOCRU teams confiscated from villagers, along with 6 slow lorises, 2 siamangs and 2 gibbons.
Awareness and law enforcement are also key priorities to save the Sumatran orangutan so our HOCRU teams multiplied their interventions among local communities and schools. While conducting orangutan habitat and population surveys in 8 villages, HOCRU members play a vital role in sensitizing villagers, local authorities and students (440 during the past 3 months!) to the role of forests and biodiversity.
Finally, to prepare new orangutan conservationists and veterinarians as part of their apprectinceship programme, the HOCRU teams have selected an internship fellow student and participated in the Orangutan Veterinary Advisory Group (OVAG) 2016 Workshop held in Kota Kinabalu, Malaysia.
Thank you for your invaluable support of this vital work. Please consider setting up a monthly donation or sharing this project with your friends and family.