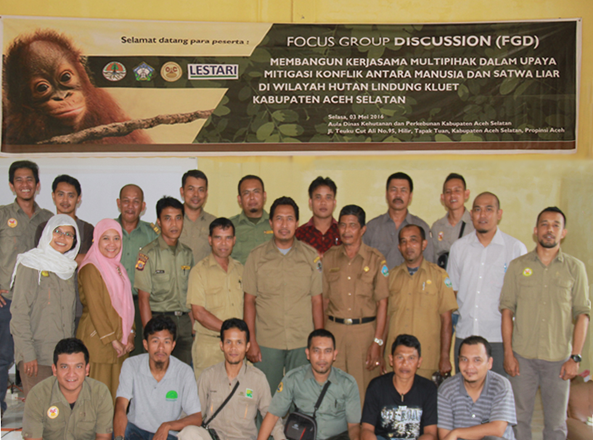 The Sumatran Orangutan Society is really pleased to introduce you to our new HOCRU team who have been operating in South Aceh since April this year, having been trained by our first HOCRU team based in Medan! The HOCRU programme covers a huge area, across the provinces of Aceh and North Sumatra, and with increasing reports of orangutans in danger, the new team are vital in safeguarding wild orangutans. We would like to extend our gratitude to all our supporters.
In just 3 months, our 2 HOCRU teams have confiscated 4 orangutans from the illegal pet trade and evacuated 5 from conflict situations, with the collaboration of the Nature Conservation Agency (BKSDA), local community members and the Sumatran Orangutan Conservation Programme.
Both teams are also involved in community interviews about human-orangutan conflict, monitoring isolated orangutans, and surveying potential release sites.
In May, a typical case of an illegally kept orangutan rescue reminded us how critically endangered this species is, and what a vital lifeline the rescue teams are. On May 30th, we rescued a very large male orangutan locked in a small cage in an army complex in Kabanjahe, North Sumatra. The orangutan, estimated to be 20 years old and named Krismon by the 'owner', was taken from his mother in 1997 (she would undoubtedly have been killed during his capture) and given to an army commander who then kept Krismon to his home as a pet.
When Krismon grew into an adult male orangutan, the owner locked him in a small cage. The team has persistently investigated this case since the end of last year and finally found Krismon being kept in terrible conditions. Surprisingly, Krismon was found in good health and has been handed over to the SOCP care centre in North Sumatra. He is now undergoing thorough health checks - it is not known at this stage whether he will be able to return to the forest, after almost 20 years in captivity.
"He has never learnt to make a nest, or to climb high trees to forage, but now he is at the quarantine centre, he may learn quickly, so you never know," Hadisiswoyo said. "If not, he will be able to go to the new Orangutan Haven being created by the SOCP. It would still be a wonderful life for him compared to what he has suffered so far."
Thank you for your invaluable support of this vital work. Please consider setting up a monthly donation or sharing this project with your friends and family.