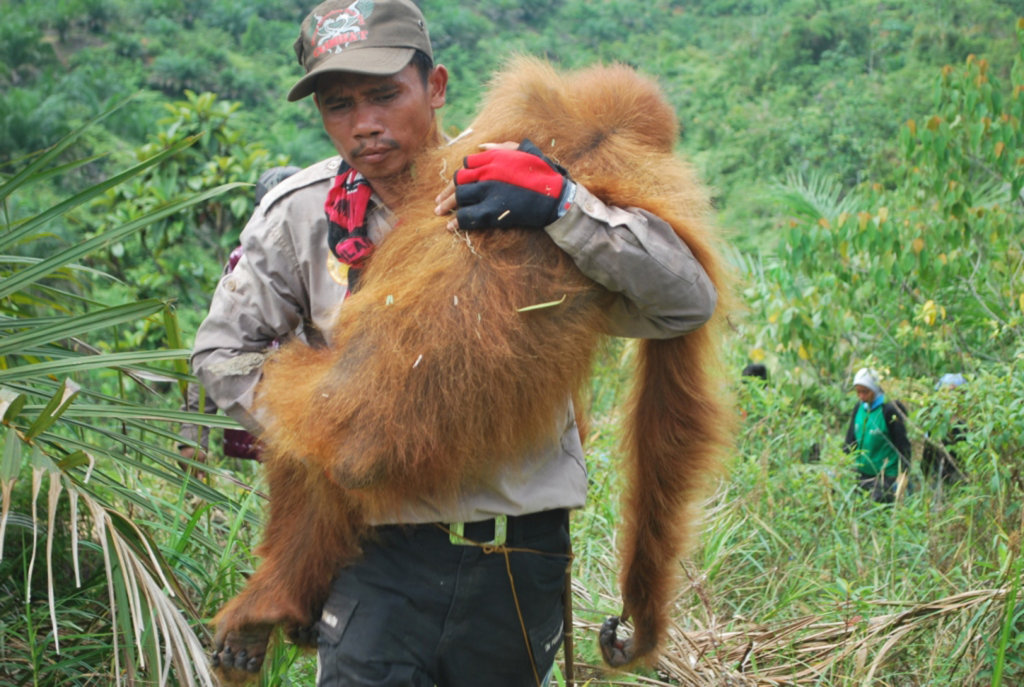 The role of rescue and translocation in orangutan conservation
SOS Director Helen Buckland and Programme Manager Dave Dellatore answer some common questions about the value of the evacuation and translocation of orangutans from condemned forests.
1. Is rescue and translocation good for the welfare of individual orangutans, and does this increase those animals' chances of long term survival?
The Sumatran orangutans that are translocated are found on land that is in the process of being cleared - condemned forests. This has been the case for almost 50 orangutans that the have relocated since January 2012. In all these cases, the orangutans were taken out of areas isolated from larger forest blocks, that were at direct and immediate risk, or actively in the process, of being cleared. We can confidently state that without such interventions, these orangutans would have had little chance of survival, and those that were not starved or shot would likely have ended up in the illegal pet trade.
Being released into protected forests can certainly be said to increase their short-medium term survival prospects relative to the no-intervention scenario. We are looking into the short-term survival and adaptation of translocated orangutans in a joint research effort with Professor Serge Wich, at one of the government-approved release sites. As to their subsequent chances of long-term survival, this is a question still to be answered, which will of course require a great deal more time to determine, and perhaps more importantly will depend on the decisions and actions of the Indonesian government, in terms of law enforcement and land management.

2. Do these actions improve the welfare of any other orangutans that might still be in that particular forest?
The decision to translocate an orangutan is never taken lightly; rescue operations are always a last resort and only undertaken if active clearing is taking place or there is reason to believe that the orangutan is under other extreme and immediate risk (such as a threat that the orangutan will be shot in retaliation for crop-raiding).
The HOCRU team always thoroughly surveys an area of forest from which an orangutan has been translocated, to determine whether any more individuals remain. The same assessment that led to the decision to translocate the first orangutan would be applied to all others in the forest patch - in other words, if there was cause to remove one orangutan due to the perceived extreme and imminent risk to that individual's prospects of survival, then any other orangutans found would also be translocated.
As well as responding to reports from the field of isolated orangutans, the HOCRU programme maintains a list of sites with known populations of isolated orangutans that are monitored on a regular basis - it is not the case that all isolated orangutans are (immediately) translocated. The team maintains open lines of communication with stakeholders in these areas, and conducts ongoing assessments of the threat level to each known individual or small population.
It is only when an isolated area is deemed unsafe, either through active clearing, recent clearing resulting in greatly reduced forest area, or direct threats are made against the orangutans, that a rescue operation is carried out. It is also worth noting that this work is officially government sanctioned - every rescue is conducted with the approval and presence of government conservation authorities.
According to the latest Toolkit for Identification of High Conservation Values in Indonesia, it is stated under HCV 1.2 that for taxa classified by the IUCN as being Critically Endangered, as is the Sumatran orangutan:
'each individual is extremely important as a potential founder/progenitor of future generations, and for this reason the persistence of each individual is a shared societal responsibility.'
If we are able to help save even one individual, it is a worthy effort. Fundamentally, these forest fragments are being cleared regardless of our actions, and inaction would see the loss of multiple individuals and small populations of Sumatran orangutans which could be contributing to the survival of their species.

3. Is the welfare of any orangutans that occur anywhere else under threatened conditions improved, now that the understanding is that "the orangutan problem" will be dealt with by the conservation professionals?
This is a very important question. As forests fall to make way for farmlands and other developments, we are finding more and more orangutans stranded in agricultural landscapes, including smallholder plantations as well as company-managed concessions. We believe that orangutans and humans can and must coexist, but when individuals or small populations are trapped in forest fragments, with poor prospects of survival, translocation offers an opportunity for those orangutans to once again be part of a viable population.
In cases where orangutans are found within legal concessions, and especially where the companies managing those concessions are not part of any organization or pledge to conserve HCV or eliminate deforestation from their operations, the future is bleak for those individuals. As we know, orangutans are not only found within protected forests, and the reality is that these forest fragments will be cleared, whether or not they contain orangutans.
We are the first to acknowledge that translocation is a reactionary safety net in response to the ongoing problem of orangutans being displaced from their shrinking forest homes. It is extremely important that there be someone in the field monitoring conflict situations and/or isolated forest patches containing orangutans, so that these smaller but still vital populations are not lost.
Of course, working to prevent these situations has to be part of any conservation strategy.
This project is just one element of a conservation strategy that focuses on protecting wild orangutans and their habitat. Indeed, the rescue and translocation of orangutans is just one element of the HOCRU programme, which also seeks to evaluate and address the causes of human-orangutan conflict, provide community training in best-practice mitigation methods, and support government capacity in dealing with this growing problem.
In an ideal world, arrests and prosecutions would follow from the detection of any wildlife or forest crime in Indonesia, and conservation-appropriate spatial planning would be implemented by communities and government. The HOCRU programme has been working at the community level (field interventions and also education and training) and also government level (passage of provincial decrees regarding the prevention and management of human wildlife conflict, helping to have law enforcement cases pursued) to that end.
Ensuring that we are working towards our vision of a safe, viable and thriving population of Sumatran orangutans, is of paramount importance. We thank everyone who supports this vital project, and all of our programmes and campaigns to keep the orangutans, people and forests of Sumatra safe.