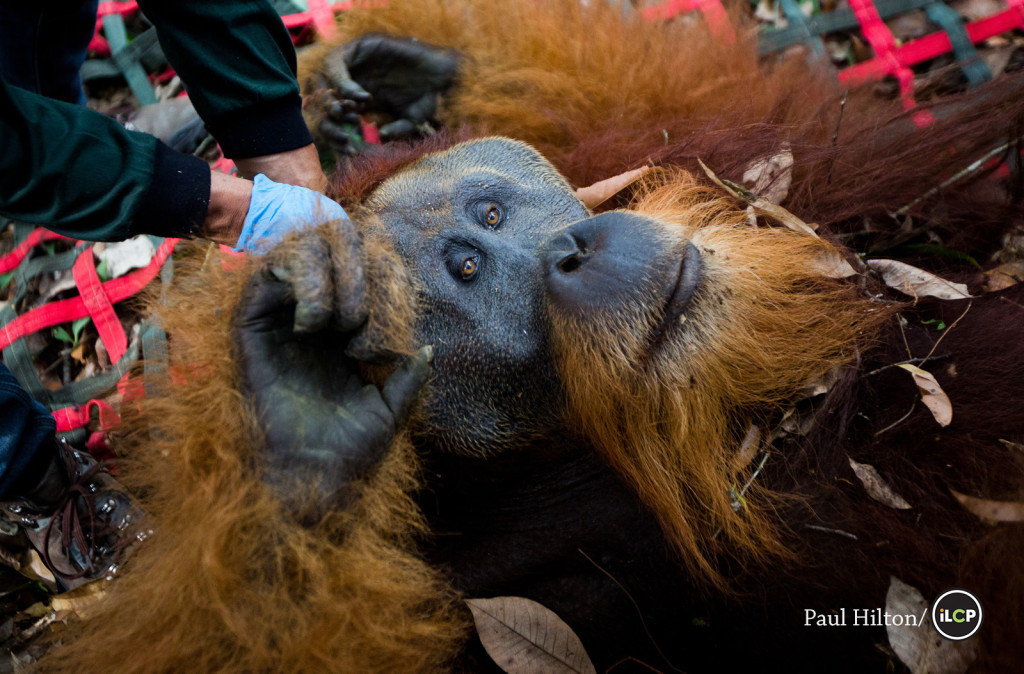 A huge male orangutan was evacuated from farmlands last month by the rescue team in Sumatra, and released back into the Leuser forests at dawn the next morning.
Photographer Paul Hilton accompanied the Human Orangutan Conflict Response Unit and captured some incredible images of the rescue.
The rescue team had received a call from the government authorities: a local community in Aceh had reported an orangutan trapped in their farmlands. When the team arrived on the scene, they found him in a tiny patch of forest surrounded on all sides by oil palms - plantations spanning the size of 3,000 football fields. There was no way that the orangutan could have survived there for long, nor made it back to safe forests alone.
As it was Good Friday, the orangutan soon became known as Friday by the team. Sedated with a tranquiliser dart, Friday fell 15 metres into the net below.
Having been isolated in such a small patch of trees, he was very underweight, and the vet also found a bullet in his chest, which was removed on the scene. It is likely that Friday would have starved, or been shot again, if he had not been rescued.
Panut Hadisiwoyo, Director of the Orangutan Information Centre, our partner organisation in Sumatra, said, "Over the last 3 years OIC has rescued 64 orangutans stranded just like this one. Adults, juveniles, mothers with babies – they end up in plantations looking for the forest that used to be here, for the fruits they need to survive. Friday's rescue brought the count for this year to 11 orangutans already. That's 11 in just 3 months so it's a real concern".
At dawn the next morning, Friday was released into the Leuser Ecosystem. As soon as the door of the crate was lifted, he scaled the nearest tree and within seconds was looking down at the rescue team from the forest canopy, shaking branches and vocalising.

These rescues are vital - with so few Sumatran orangutans left in the wild, every life is precious.
Thank you for your support.