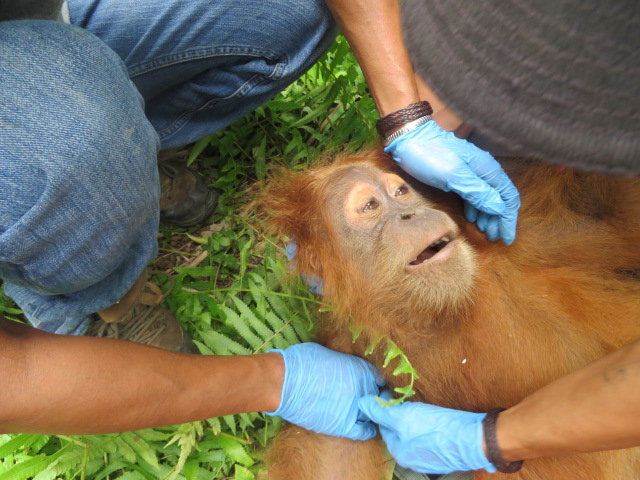 The team in Sumatra have been incredibly busy lately, with several reports of orangutans in danger.
One of these orangutans was a five year old male, found roaming in farmlands. When the rescue team arrived on the scene, they discovered that he has escaped from life as a pet about a year ago - he was still wearing the rope around his neck from where he'd been tied up. It is illegal to keep orangutans as pets, as they are a protected species under Indonesian law, but sadly we are regularly involved in rescuing captive orangutans, which must then go through a lengthy process of rehabilitation before they can be returned to the wild.
Shockingly, in this case, the orangutan's 'owner' had been a government worker - in fact, keeping protected species as pets is seen as a status symbol, and some government officials and members of the police wish to show they are above the law by doing so.
Another of the orangutans who was rescued recently was a 10 month old baby, who the rescue team named Pepe. He was also being kept as a pet, and was severely dehydrated and starving. The people in the village said that he had been found on the ground, but this is incredibly unlikely - orangutan mothers and their babies have one of the strongest bonds in the animal kingdom, and it is far more likely that Pepe's mother would have been killed than have abandoned her son. Pepe was rushed to the Sumatran orangutan rehabilitation centre and is undergoing treatment, getting stronger every day.
It is only through donations that we are able to keep the rescue team on the road - without them, so many orangutans in danger would have a grim fate, but thanks to this project, instead have a second chance at life in the wild. Please consider setting up a regular monthly gift, or sharing our work with your family and friends.
Thank you.