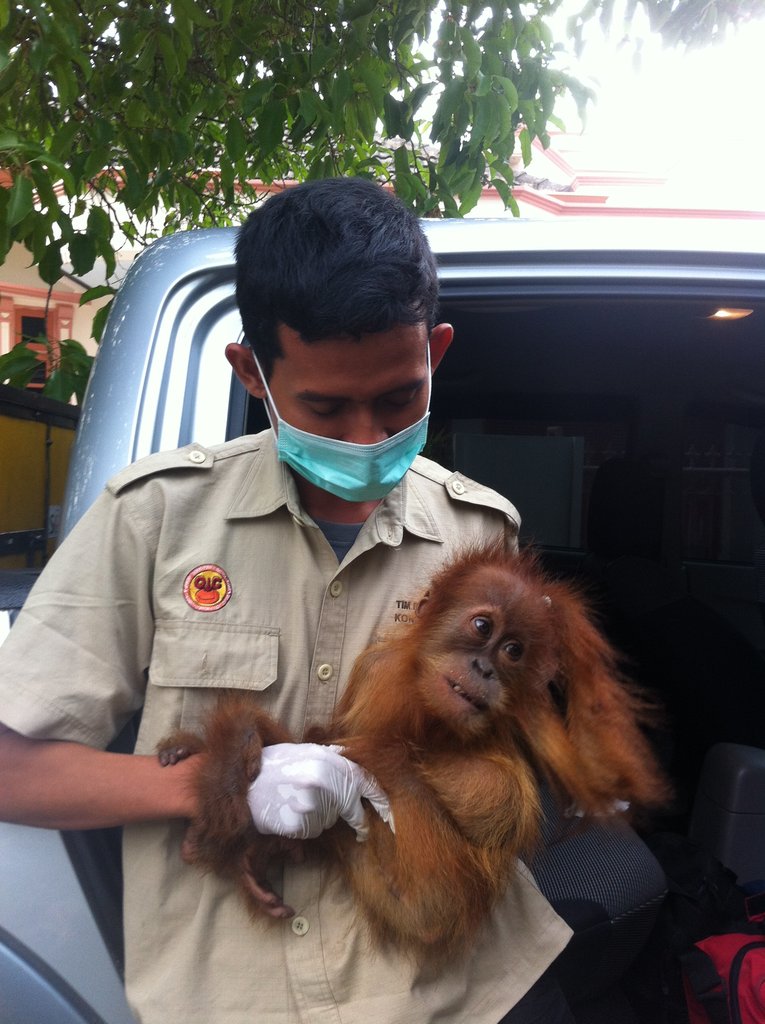 The Human Orangutan Conflict Response Unit (HOCRU) work tirelessly to help animals in danger. We would like to share the stories of two orangutans who have been given a second chance thanks to your support of this dedicated team.
In May a baby orangutan, thought to be around one and a half years old, was rescued from the illegal pet trade. He was named Alam, meaning 'nature'. He was surrendered by an oil palm plantation worker in North Sumatra, but had originally come from Aceh province and sold on by a poacher. Alam was taken to the orangutan care centre run by the Sumatran Orangutan Conservation Programme (SOCP), where he has entered their rehabilitation programme, hopefully one day to return to the wild. Panut Hadisiswoyo, Founder and Director of the Orangutan Information Centre (OIC), our partner organisation that runs the HOCRU programme, says "It is certain that Alam's mother would have been killed in order for the poacher to capture him for the pet trade. It is likely that he has come from an area of forest that is being cleared for development, perhaps for oil palm plantations or roads. The forests are under huge pressure here in Sumatra, and orangutans are losing their habitat at an alarming rate, making it easier for poachers to get hold of protected and endangered wildlife."
In July the team evacuated a big adult male orangutan from farmlands. He has been named Jagat (meaning 'Universe') and he is now at the SOCP care centre for observation, soon to be released back to the wild. Panut says "Over the last year, our team has rescued more than 20 isolated orangutans from farmland, all of which (other than Jagat) have now been released into the Gunung Leuser National Park. We have also confiscated seven orangutans that were being illegally kept as pets. These orangutans need an extended period of rehabilitation under the care of SOCP before they can be released back to the wild. Unfortunately, there has been no action taken by law enforcement agencies to prosecute the people involved in any of these cases. The government must take action to enforce the law and prosecute people who keep orangutans as pets, in order to deter this illegal practice, which is undoubtedly linked to the rate of orangutan habitat loss for oil palm plantation expansion."
Alam and Jagat are amongst the lucky ones, as they will one day be able to return to a wild life in the forest. We are working hard to try to slow down and stop deforestation in Sumatra so that we can solve the problem of orangutans becoming trapped in farmlands as their forest home is destroyed, which is also linked to the illegal pet trade, another grave threat to orangutans.
Thank you for supporting this work - your donations are absolutely vital, so please share this project with your networks and help us help even more orangutans in danger.