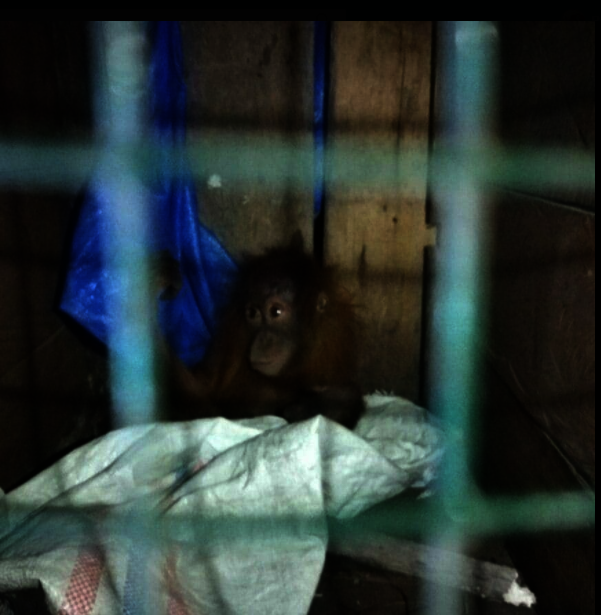 In the period from August to October 2017, the orangutan rescue team confiscated three orangutans based on reports received from the local community. These were rescued in partnership with the Natural Conservation&Resources Agency, known as B/BKSDA North Sumatra. All of the confiscated orangutans were from Aceh province.
Since 2016, we have been able to set up a second HOCRU team to be based in Tapak Tuan, South Aceh regency, in Aceh province. A professional vet has now joined this team, which means they are now fully operational and able to manage human-orangutan conflicts on the west coast of Aceh (Singkil, Subulussalam, West Aceh, and Southwest Aceh). Both HOCRU teams have the same objectives, which is to help and protect both orangutans and the communities living within the orangutans' home territory. Occasionally both teams support and collaborate with each other.
The team is now expanding its activities to include regular monitoring, awareness raising, and facilitating communities in developing local regulations (in Aceh known as qanun) at village level. These local regulations are aiming to ensure orangutan protection and Human-Orangutan Conflict (HOC) mitigation.
Since 2012 to 25th October 2017, HOCRU team has rescued 132 orangutans in which 88 of them were translocated from isolated area and 44 were confiscated from illegal owning and pet trade.
Below is the rescue data August – October 2017.
August
Illegally kept
Confiscation
East Aceh, Aceh
Male, 5
Quarantine in SOCP's
September
Illegally kept
Confiscation
Langsa, Aceh
Female, 4
Quarantine in SOCP's
October
Illegally kept
Confiscation
South Aceh
Infant female, 2
Quarantine in SOCP's
Isolated
Translocated
North Sumatra
Female, 25
Translocated
As well as helping new locals laws to be enacted, such as South Aceh's Regent Decree No. 348 of year 2017 about Human-Wildlife Conflict Mitigation, the team have also been involved in publicising these new laws through a series of workshops, so that locals are aware of the changes and implications for them. The team know that working with local people to tackle the problem is part of the solution.
As I am writing this report, I have just seen news of a news rescue: February 155h 2018 -the HOCRU team worked together with Prof. Suci Utami and Aceh Wildlife Authority to rescue and confiscate a 2 year old orangutan baby in Suka Rimbun village, Ketambe subdistrict - Southeast Aceh district of Aceh province. The information was received from Prof. Suci who is conducting theoutreach programme for local children within the area. This orangutan baby is named Dilan and claimed to be found in a local residence, motherless. Sadly, Dilan was malnourished and stressed. He has been moved to the SOCP Rehabilitation Centre for evaluation and support. As an orphan, it's likely it will take some time for him to learn what fruit he can east and how to make a nest and climb trees. However, one day, Dilan will be able to breath the fresh air in the wild once again.
Thank you to Syufra for providing the information for this report.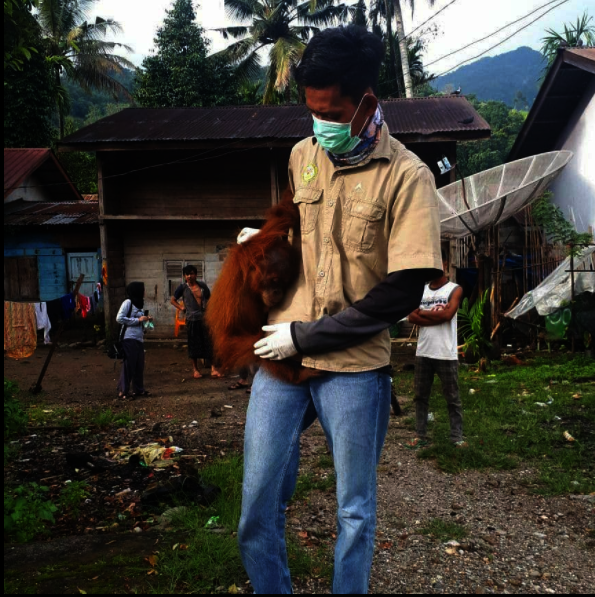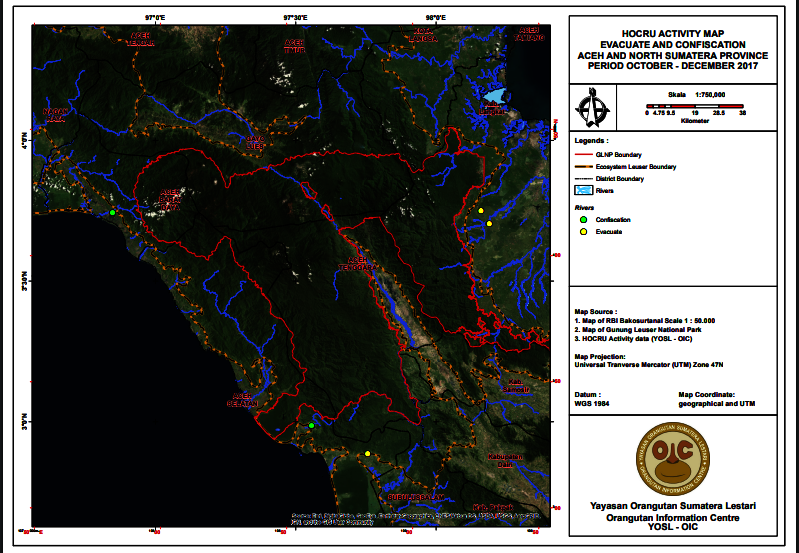 Links: