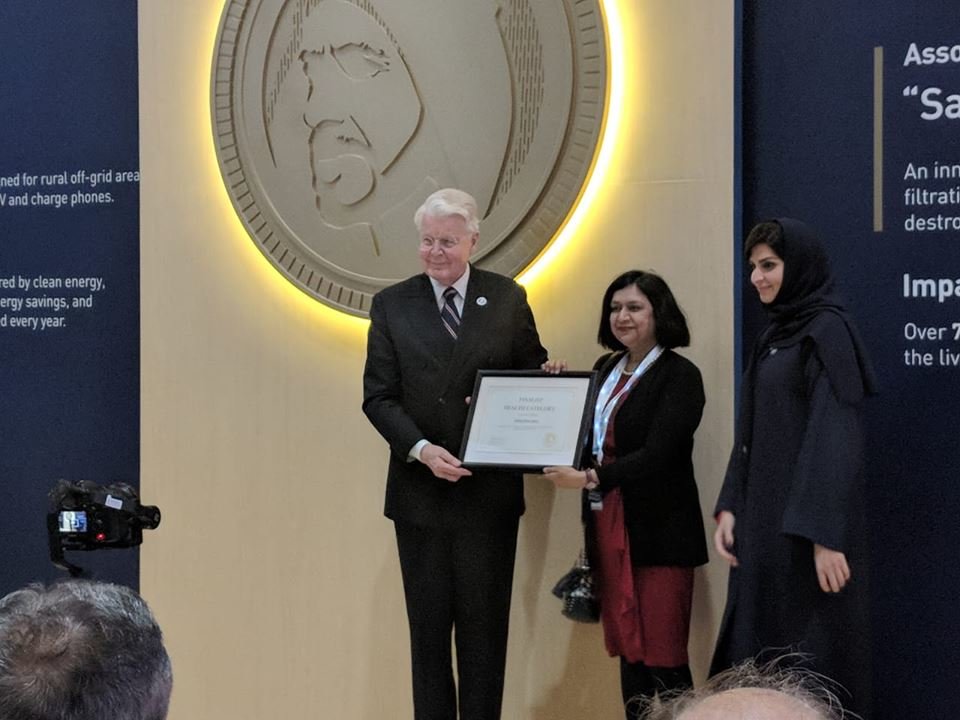 Dear Friend,
Christmas is about festivity and joy. Everywhere you go, the streets are hung with fairy lights, twinkling like a thousand stars, and everyone is meeting up with family and friends for partying and making merry and exchanging gifts.
But there are people whose lives are in darkness.

11 year old Noori - whose name means light- is one of them. Her father died of Tuberculosis when she was a toddler. Her mother kept the home fires burning by doing odd jobs for well-off people. They were kind, the people she worked for, and would often give her food and clothes, and life went on. But one day there was a terrible storm and her shanty collapsed in the torrential rain, and they lost their meagre possessions. Noori lost her books and school uniform, and couldn't go to school anymore. Then her mother developed an intractable cough and was hospitalised with fluid in the lungs due to TB. At the tender age of 10, Noori became a nurse attendant for her ailing mother, and also took up odd jobs to stave off hunger. School was a forgotten dream.

"Of all the inequalities in the world, health inequalities are the worst," said Martin Luther King. Operation ASHA was established for this very reason, to bridge the health divide, to provide succour and comfort to the ailing.
This Christmas, let us bring light in the lives of those who live in darkness, half hidden in the shadows, those who walk the valley of fear and live without food and shelter, and have no money for health and education. Donate Now, for the love of Him who gave His life and love to the poor and meek and lowly. Make this Christmas joyful for those who are in need, and bring joy to their lives and yours.
Media mentions
The Bureau of Investigative Journalism, a London based news organization, wrote an article on how Operation ASHA (www.opasha.org) is eliminating the stigma and giving new life, new hope and a new vision for life to people affected with this killer disease. This article can be read at: https://www.thebureauinvestigates.com/…/how-india-is-trying…
Our President Dr Shelly Batra was invited for a Roundtable discussion by Tata Trust's India Health Fund. The topic was - Identifying problems for prioritising actionable solutions for TB. She presented Operation ASHA's extensive use of low-cost, easy to use technology to ensure every dose, monitor staff, bring down costs, and give the best results in the world, with absolute accuracy and transparency.
Sonali Batra, CTO of Operation ASHA, was invited to give a demo of OpASHA's technology at the ICTDX conference held at IIM Ahmedabad.
Operation ASHA was among the top 3 finalists for the Zayed Sustainability Prize in the 'Health' Category. Our President Dr Shelly Batra was invited to Abu Dhabi to attend a star studded glittering award function, together with our CTO Sonali Batra. The event was graced by dignitaries from across the globe.
Our President Dr Shelly Batra was invited to Niti Aayog's Women Entrepreneurship Platform Conclave in New Delhi in Dec 2018. Dr Batra represented Operation ASHA on a panel discussion, where she answered questions on challenges faced by women entrepreneurs and how they won over the obstacles and achieved success.
Forbes magazine published the interview of Dr. Shelly Batra about her experience of using voice-to-text technology as her office assistant to save costs and maximize efficiency.
Operation ASHA was recently shortlisted as one of the finalists for the Peter Drucker Prize, 2018.
Our CEO and co-founder, Mr. Sandeep Ahuja, represented Operation ASHA at MIT Solve in New York City. Operation ASHA was selected as one of the finalists for this challenge out of 1150 solutions submitted from 110 countries.
Pradeep Chintagunta, a leading professor of marketing from the University of Chicago, Booth School of Business delivered an impressive lecture on how he used the concept of marketing to improve detection of tuberculosis patients in India. We are honored that Professor Chintagunta chose Operation ASHA for the entire fieldwork. The presentation was organized by IIM, Ahmedabad in collaboration with Unilever India. It was held at COWORKS, Mumbai. An impressive gathering of IIM alumnus and other dignitaries including Mr. Kumar Mangalam Birla appreciated the work done by Professor Chintagunta and Operation Asha.
Operation ASHA won the "Top-Rated Nonprofit Award- 2018" from "GREAT NONPROFITS", the best platform for community-sourced stories about nonprofits. We secured this place for expanding access to health services of a high quality at affordable prices among disadvantaged communities.
PGI, Chandigarh, the premier medical institution in India, invited our CTO to deliver a session on eHealth model of Operation ASHA. The Press Release issued by PGI lauded her and OpASHA's contribution in TB space.
Case study of a patient
Mudassar (37 yr. old male) is originally from Bihar. In search of a job to provide better and dignified life to his family, Mudassar migrated to Delhi along with his wife and two sons and started living in the slums of Khadda Colony area. He soon found a job of a helper at a factory. His children also got admission in the nearby government school. The family was living happily until the bad luck struck.
In December, Mudassar started keeping unwell and had consistent cough. He did not pay any attention to this and thought that it was due to the change of weather. He took medication for normal cough and cold which did not bring any improvement to him. He remembered that he had suffered with TB in the past before his marriage. Still, he was ignorant toward the same symptoms which he had experienced earlier and continued with his daily routine life.
Our provider Payal happened to meet Mudassar during the household visits in his area. Mudassar explained his condition and the symptoms to Payal. With the help of Payal, Mudassar underwent TB test. Unfortunately, the report revealed that he was suffering with Pulmonary TB.
As soon as, this news reached to Mudassar's wife, she left him and went back to her parents in Bihar, leaving her children behind with Mudassar. Though Payal (the provider) attempted to contact Mudassar's wife and explain her that there was no threat to her and the disease was completely curable, but could not be able to speak to her.
This was a tough time for Mudassar mentally as well as physically. Payal counselled Mudassar and informed him about preventive measures which he needed to take with his children. She also informed him about the importance of completion of the treatment. Now, Payal has been counselling regularly and proactively. This has resulted in a positive way. Mudassar has now been able to cope up with the stress and is recovering.
Donations raised
This quarter, Operation ASHA was able to raise $245. These donations will help disadvantaged TB patients get medicines, grocery, and other necessary day to day items in India and Cambodia.

Operation ASHA is grateful to the support it gets from supporters for joining hands in TB eradication. We look forward to your continued support.

Thank you

Donate now

You can follow OpASHA's CEO Mr. Sandeep Ahuja (@sandeepahuja12) and President Dr. Shelly Batra (@shells1857) on Twitter. You can also follow OpASHA on Facebook and Twitter.