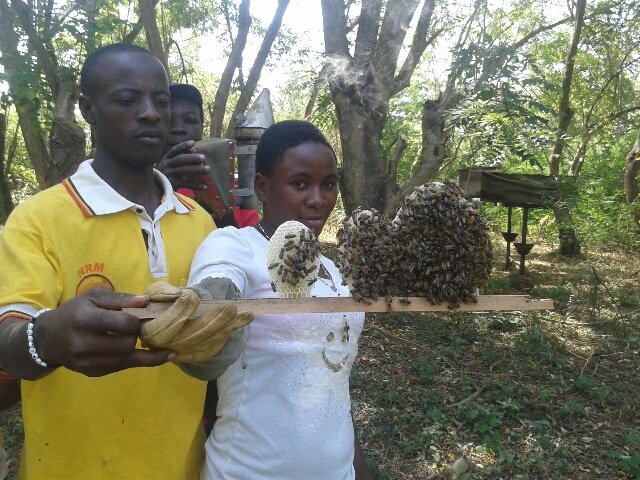 Thanks for your continued support to promote Beekeeping in South Sudan project.

Your gift and cash from different contributors helped to purchase materials to produce ten hives, which were given to two women.
Women in Magwi County and Omilling village have turned on beekeeping to help fight poverty and transform their lives.
Several women, Hope Ofiriha, spoke to said the activity was paying off had the wild monkeys not destroy the hives a year ago.
With no chance to get a decent job, a beneficiary who refused be named, felt she had to try out what she thought was a risky enterprise - beekeeping.
I tried working in quarry stones, but I could not stay for long because of the arduous nature of the job," she said.
I looked around and found that the only alternative for me was beekeeping. Ever since she begun beekeeping, she has been supplying honey to urban areas in the country including Juba.
I got skills and start up kits from Hope Ofiriha. Previously, I was a destitute with nothing to feed myself and my husband, she said.
She said each of her new five beehives she received three months ago produces at least 20 liter honey per hive which she sells at $ 40 each. She has five such beehives that fetch her well $200 per harvest.
Hope Ofiriha trains women in beekeeping and vegetable growing activities and helps them access start-up capital in the form of a microloan.
We will be sending you a new field update after three months so that you get to know the impact your contributions.