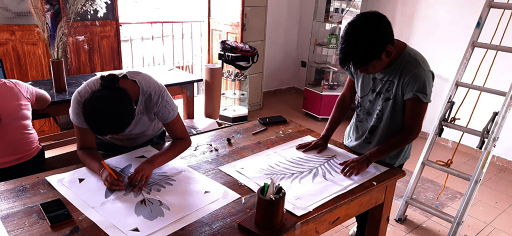 In January we worked with 10 students, 5 women and 5 men. We worked in two four-month period, the first one from January to April, and the second one that is still running from May to August. 3 students graduated in April 2022, 1 will graduate in August 2022, 5 will graduate in between August-December 2023, and 1 dropped out in her first tetramester.
Of the 5 students that are studying right now 2 of them live in Xochitlan, and we help them in alliance with an NGO called "Humaniters", which helps them in turn in situ with this program and others.
It is important to mention that our schedules allow students to study their high school while they also work to support their families. Also, the students that live in Cuetzalan del Progreso also participate in the other workshops we offer, mainly either in the activitities of "Tiltik", a cultural collective of visual artists; in the activitities of "Bambu Maya", a carpentry workshop that right now is workiing to produce education materials for kindergartens in the region; or in the agroforestry activities of the field where the school is located. In Tiltik the students are able to learn more about engraving, painting or mural painting, and in Bambú Maya, the students have helped in making bambú materials for kindergarden children, finally in the agroforestry activities of the school, the students manage a very small coffee plantation mixed with banana trees and other trees from the region, a small puoltry section, and a small vegetable patch.
For next tetramester we are hoping to join the online high school with Tiltik, as we find that secondary students that are strongly interested in visual arts, might find the offer appealing. Though right now we are offering the students from the online high school the possibility of also learning visual arts or bamboo carpentry, for next tetramester we are hoping to attract secondary graduates that are strongly attracted to learning visual arts, and who might find appealing to also achieve thier their high school diploma while studying visual arts.