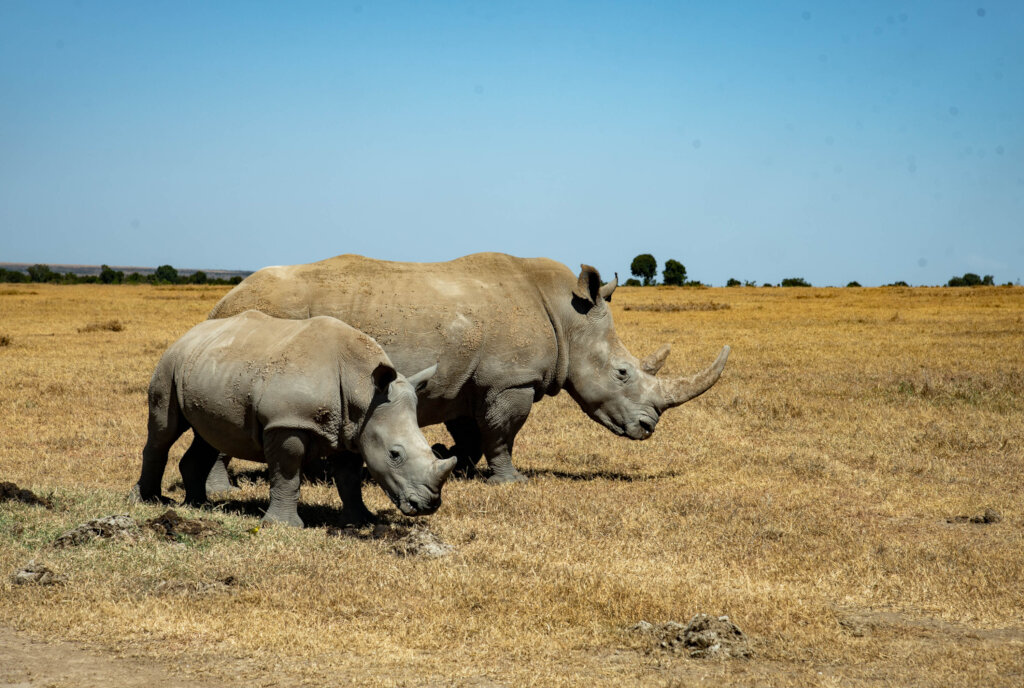 When Kenya halted international travel to prevent the spread of Covid-19, our future became uncertain. However, you helped us when we needed it most. Your generous support has allowed us to keep our core operations running and our rhinos protected.
Here on the Conservancy, there is no better sight than a newborn rhino calf. We are pleased to confirm that our rhino populations continue to grow, with a significant number of births reported in the last few weeks.
Rhino Populations
Black Rhino: 160
Southern White Rhino: 40
Northern White Rhino: 2
Black rhinos were almost poached to extinction. Today, they are listed as Critically Endangered. However, thanks to your continued support and our highly skilled anti-poaching team, our black rhino population continues to thrive.
Black rhinos, also known as 'hook-lipped rhinos' have poor vision but sharp hearing and sense of smell. Except for mothers with calves, black rhinos tend to be solitary.
Here on Ol Pejeta Conservancy, we have successfully grown our black rhino population from 20 to 160 in three decades.
Southern white rhinos are celebrated as a conservation success story, having been brought back from the brink of extinction.
Southern white rhinos, also known as square-lipped rhinos use their wide mouth for grazing. They have complex social structures and are typically less aggressive than black rhinos.
Anti-Poaching Operation
Our highly trained rhino protection squads work tirelessly to keep our rhinos safe. Using ear notches and other distinguishing features, our dedicated ranger team aim to identify each rhino every four days. If a particular rhino has not been sighted for four days, a dedicated team is sent to search for them. Your donations have enabled us to continue funding our anti-poaching operation and we will be forever grateful.
Northern White Rhinos
Najin and Fatu, the world's last two northern white rhinos require around-the-clock armed protection. Your compassion and generous support have allowed us to continue protecting and caring for Najin and Fatu. In our effort to save the species from extinction, we have now successfully created 14 northern white rhino embryos, which will later be introduced into surrogate southern white rhinos.
Looking Ahead
When you responded to our Emergency Appeal, your compassion, generosity, and kindness saved us. However, we are not out of the woods yet. Whilst increasing, international tourism has not bounced back to the level we had hoped. Our need to fundraise to keep our rhinos protected remains crucial.
We hope you can visit us one day to see the impact of your support. Thank you from the entire Ol Pejeta team.