Project Report

| Jun 17, 2014
More Hope in Moore One Year Later!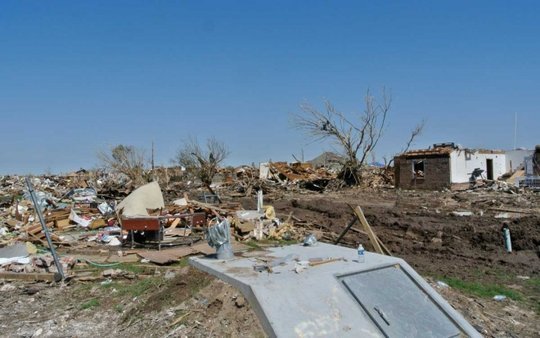 Its been over a year since the Moore, Oklahoma Tornado rocked the lives of hundreds and took the lives of 25. The strong people of Moore have united together to fight adversity and challenges from the aftermath of this disaster and have been able to do so with your help! Over the past year, some of our partner organizations have worked tirelessly to provide relief efforts and a helping hand in this time of need. Here are a few projects your donations have been able to fund:
Architecture for Humanity's project Rebuild Moore - Oklahoma Tornado Reconstruction has worked for the past year to rebuild resources in Moore, including community centers, youth centers, public sports facilities, and centers for the elderly. Recently, Architecture for Humanity worked with a program developed by the Oklahoma Department of Emergency Management (OEM) in cooperation with the Federal Emergency Management Agency (FEMA). The program consisted of several sessions for training architects, engineers, and other professionals in order to better prepare schools in the area for future disasters. One participant, Tommy Stewart, spoke positively of the program and said "rather than what happened, we were taught to think about what could happen". This forward thinking will allow more Oklahoma schools to find and/or create refuge areas.
Another hard-working organization over the past year has been Do Your Part, Inc. They have worked to provide fencing, an uninsured item, and personal needs to all the people and animals affected by the tornado. In their latest report, Do Your Part introduced the Hillian family's goat farm, which lost all of its fencing and support a year ago. As a result of all of your generous donations, the farm is up and running again. The goats are secured because of new fencing, and the family can begin to live a normal life. Do Your Part wanted donors to know the Hillian family personally thanks each and every one of you! Do Your Part continues to replace and repair lost items of survivors, and residents are beginning to move into new homes with these items.
Lastly, Save the Children was one of the first responders to the disaster, jumping in to help just twenty hours after the tornado struck! With your help, Save the Children was able to fund Child-Friendly Spaces, providing affected children with safe places to play in again. Through this project, Save the Children supported 26 child-care programs and partnered with four YMCA camps. One example of this work included sending five-year-old Colton and ten-year-old Codey to a YMCA summer camp. With your help, Save the Children reached over 5,200 individuals and 2,073 children!
Even a year later, there is still more work to be done to undo the damages of the Moore, Oklahoma Tornado. The community, however, has come so far with the help of your generosity and care. Hope is being restored in Moore, and we have you to thank. Keep up the great work!