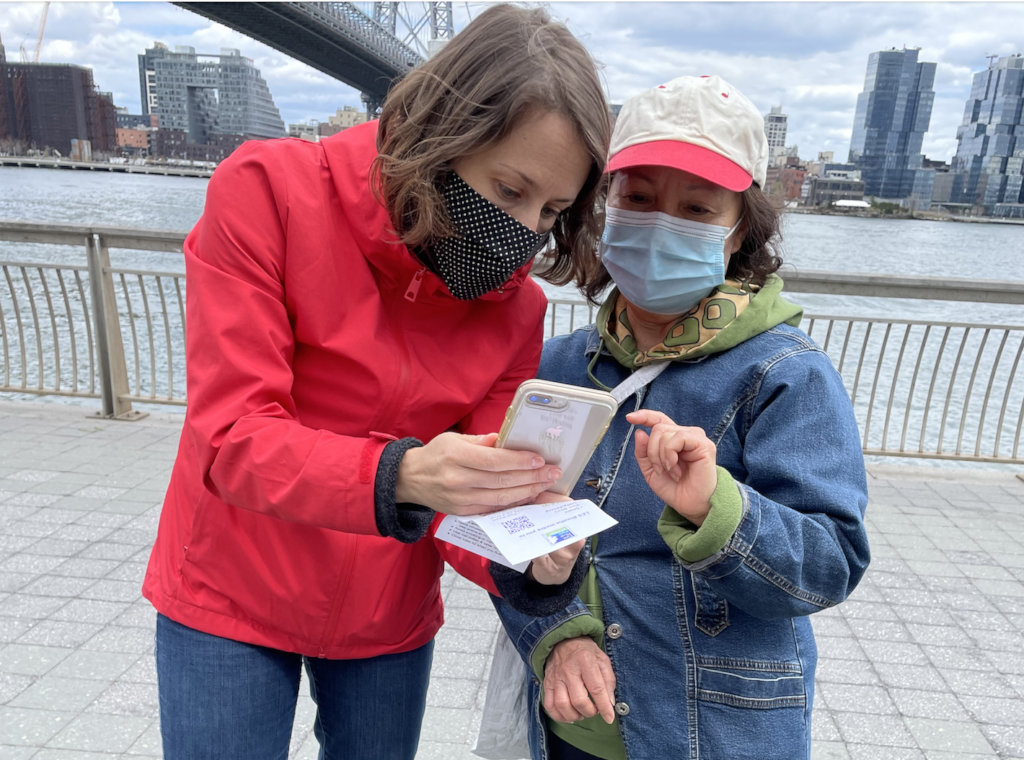 Happy Climate Action Week! Your donations of up to $100 are 100% matched all week, through Friday, April 24th at midnight ET - please pitch in! Help us collect the full $2,000 match offered by GlobalGiving.
Your support has been critical to our work in NYC:
Yesterday, we held an online demo of our new mapping platform, OGM2, this time with participants from Afghanistan, Canada, Scotland, South Africa, Arizona, New York and Washington (find links these demos to GreenMap.org/stories/ogm2, where the list of platform features and presentations is growing). See OGM2 at new.OpenGreenMap.org, and consider making your own local Green Map.
Then, it was time for Green Map NYC to head to a spring gathering in East River Park on Manhattan's Lower East Side. We partnered with LES Breathe, a community group addressing the environmental, health and climate impacts of the ESCR project as currently designed. Many are concerned about upcoming years of construction, and the lack of transparency and review of this monolithic razing and raising of our largest park. Using OGM2's new Campaign feature at Saturday's event, we provided an opportunity to engage people in sharing their story on the Monitoring East River Park Green Map. Explore it at bit.ly/erpmap.
A part of East River Park Action, LES Breathe co-hosted an Open Data Week panel with Beta NYC and the Borough President's office in March and is developing community partnerships to activate mutual aid responsiveness. This work ties in with Green Map NYC's involvement with street tree stewardship, community gardening and other neighborhood climate health projects. We're also part of the Dutch Kills Loop, an infrastructure reuse project in Long Island City, the Loisaida Open Streets Community Coalition and more, all described in the new project document posted on our GlobalGiving profile.
It's been a year like no other, and we are delighted to continually contribute to community mapping, across the board. Last week, our director had the honor of being the first speaker in the International Society of Participatory Mapping's new Storylines series (recording is here) Follow @ISPMapping on Twitter for updates on the series.
With your help, we're having an amazing spring, with locally led Green Map projects popping up all over the world. Our local work benefits New York City and the global Green Map network. This week, please pitch in - your donations of up to $100 are 100% matched now, through Friday at GlobalGiving - thank you so very much!

Our best wishes to all this Earth Week - Climate Action Week!