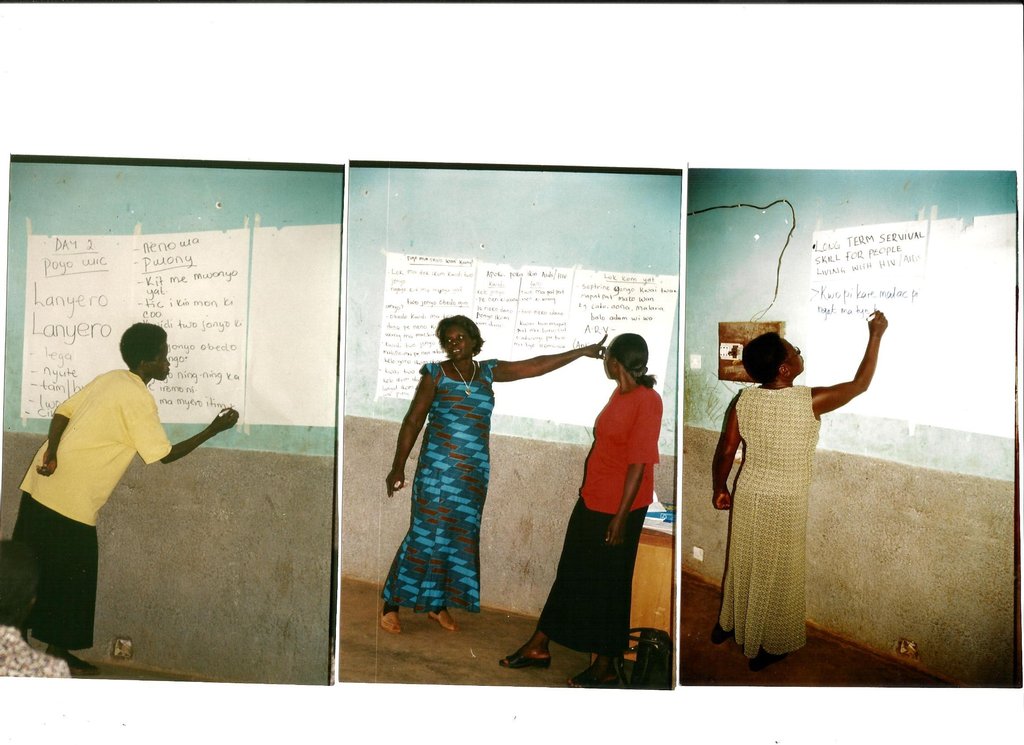 From: River Fund Women Association – Kitgum
Subject: ACTIVITY REPORT
Introduction
This report covers the second phase of implementation of the Long Term Survival Skills for rural women on HIV/AIDS. While the first phase covered the sub-county of Labongo Amida, the second was based within Town Council in 3 Parishes of Guu, Alango and Pandwong.
Activities Implemented
1. Participation in World Aids Day
The River Fund women were invited and participated in World Aids Day at Orom sub-county with the help of AVSI. They carried out demonstration on the Table of Health and a Healthy Plate. This very much excited the district officials and the crown watching. The Association was hence encouraged by the RDC and LCV to register with the district.
2. Registration
Following the encouragement of the LCV and RDC, River Fund Women is now registered with Kitgum District Local Government (a mandatory requirement) and Kitgum NGO Forum (Kingfo) which is a net working body for NGOs/CBO in Kitgum.
3. Training on Food Demonstration
Three representatives of the River Fund Women Association attended a three days training on food demonstration and preparation organized by St. Joseph's Hospital. After which the 3 again conducted a similar training for the rest of the group members to build on their skills.
4. Identification of Malnourished Children and HIV+ Mothers
As a follow up to the community mobilization and meetings in Amida sub-county which ended in 2009, the River Fund Women decided to move their operation to Kitgum Town Council in view of the fact that the camps were being dismantled. Consequently, HIV+ mothers and malnourished children in 7 villages from the Parishes of Guu, Alango and Pandwong were identified for nutrition education and community HIV/AIDS education.
5. Outreach Education
Following the identification of malnourished children and their mothers and mothers who are HIV+, the women group carried out the following outreach activities.
(a) Food demonstration to mothers of malnourished children
At each village in the 3 Parishes above, mothers were first taught the (3) three food grouping (energy giving, body building and Vitamins). They were later taught on how to mix some essential food items and how to cook them and give to malnourished children and HIV + persons using locally available food items. Each mother was provided with ¼ bar of soap to help them wash their hands and cooking utensils before they begin to cook the food.
(b) Survival skills training for HIV+ mothers
HIV+ mothers were given survival skills training on how they can improve their health through proper nutrition, stress management and counseling.
To help in its work, the group was assisted with saucepans, plates, jerry cans, cups, and hoes by St. Joseph Hospital. These were supplemented by group contributions as well as money withdrawn from the River Fund Account.
Items donated by St. Joseph Hospital
3 small saucepans, 20 plastic plates, 2 jerry cans, 4 plastic cups and 4 hoes.
Items donated by the Group
Potatoes, Cassava, Tomatoes, pumpkins, assorted vegetables, garlic, green papers, sardine fish and fruits like: pawpaw, oranges, banana, water melon, guava, avocado, pineapples and carrots.
Items bought
9 boxes of washing soap, 4 smoked fish, ½ bag of maize corn, ½ bag of fine posho, 16 kgm millet, ¼ bag of sugar, ½ cartoon of salt, 4 kgm of meat, ¼ bag of beans, 1 bag of unshelled ground nut, 1 tray of eggs, 1 kgm of onions, 3 ltrs of cooking oil totaling to shs.500,000/=.
Achievements
Registration with the District

Registration with the Kitgum NGO Forum

812 mothers were trained

136 children identified (see attached copy)

Recognition by the district authorities and other partners in the fight against HIV/AIDS

Follow up of the growth of the malnourished children using mauc tape.
Challenges
- Late start of the training session as the community has to attend to their gardens first.
- Unfavorable weather to planted food items
- Expensive hiring of cameras for coverage and this made most of the activities not to be covered.
- Some mothers still fear disclosing their HIV status
- Lack of office accommodation
- Inadequate assistance to children whose parents have died with HIV/AIDS
Recommendation
Regular follow up of the mothers sensitized
Regular weighing of the malnourished children
Sensitization to cover all the Parishes within Town Council
Community be encouraged to go for VCT
Continuous community meetings
Construction of office accommodation for the group
Future Plan
Provision of food supplement to malnourished children
Follow up and home base care for HIV+ and malnourished children whose parents have died or affected with HIV/AIDS.
Training of community Volunteers
Conclusion
a. The Group appreciates the help of those well-wishers who contributed to help the group move forward with their activities. However there is still much work to be done on the ground. We appeal to other well-wishers to join hands so that together we can combat malnutrition from our community and support/care for those affected and infected with HIV/AIDS.
b. We appreciate the LCs and the VHTs who helped the group in their mobilization in the villages and we encourage such team work to continue.
c. We also thanked St. Joseph Hospital who took interest in our activity and provided us with training on food mixing and to monitor the growth of the malnourished children.
d. Last but not least, the continuous support and guidance of Msgr. Matthew Ojara.
We wish to conclude by extending our appreciation to all those who helped us in one way or another.
May God bless you.
Karmela Lam
Chairperson River Fund Women Association