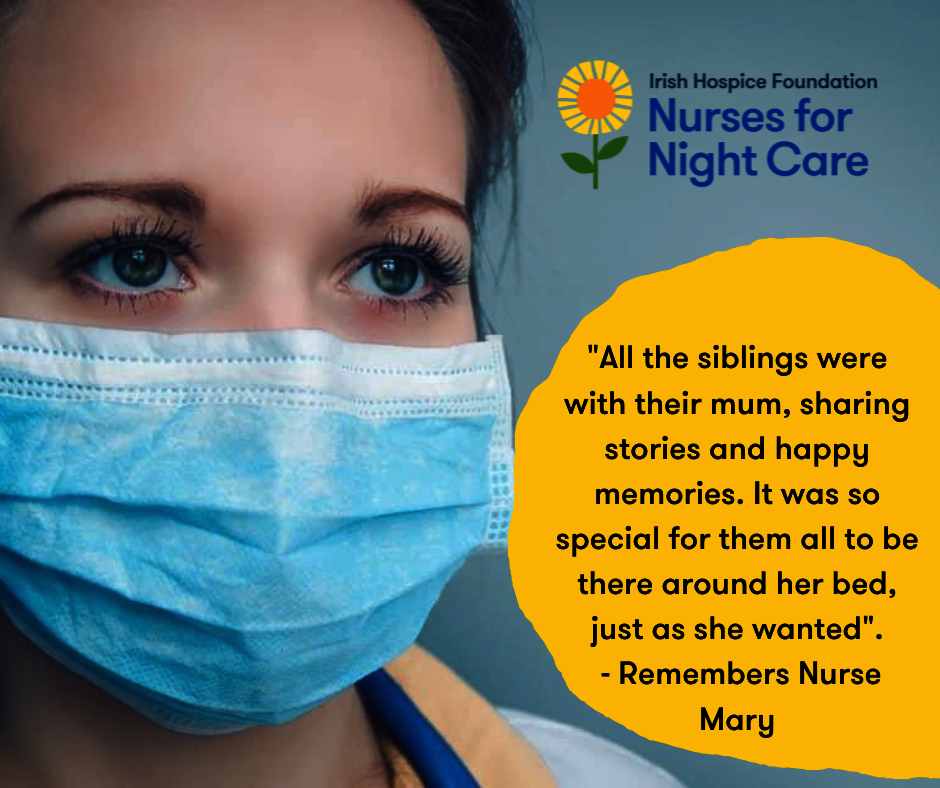 Dear friend,
Thank you for your wonderful support to Irish Hospice Foundation. As you know, ours is the only free at-home Night Nursing service for patients suffering from non-cancer diseases. That's everything from dementia, to heart disease.

From January to September 2021, we have supported over 650 families across the country and funded 1,980 nights of nursing care.
We have seen 2021 referral figures increasing by over 20% on the same period last year. We have observed that the impact of COVID-19 has resulted in a shift towards delivery of care in the community and a significant rise in demand for Nurses for Night Care throughout the country.
Demand is growing by 15% each year. This year alone we must raise nearly €1 million to meet the need for our Nurses for Night Care service. We couldn't meet this growing demand without your support as 85% of our income comes from the voluntary donations from generous people like you.
For people to be able to spend their final days at home, we must offer access to care and adequate healthcare services. This project contributes to this vision: enabling people to live and die at home. Not only does this project support the person being cared for, but it also provides support and respite to family members and helps them come to terms with their bereavement.
Your generosity sends nurses to the doorsteps of families at a very vulnerable time. Thank you for making final wishes come true.
---------------------------------------------------------------------------------------------------------------------------

For Bereavement support & for more information and updates on Nurses for Night Care
https://hospicefoundation.ie/