Project Report

| Jun 29, 2017
Amazing group of students! Help us get the word out!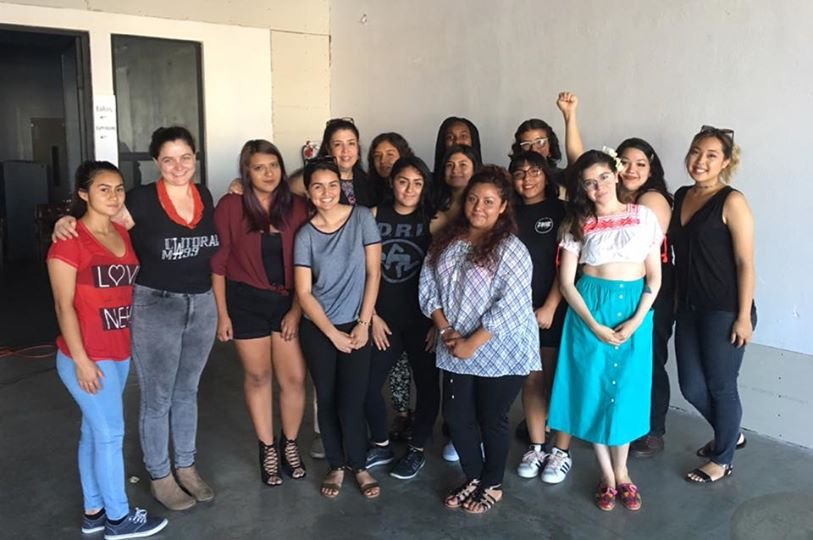 Thank you for your support of Nuevas Novelas with Justice for My Sister Collective!
The Nuevas Novelas team is thrilled to welcome an incredibly talented and well-versed group of students this year! All women of color, we have 18 participants who are ages 17 - 24 and demonstrate strengths ranging from media literacy to storytelling and transnational, queer, anti-colonial feminist analysis. It's extremely exciting as a facilitator to learn from our participants!
Day 1, we looked at various clips from mainstream media to dissect and assess through a feminist lens. Participants used theater to explore how to tailor stories for different audiences and to describe transnational/intersectional feminism to those audiences.
Day 2, our Programs Manager Hilda Franco used film clips and music videos to explain and contextualize gender-based violence, the cycle of violence, and healthy relationships. Students identified healthy versus unhealthy messaging in the media.
Day 3, writer of acclaimed film Under the Same Moon offered tailored feedback to several participants on their story concepts during her workshop on screenwriting. We talked about how we can decolonize, and what it means to decolonize the narrative. They watched and engaged deeply with my comedic pilot The SweetSpot.
Today is Day 4, and we will dig into their short film outlines and practice their pitch as they finetune their stories to liberate. I'll give a Master Workshop on directing and producing in pre-production mode, for casting and forming a crew.
Please help us get the word out about our online fundraiser!
We've raised about 20% of our goal and are about 20% through the program, so let's get the word out to ensure we stay on task to cover our expenses and bring in all the expert mentorship and guidance that we need. We appreciate your support!
Hear from our Students on WHY Nuevas Novelas is important.
"As a queer woman of color I've always felt that much of the work presented in film, tv, and books didn't represent me. It is hard to find works that approach issues and subjects through an intersectional lens. I want to participate in this training because gaining these new skills will give me new means to share my stories and ideas. With these new skills I hope to one day be able to create works that will show the stories of those who for so long have been left out of the narrative."
"I witnessed my undocumented mother become a victim of domestic violence in the U.S. and the outcome of it has since shaped my life and understanding of various systems including "traditional" gender roles and how they perpetuate misogyny."
"I have considered myself an intersectional feminist for years and have focused on the direct and indirect effects media has on womxn, poc, and society in general. I am a visual artist and I make political art on subjects such as feminism, animal rights, racism, colourism, lgbtq+, etc. I would love to venture into film production and create more eye-opening projects."
"Ever since I could remember, I wanted to help my community but life took a turn somewhere and I thought I had to sacrifice my aspirations in order to help others. I am finally allowing myself to go after my dreams and I want to share in some of the responsibility of telling those stories. Training in public speaking and advocacy would be invaluable. Working with professionals in the industry would be a dream come true as I really want to learn confidence in the editing room and on sets. Feeling like I don't deserve opportunities like this has always held me back but I am hoping for this chance."
"I grew up disliking novelas because of the shallow representation of women. I would love to input my experiences to create media that realistically represents the strong women in this world."
Thank you for helping us get the word out, so we can reignite this fundraising campaign and have all the resources we need to fund this program and make a difference for our participants' career path and increase our collective impact!