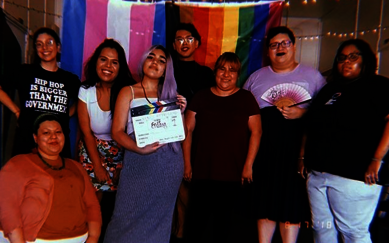 Dear supporters of Justice for My Sister Collective,
I want to express my deep appreciation to you for your continued belief in our work to train underrepresented aspiring filmmakers through a gender justice lens.
Over the summer, JFMS hosted eighteen (18) day-long workshops led by guest lecturers, our Program Coordinator Daniela Ortiz-Padilla, and myself as part of our 3rd annual Nuevas Novelas Filmmaking Summer Bootcamp for young women of color and non-binary youth. The series prepared students to produce three (3) selected short films completely created by participants. Our students are currently in post-production to finalize and premiere their work in Winter 2019.
The films selected for production during 2018 Nuevas Novelas Summer Filmmaking Bootcamp include:
Venus' Retrograde (dir. Alejandra Gonzalez) is a short LGBTQ+ film that follows a Nikkie, a young non-binary person of color, and their journey of self-love and revelation of self. Nikkie has been limiting their expression due to culture and gender expectations. However, this changes when Nikkie decides to attend an LGBTQ+ Open Mic and is inspired by a vibrant and empowering poet, Venus, who recites a poem about body-positivity and growth. Venus empowers Nikkie to unapologetically be their most authentic self and to explore their creative and sensual expression.
The trailer of one of Venus' Retrograde was presented by Outfest in Downtown LA's Grand Park to a live audience of nearly 500 people on September 7, 2017. Our work-study student Marina Perez, the film's Assistant Director, partook in the Q&A.
La Botanica Verde (dir. Marina Perez) is a dramedy about a local botanica's survival in a neighborhood currently being gentrified. Our two main characters Lupita and Rosario, have been operating the botanica using traditional knowledge and love for their community. As Lupita and Rosario witness the new changes in the community, our two beloved botanica abuelitas are at odds on how to handle incoming business from new people in the community.
Una Chanza (dir. Guadalupe Martinez) depicts a typical morning between Janet, her mother Mayela, and father Raul. They are a Mexican-American family going through the strain of raising a bicultural daughter--who often feels that the more she empowers and informs herself, the less she can relate with her mother. Mayela has always been a dedicated mother and wife, often pushing the family roles she grew up knowing, which Janet increasingly rejects. Raul is a hard-working provider but does not have a sincere connection with Janet. In this short, his silent presence serves as a buffer preventing Mayela and Janet any privacy to speak freely. We hear the two internal monologues of mother and daughter, filled with sharp humor, banter, and genuine love. Despite their clashing personalities, they're inspired to ultimately try to connect over coffee and eggs.
I look forward to sharing our students' films with you! We continue to raise funds for the program, as we are bringing editing instructors to guide the students as they finalize their work. We appreciate your support that's helped us get this far! Please spread the word about our work to those who are also committed to changing the narrative and centering the voices of young women of color and non-binary youth. We welcome donations of all sizes, and every bit counts!
Much appreciated,
Kimberly BautistaExecutive Director
www.justiceformysister.com
www.nuevasnovelas.com