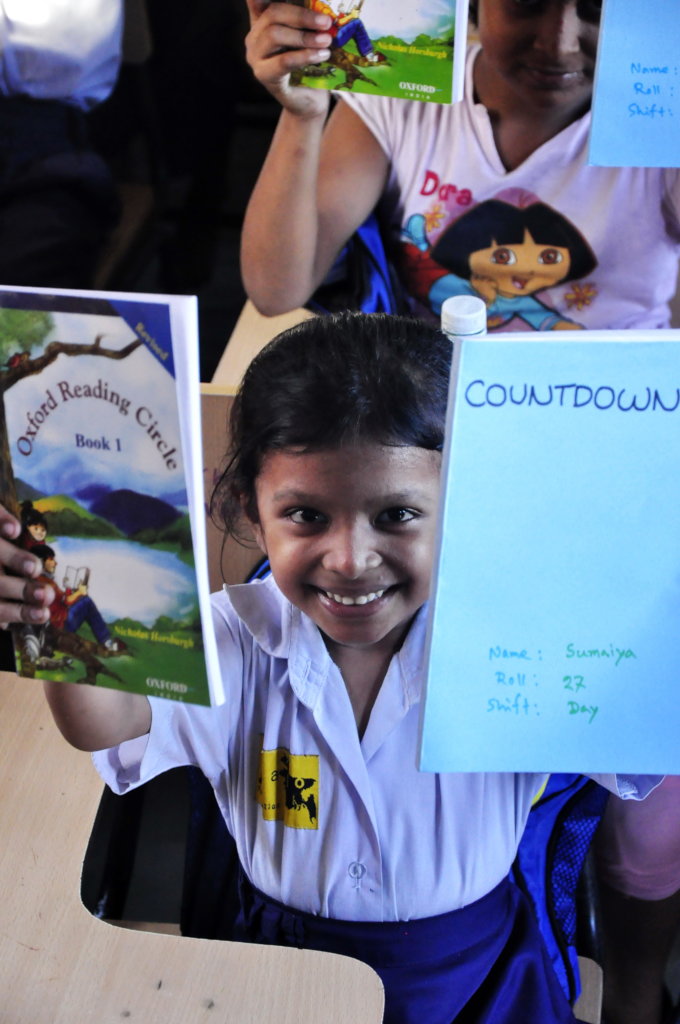 Being a first-generation Bangladeshi-American content-creator, activist, and entrepreneur, Nabela has inspired our youth through her amazing work. In 2019 Nabela and her husband, Seth, visited Bangladesh. During that trip, they came to JAAGO's Banani School, to spend a day with the children and see how JAAGO is changing their lives.
In Arabic, Noor means light. Nabela, being a changemaker, illuminated the youth by launching the 'Noor House' program with a goal to sponsor 20 female students from JAAGO schools personally and support them till graduation. She also managed 5 more education sponsorships through her fans and family under this program. Nabela has opened Noor House to her global audience to join in sponsoring a girl child through this project.
Challenges Our Girls Face Everyday
Unfortunately today there are still some superstitions and beliefs in our society regarding a girl's education. Many people still believe that girls should stay at home, do household chores, and look after children. Hence, lots of girls engage themselves with household activities 24/7 from a very young age. Also, a lot of poor families in our country are indifferent to educating their daughters. For them, it is a needless expense and a luxury for that matter.
This may sound absurd but many girls are forced to drop out of schools due to lack of sanitation facilities. With the poor quality of sanitation facilities and unhygienic toilets at schools, lots of adolescent girls are compelled to drop out every year in South Asia.


Noor House Mission: Her Light Can Change The World

The mission of Noor House is to improve and uplift the lives of underprivileged female children with the light of education. Its goal is to ensure that every girl gets an opportunity to develop herself and her family as a whole with the finest combination of valuable technical skills and knowledge, which this project is aiming to provide. Nabela believes that there is no alternative to education to ensure equal participation of our girls in each and every sector of our society.
When Dream Is to Reach The Sky
Through this project, the female students of the Noor House program will be provided with the tools and facilities to help them escape poverty, raise their standard of living for their whole community and have a healthy and productive life. They will get the education to gain knowledge and skills for a better life and to become self-sufficient and empowered young women. Nabela dreams to create a safe abode for our daughters through her program.
We believe education will give our girls a voice to stand up against all types of gender stereotypes, gender-based oppression, and also physical & domestic violence. Education also promotes better knowledge about family planning, better nutritional knowledge for both the mother and the child, and promotes practices that lead to better overall health. Our girls, this nation's future mothers, can help us to continue the cycle of education in society and set an example for our future generations as well. Noor House believes to produce a better mother, first, we need to educate our girls.


Support Our Cause

You can support at least one of our student's monthly education costs under the Noor House program. This education sponsorship will be helping a girl-in-need getting a new school uniform, a new school bag & necessary school supplies. Besides, it will also carry the cost of the weekly nutritious meals and basic medications as well as the cost to run multiple co-curricular activities throughout the year.
Note of Appreciation
JAAGO Foundation has always dreamt of a better future where our children will get a safe platform to thrive with their fullest potential, no matter what economic background they come from. And it couldn't have been possible without our NGO partners, corporates, donors, and well-wishers who have been our companions in the journey of fulfilling this dream. Nabela and her contribution have also become an inspiration to JAAGO which will keep us moving forward towards our goal. Thank you for your amazing support which has brought a smile on the faces of our 25 female students. We would love to pay our gratitude to Noor House on behalf of them for helping their dreams fly with colorful wings.