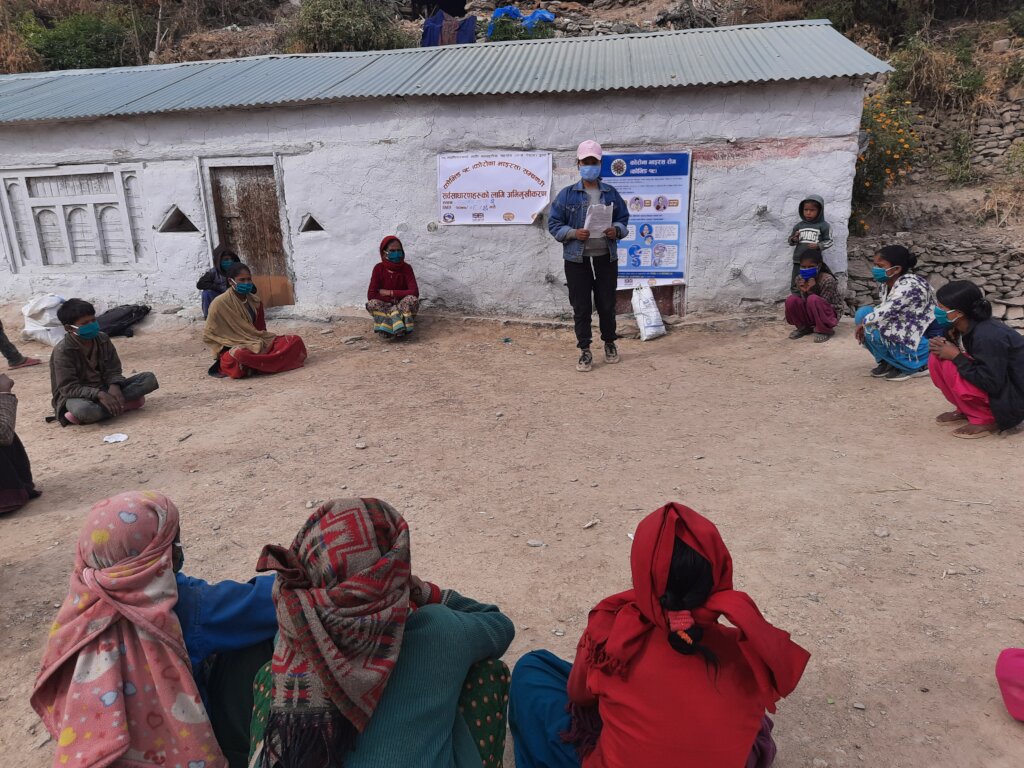 Dear friends,
Thank you for your contribution and trust in us throughout the global pandemic to deliver the services in Nepal's remote Himalayan regions. Through your support in the past years, we are able to focus on providing support for health, livelihood, and education.
Update from the field
With your support, we have continued to work in Nepal's most remote, hard-to-reach and resource-deficit mountainous communities in Bajura, Humla, and Mugu districts in far western Nepal where local villagers need to walk several hours to receive basic health services.
In the last quarter, June- August 2022 in total 15,793 people were reached through PHASE Nepal supported 13 health posts for consultation on various diseases, infections, and emergency health services. In this period 14,168 community people were engaged in health awareness sessions on infection prevention measures like frequently washing hands, maintaining personal hygiene, eating a balanced diet, and timely seeking medical advice through PHASE-supported health facilities, along with essential maternal and child health-related sessions.
Besides, during the pandemic, we were also able to continue maternal and child healthcare. A total of 149 (93 by PHASE health staff only) safe deliveries from the PHASE supported 13 health posts in the last quarter.
With your support we were able to include additional infection prevention activities like providing PPE such as masks to the health posts and community members, providing "hygiene kits" to targeted groups with items such as soap, nail cutters, and hand sanitizer, supporting the government in the screening of COVID cases. During this reporting period, our PHASE staff worked together with the government staff in covid immunization. Several cases of COVID and a few deaths are observed in main cities like Kathmandu however, COVID cases are negligible in the PHASE Nepal project areas.
Himalayan communities are grateful for the support that you have made possible at this critical time:
A Government health worker at a Humla- Maila health post shared, "When the pandemic started we were looking for central government to provide us the budget for preparation. But, before them, PHASE Nepal was the first to provide PPE to this area. That was great support for us to continue the health services at communities." He also added that the PHASE staff is available most of the time of the year and to respond to any health emergencies.
A mother in Photu, Mugu shared "It was good to get PPE. We didn't have enough money to buy masks, and we would cover our faces with shawls that would not have been protecting us. From PHASE staff we also learned that wasn't safe. Now, we are able to maintain distance, wash hands and wear masks to prevent infection. This thing supported to prevent the infection and also was easier for us to take care of the infected family members."
PHASE ANM at Natharpu health post in Mugu district shared, "when the covid vaccine came to the village the traditional healers were reluctant to take the vaccine. We organized a special orientation session for them about the benefit of vaccination. Then only they agreed to it and are protected."
For now, the daily infection rate is low in Nepal and more than 70% of people received the full dose of vaccination. PHASE Nepal has continued the essential and emergency health care services for infection prevention, and maternal and child health care in 13 communities.
All this has been possible with generous support like yours. We heartly thank you for your every support. Your support has made us capable to continue the health and COVID prevention/protection/vaccination services and save hundreds of lives in remote, resource-poor, Himalayan communities.
Our team will continue to be prepared for any form of future epidemics and health emergencies. We hope your support will be continued. We thank you wholeheartedly for joining hands to save lives and empower the most marginalized communities of Nepal. It would also be great if you could share our work with your colleagues who have an interest to support Himalayan communities through health, education, livelihoods, and disaster risk mitigation activities.