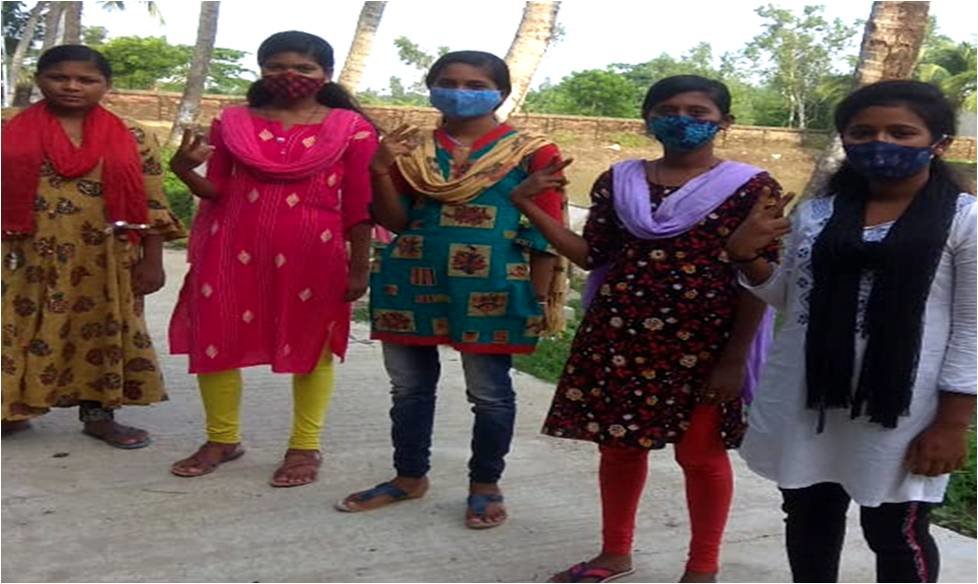 Even amidst the long and still continuing Covid-19 Pandemic and devastations by 'Yaas' Cyclone that made cataclysmic landfall left a long lasting impact in our operational areas of coastal and riverine Sunderbans we remained steady in consolidating our efforts to build the future generations here prepared and befitting for all future struggles.
Our endeavour to empower and capacitate adolescent girls- 'Nayantara' also thus continued. With time and pace Nayantara Girls are now becoming more confident with their studies and involvement with various activities that helping grow leadership qualities among themselves.
Thus, for the enduring Pandemic and Yaas the Nayantara Girls have now come forward to stand by the severely impacted people here. They are moving out in the communities to make them sensitize on Preventive Measures for arresting the spread of the deadly Corona virus with face to face communications, miking etc.
The present situation has contributed to the rise of Human Trafficking, Dropping Out from Education, Early Marriage and many other social perils even in these remote Sunderbans villages in search of assured and secured life, food etc.
The confident and prudent the 'Nayantara' Girls became vigilant and had shown their active involvement to stop such trends. In recent times they were proactive in resisting a Child Marriage and remained successful. These have created new energy among them and make them more confined about their own capacity.
This bulk of Girls gradually forming their own identity and has giving us the confidence in our mission to empower more such adolescent Girls who gradually will come out of all social stigma and form a new order in the society- without any disbar and despair.
In our operational area of remote coastal and riverine villages at Sundarbans there are so many young buds waiting to be blossomed with your care, support and blessings.
Beaten by ill fate of social malices consequent to poverty and being from remote hard to reach areas they still dreams of a brighter tomorrow and with their identity established.
Please extend your helping hand to fulfill their aspirations and dreams.