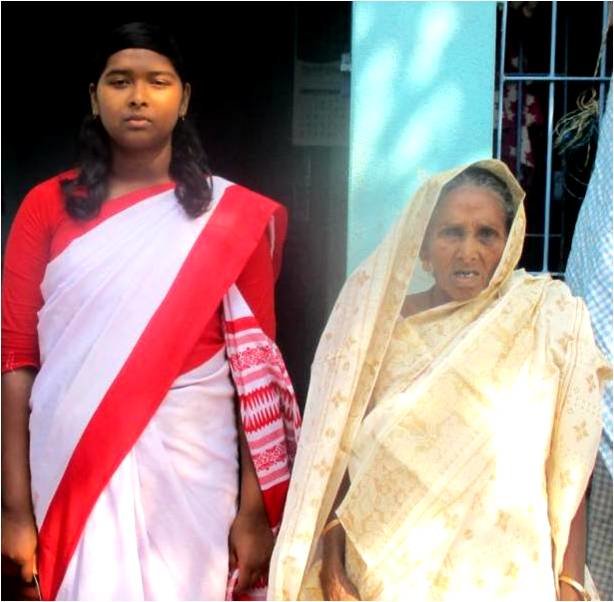 'Srabana* is a 14 years old girl hails from remote Nandakumarpur village under Nandakumarpur Gram Panchayat of Mathurapur II administrative block in South 24 Parganas district of West Bengal, India. She studies in 10th standard at the Nandakumarpur High School. Both of her Father Mr. Nityagopal* and Mother Mrs. Rupali* work as peon and sweeper respectively in the same school she studies, i.e. Nandakumarpur High School and earns around INR 7000.00- 10000.00 altogether. Srabana* stays with her parents and grandmother together in a semi pucca house at Nandakumarpur village.
Srabana* is associated with 'Nayantara' programme at the Nandakumarpur Nayantara Centre since 2017. She has been a good student since the very beginning. She has exhibited her excellence in all her examinations. She has scored quiet well in the last annual decisive examination of 9th standard. Right now she is studying in 10th standard and preparing for scoring better in the 10th standard final examination by the West Bengal Board of Secondary education – 'Madhyamik Pariksha'. She is going to appear for the Madhyamik Pariksha next year i.e. 2021.
Srabana* maintains a strict discipline for betterment in studies. She also has deep interest in Music and Computers. She is learning Vocal Music since quiet a few years. She also aspires to pursue higher studies in Computer Engineering and become a Computer Engineer.
Srabana's parents both are from humble origin and struggles hard to sustain their expenses. Earlier they had issues with Srabana's studies. They used to think her to be got married as early possible. They didn't believe that a girl can even do better in studies and pursue her dream career and the life they aspire.
But with consistent efforts of persuasion on essentiality of studies in a child's growth by the Nayantara team, the trainings and interactions at regular intervals and after witnessing the consistent progress made their daughter they have changed their views of life. Now they believe that even girls can do as better, if not more, as a boy. They now aspire to see their girl become successful in reaching all her dreams.
* Names of all individuals altered to maintain safety & privacy.
Sabuj Sangha's relentless effort to empower the adolescent girls belonging to marginalized vulnerable communities is now running 4 years. We are grateful to all those who continued supporting the Noble Cause of empowering the Adolescent Girls in the remote corners close to the forest infested Sunderbans. The support you made are utilized for their education, nutrition, trainings etc. to make them more self sufficient and build their dream career.
This efforts are also creating a bunch of girls who are acting as catalyst and watch dog oh the community who are fighting against the social menaces of Child Marriage, Girl Child ignorance, Exploitation in various ways etc.
Yet we need to walk miles to reach our target of attaining thousands such girls in the remote villages. We direly need your support more & more in this regard. Please also tell your friends and spread the message for the needs of empowering such girls who have every possibility to bloom to be as responsible persons in the society.