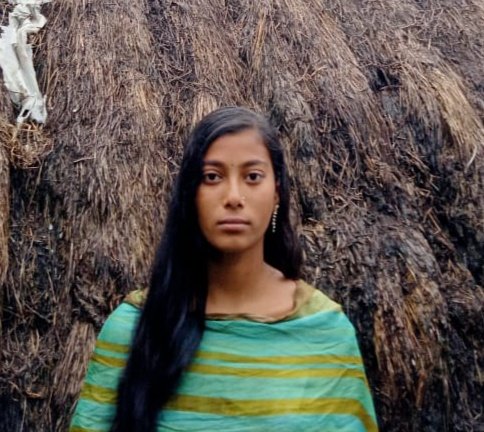 Social malice like early marriage, being dropped from education, early motherhood, confinement by male dominance is still a prevalent feature in remote Sunderbans, especially among the vulnerable poor families. Also following the age-old misconception and Superstition the major portion of the Food is given to the Male members and female take the left over as their part. This leads low nourishment/ malnutrition and allied health problems severely.
In order to prevent the trends of social evils here, Sabuj Sangha endeavoured an initiative to empower the adolescent girls by establishing holistic Non-formal educare centres at different remote villages. There besides being mentored in formal education they are also receiving training for Dance and Art & Craft, orientation on health & personal hygiene – all such lessons a girl need to have during adolescence for a brighter tomorrow.
Girls under this initiative belong to extremely marginalised poor & vulnerable families. With the continuing Covid -19 Pandemic, lockdown and the Cyclone Amphan these families are in terrible crisis of livelihood recourses. Within our limited capacity and support from various humanitarian organisations though we could arrange a little amount of Food Materials, Hygiene and Shelter Materials but they need much intense support to restore to normalcy.
Today we are going to share story of such a poor, marginalised family where a young adoloscent girl Bhabani* who even being beaten by the irony of poverty and nature's whims dares to dream come over all scares and build a stromng future for herself and her family.
17+ years old Bhabani* from remote Kailashpur village in deep Sunderbans of South 24 Parganas now studies in 11th standard in the closely located Govt. Higher Secondary School. Though attentive to studies yet she is loaded with the circumstances they are facing extreme critical condition with Covid-19 outbreak and Amphan. Her father is a fish trader and also cultivates seasonal vegetable in the small tract of land they have. Thus with a very meagre monthly earning of around INR 2500.00 they sustain in extreme hardship.
Bhabani* has been a member of Sabuj Sangha's empowerment & grooming initiative since around 3 years. With the training, mentorship has been receiving she has already decided to be self-reliant and probably a Dancer in future.
In the continuing Covid -19 Pandemic and Post Amphan Situation they are facing a deep uncertainty on what to do next….
We need to reach many other such vulnerable adolescent girls falling prey of gender discrimination and subsequent consequences. Support is also required highly for their families too. They need the support to restore their livelihood options and get back to normalcy.
Appeal
Help the vulnerable adolescent girls from poor marginalised families, of coastal and riverine Sunderbans impacted deeply by continuing Covid-19 pandemic situation and Cyclone Amphan, build their own future….
Your small help may help the vulnerable adolescent girls from deep remote Sunderbans live a life of dignity and self-reliance. Please come forward... for these girls…who longing to see a see a better tomorrow….
* Name of all individuals altered for maintaining privacy& safety