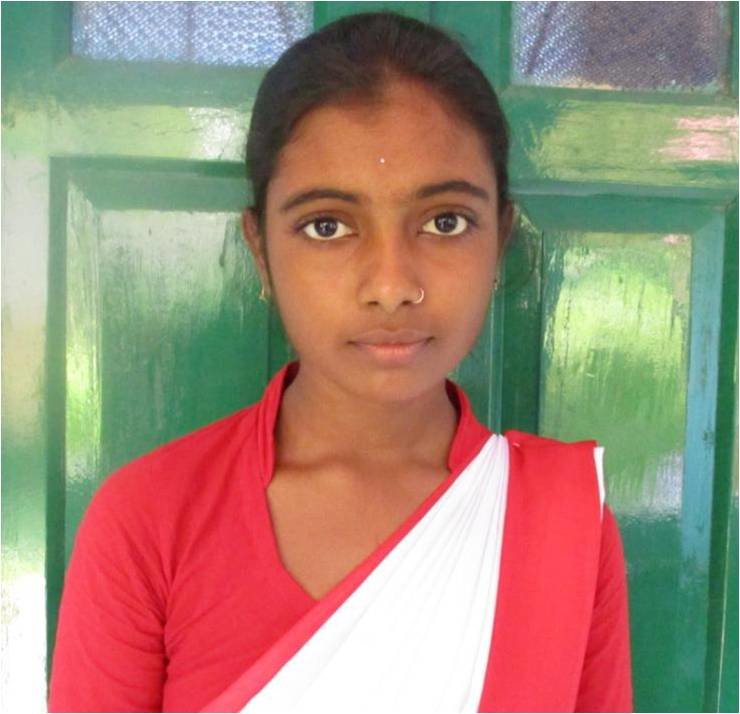 You may recall the young smiling girl of 16 years Mitali* Das who cleared the 10th standard board examination last year from Nandakumarpur High School that we reported under the head 'Crossing a Milestone'during June, 2019.
At present she is studying in 11th standard at the same school. She has turned 17 and yet steady at her decision to become a successful person in life.
Mitali* hails from remote Nandakumarpur village under Mathurapur II administrative block of South 24 Parganas district in West Bengal, India.
She belongs to a family where most of the time wants & supply chain doesn't match. Her father Mr. Suman* Das is a farmer and daily wager by profession and the lone earner of the family. As they have very little land most of the time he works as a daily wage labourer in others' field. Thus he hardly earns around INR 3000.00-3500.00 on an average per month. Mitali's mother Mrs. Mita* Das is a homemaker and manages all family requirements with steep hardship.
Mitali* stays with her parents, one younger brother and a younger sister in a small mud house with asbestos roof. Since the very beginning Mitali had been an average performer as a student. Though, she keeps on putting efforts to come over her weakness. Thus she remained regular and very attentive in the classes of Nayantara. Besides she has growing interest in learning computer operations.
Being an introvert person by nature Mitali doesn't have much interest in the games, dance or alike activities. She keeps on studying to attain her dreams to become self reliant.
She aspires to pursue for training in Nursing after completing studies of Higher Secondary (12th standard) level. Thus she dreams to become a nurse and serve the rural people in various remote corners.
* Names of all individuals altered to maintain safety & privacy
We are grateful to all those who continued supporting the Noble Cause of empowering the Adolescent Girls in the remote corners close to the forest infested Sunderbans. Yet we need to walk miles to reach our target of attaining more such girls in the remote villages.
We direly need your support in this regard. Please also tell your friends and spread the message for the needs of empowering such girls who have every possibility to bloom to be as responsible persons in the society.