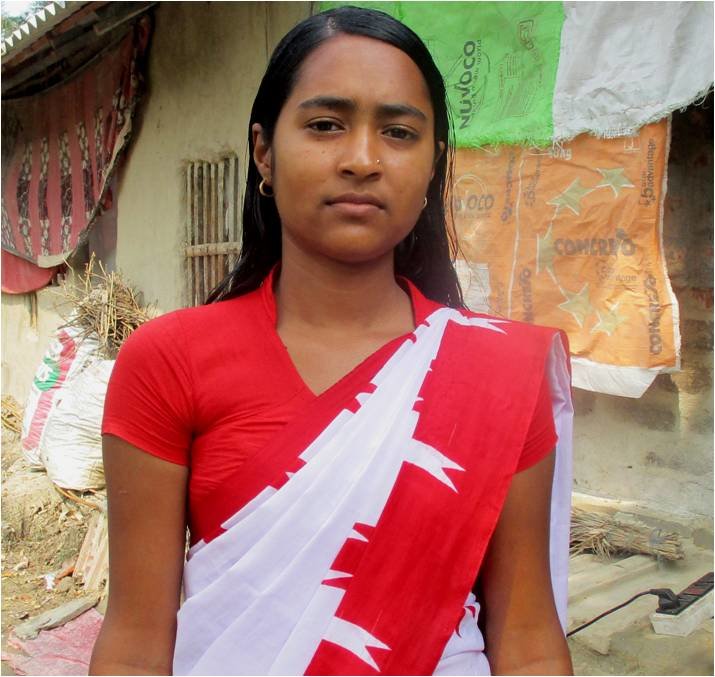 Can you recall Madhumita* Mandal?
She is the girl from remote Nandakumarpur village in forested Sunderbans delta in Mathurapur II Block within South 24 Parganas district, West Bengal crossed the First Milestone in her way to Education- succeeded in the first public test and 10th Standard Board Examination 'Madhyamik Pariksha' last year (in 2019)- we published the report on .
Madhumita* is associated with 'Nayantara' programme at the Nandakumarpur Nayantara Centre since 2017. Hailed from a family where sometimes people wait to have some Food items to come due to dearth of earning crossing the Milestone of Madhyamik Pariksha is surely a remarkable achievement for a girl like Madhumita*. She now has become 17.8 Years and studying in 11th standard at the closely located Nandakumarpur High School (Higher Secondary).
Madhumita*'s father is a farmer with a small landholding and also works as a daily wage labourer in other cultivation fields in the vicinity. He is the lone earner in the family and on an average earn around INR 3000.00- 3500.00 per month. Her mother a homemaker - manages the family expenses in such steep hardness with an everlasting smile. She also supports her husband in the farming activities.
Madhumita* is determined to continue her studies further and aspires to become a successful person, able to earn for her family with a dignified profession. Madhumita's parents are proud with her achievement and expressed their gratitude to Nayantara in guiding her. They aspire to see their daughter successful and will support her in all her futureventures.
Madhumita has plans to complete the Higher Secondary level education and go for training to become a Nurse by profession and serve the community with dignity holding her head up.
* Names of all individuals altered to maintain safety & privacy.
Sabuj Sangha's relentless effort to empower the adolescent girls belonging to marginalized vulnerable communities is now running 4 years. We are grateful to all those who continued supporting the Noble Cause of empowering the Adolescent Girls in the remote corners close to the forest infested Sunderbans. The support you made are utilized for their education, nutrition, trainings etc. to make them more self sufficient and build their dream career.
This efforts are also creating a bunch of girls who are acting as catalyst and watch dog oh the community who are fighting against the social menaces of Child Marriage, Girl Child ignorance, Exploitation in various ways etc.
Yet we need to walk miles to reach our target of attaining thousands such girls in the remote villages. We direly need your support more & more in this regard. Please also tell your friends and spread the message for the needs of empowering such girls who have every possibility to bloom to be as responsible persons in the society.