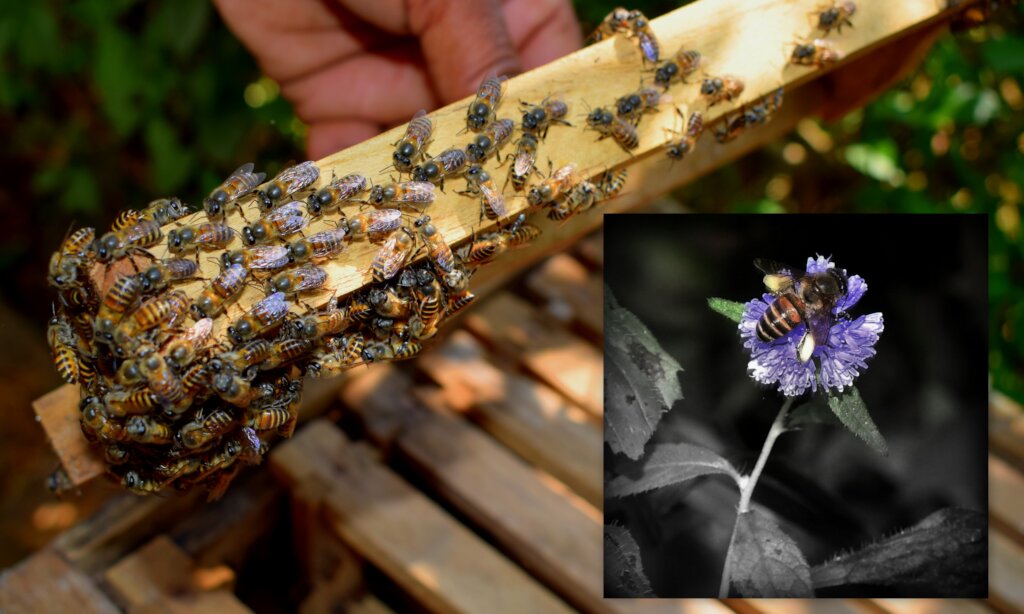 Hello Supporters,
Hope you all are doing good and are well connected and aware of what's happening in your surrounding or other places. I have been looking at news and posts on social media about 8 African Cheetah from Namibia introduced to Kuno National park, Gwalior on 17th September under the ''Project Cheetah''. The wild southern African cheetah was introduced in India or anywhere in the world for the first time. The purpose is to develop healthy population of cheetah in India, so that they can execute their functional role as a top predator. But will they survive as a foreign species introduced to different habitat? Well, Time is the only key that will give answers. But till then what already is happening can be shared with all of you.
Earlier, we shared the information about how small farmers are practicing bee keeping from ages to get honey of high nutritional and medicinal use from the Indian stingless bee and Apis cerana. But, during my recent field visit, it came to my knowledge that 50 wooden boxes cultured with Apis mellifera, a European honey bee has been transported to Sandipani Gurukul in Devruk from Goa. Those were, exported in such numbers for the first time in Western Ghats as per my knowledge.
We all are aware of Charles Darwin and Herbert Spencer's phrase '' Survival of the fittest'' which refers, it is not the strongest of the species that survives, not the most intelligent that survives, it is the one that is the most adaptable to change. But what if we human disrupt that natural process and introduce new species over the native one's?
Apis cerana is a native species common for beekeeping in rural communities in India, Sri Lanka, Myanmar and few other Asian countries. Rural communities are aided by these in many ways as they provide nutritional as well as economic and ecological security. For them it's not only part of their culture but also a natural heritage. On the other side Apis mellifera is popular among commercial beekeepers as they are known for more production of honey and bee wax than the Indian bee. If Apis mellifera produces large amount of honey, then why not to replace Apis cerana?
Introduction of Foreign species among native one can create chaos, there will be competition with the native pollinators for floral resources and nest sites, they can co-introduce pathogens that may infect native species and are capable of pollination of exotic weeds and disruption of pollination of native plants. Though Apis mellifera produce more honey but they pollinate largely on agriculture produce and favour monoculture (Uma Pratap and L.R Verma), which means they contribute slight to maintain highly biodiverse landscape of India.
In 2020, National Beekeeping and Honey Mission (NBHM) was launched as a component of The Atma Nirbhar Bharat initiative by the union government to increase the promotion of the development of scientific beekeeping and production of honey and related products to double the farmer's income. They introduced 5 Indian species and 1 European species Apis mellifera for this programme.
People from rural communities to higher government bodies are not aware of what impact it can cause to native species, because the impact of destruction is not noticeable enough right now but it will not take time to impact life of native species and us. Our initiative is about promoting traditional knowledge, native species over foreign one and create awareness to rural communities to follow their indigenous knowledge so that we can fulfil the goals of Bee Conservation Campaign.
Hope this information is alarming enough to understand the importance of our native bees.
So stay connected for more information and stories because nature never fails to surprise us with something new, and keep supporting our initiative.
Thanks a lot supporter once again.
References
https://lib.icimod.org/record/22855
ICIMOD publication; - Asian Bee and Beekeeping: Issues and Initiatives
https://nbb.gov.in/default.html ;-National Beekeeping and Honey Mission (NBHM)