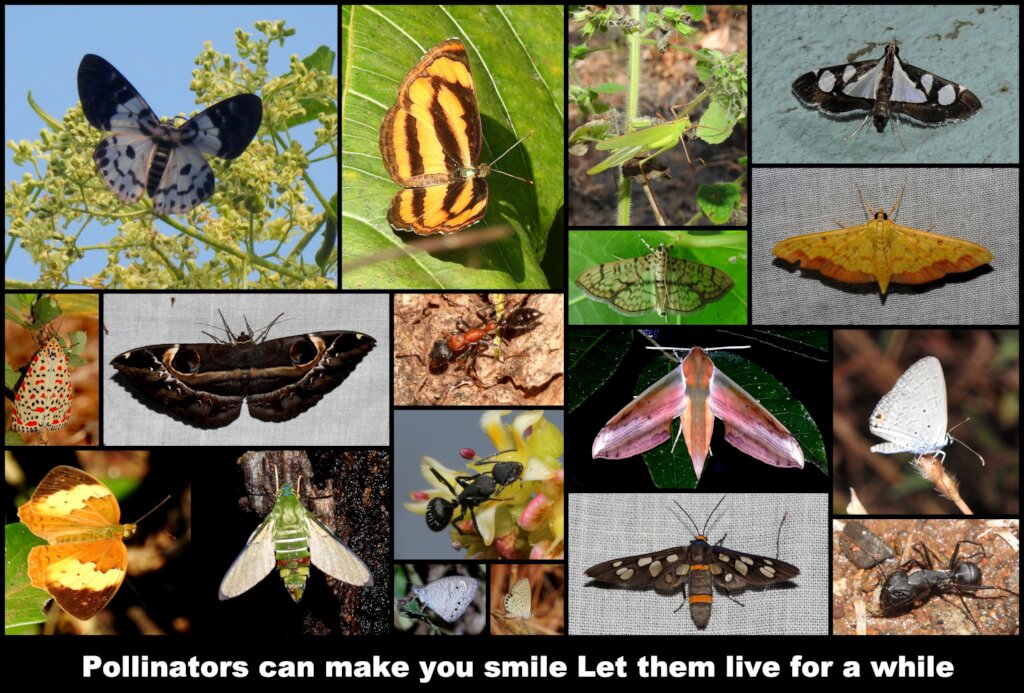 Dear Supporters,
We are proud to inform you that with your relentless support we have successfully brought under agreement more than 17 acres of private cashew orchards in Math Dhamapur village (4 orchards) having 700+ native cashew trees and a rich biodiversity of insects and other pollinators. To promote the cultivation of native species of cashew trees that are managed organically, AERF is identifying and signing Cashew Orchard Conservation Agreements with the orchard owners in the region. This initiative falls under the banner of Nature Connect India Pvt. Ltd, which is the business wing of AERF. By bringing these orchards under the agreement, NCIPL is trying to make sure that the farmers cultivating organic varieties get more incentive and support so that the idea of organic and sustainable farming could be promoted in the region. The first agreement was signed in the Q2 of 2021. As the word spread, we are witnessing many more farmers/orchard owners who want to bring their orchard under NCIPL's Cashew Conservation Agreements. Now that sounds like a beginning of a successful conservation story, doesn't it?
After this success, we started exploring the new sites so that we could manage them better. Obviously, our focus is on the Honey bees. But, we should not ignore "Pollinator-mediated selection". It is an important evolutionary process occurring in flowering plants, in which the foraging behavior of pollinators differently selects for certain floral traits. On the other hand, we should also not ignore "Pollination syndromes". This is a suite of flower traits that have evolved in response to natural selection imposed by different pollen vectors.
Pollen vectors can be abiotic like wind & water or biotic, such as birds, bees, and other insects. Considering the importance of pollen vectors we explore our new sites to document other important pollinators. The results are amazing.
In total, we recorded around 25 bird species. Out of these 25 bird species 13 species like Common Iora, Grey-capped Emerald Dove, Indian Blackbird, Indian Golden Oriole, Jungle Babbler, Purple Sunbird, Thick-billed Flowerpecker and Yellow-footed green pigeon shows nectarivorous diet guild. Apart from this we also recorded around 33 species of Butterflies, 16 species of Moths, 10 species of Ants, 3 species of Crickets and Katydids, 3 species of Wasps and Hornets, and 2 species of forest cockroaches. All of these species play an equally important role in pollination.
During this quarter we not only focused on the pollinators but also documented the herb and shrub diversity from these sites. Also, using available literature we tried to prepare a list of flowering species with their flowering seasons. Our key findings from this region will be added to this list and that will help to create insect-friendly foraging grounds in and around targeted sites. The plantation of flowering species will be carried out during the monsoons.
For a better understanding, we have attached a detailed excel datasheet containing all of our findings with this document. Also, we are sharing a collage of these beauties that will be a treat to your eyes.
We will continue such surveys throughout the next quarter to understand the seasonal pattern of pollinator movement, which will be the key to pick out flowering plants that will be the highlight of the foraging grounds that we wish to introduce in the cashew orchards.
Simultaneously, the following activities are proposed for the 1st quarter of 2022:
1) Training of our Bee Champions.
2) Procuring Honey Bee Boxes and PPEs utilizing the funds that we have received from our environmentally friendly donors.
3) Sourcing flowering species from the nurseries.
With your continued support, we strive to conserve not only Honey Bees but also all the other important yet lesser-known pollinators in Northern Western Ghats, India.
Pollinators can make you smile. Let them live for a while!!
PS – Feel free to write to us in case you want to know more about our activities and approach.