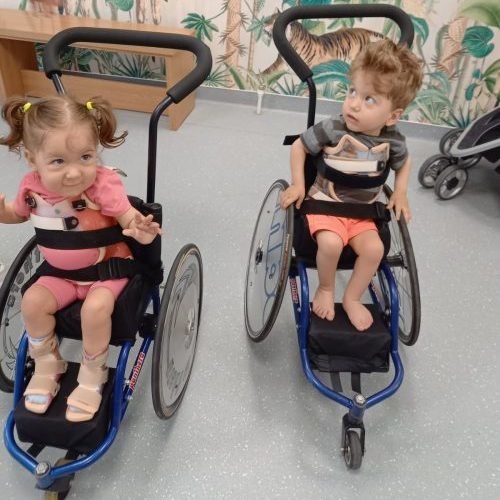 Dear friend,
Here we are, at the first 2021 update on the Wheelchair Fund in Romania! I am so happy we got to this point, where we re-started our wheelchair donations and independent living training activities for children and adults with mobility disabilities in Romania.
Galina and Mihai are two sweet 2-year old twins who share the same diagnosis, coming from quadruplets and being the two who have mobility disabilities. Now, thanks to you and other donors to the Wheelchair Fund, Galina and Mihai also share the joy of discovering freedom of movement. Read here the story of Galina and Mihai, the twins #TeamMotivation recently helped through the Wheelchair Fund, with light, kid-sized, active-style wheelchairs for children provided by our friends from Agape Foundation in Sweden.
As for the total impact of our Wheelchair Fund in 2021, I can proudly say that, by June`s end, we donated 493 wheelchairs funded through the Wheelchair Fund (donations from 2020 for 2021). Of these, 5 wheelchairs funded on GlobalGiving were also given out to users who needed them. Together, we #changelives for the better!
I was telling you before that in June we also started to organize peer group independent living camps (2 weeks) and one-day sessions (caravans) after a two year break imposed by the pandemic. These events bring togehter wheelchair users who received a wheelchair through the Wheelchair Fund, or who need one now, with Motivation`s peer group independent living trainers who are experienced wheelchair users themselves. You can see here how wheelchair users as well as our regional teams enjoyed coming back to the work they love most!
Stay with us to #changelives for the better. Turn your donation into a recurring gift to the Wheelchair Fund 2021. We will continue updating you on our work. As a bonus, each time your donations amount to the value of one wheelchair donated to the Wheelchair Fund, I will let you know through a special message dedicated to you and you alone!
I look forward for us reaching this milestone together, and to many similar future milestones, each representing lives changed for the better!
Until then, stay health, stay safe, and follow your heart!
Yours,
Anca from #TeamMotivation
a.beudean@motivation.ro
www.facebook.com/FundatiaMotivationRomania
Links: