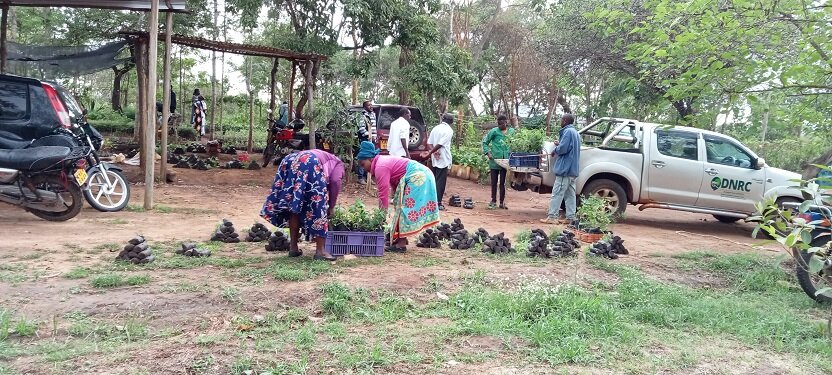 INTRODUCTION
Much greetings from Drylands Natural Resources (DNRC) family. Once again we are happy to share with you the progress report on Moringa to support Kenyan Farmers healthy and wealth. DNRC main goals are focused on environmental regeneration, community regeneration and economic regeneration. Moringa project builds on these goals in that by promoting its planting, processing and utilization addresses these goals. When we plant moringa as a tree, it helps to build the soil and the microclimate in the community. When we bring our farmers together and teach them about moringa and show them how to utilize it as food supplements we are regenerating the community. When we process and sell it for income, we are regenerating the community's livelihoods. There are tangible impacts amongst the farmer groups we have been working with over the last 10 years promoting moringa and other tree species. The moringa trees have created microclimate and farmers have been using the leaves for nutrition and selling seeds to an international market. DNRC has been aggregating moringa seeds for the international market and recently we got an oil press machine to extract oil for local markets. During this reporting quarter, we were busy managing moringa seedlings to be issued to the farmers during March April rains, issuing moringa seedlings to the farmers and other tree seedlings and aggregating moringa seeds for pressing and export. Below a detailed activity during the reporting quarter
TREE NURSERY SEEDLINGS MANAGEMENT
During this reporting quarter, we were busy tending moringa seedlings together with other seedlings in the nursery as they await issuance to the farmers and schools. Key activities included; weeding, watering and root pruning.
ISSUANCE OF MORINGA SEEDLINGS
DNRC is currently working with 800 plus smallholder farmers and 18 schools. During this March – April, rains, DNRC team was busy giving out moringa seedlings and other species for planting both in schools and individual farmers farms. This process is still ongoing as we continue to receive more rains.
BUYING MORINGA SEEDS
During this reporting period, we continued to aggregate moringa seedlings from DNRC farmers for an international order of 1000kgs. We were able to aggregate and fulfil this order during this quarter.
MORINGA OIL EXTRACTION
During this period, DNRC managed to get an oil pressing machine and we have been able to test the machine and its working great. We shall be pressing moringa oil and other oils for domestic use by our farmers and sell extra for income and sustainability for our programs.
CHALLENGES
Water shortage and lack of sustainable source for the same for our expanding tree planting project remain our main challenge. We continue to appeal for a borehole to sort out this problem sustainably.
PLAN FOR THE NEXT QUARTER
Propagate more moringa seedlings for the next quarter issuance
Continue collecting/aggregating more moringa seeds for subsequent orders
Moringa oil pressing as need arises