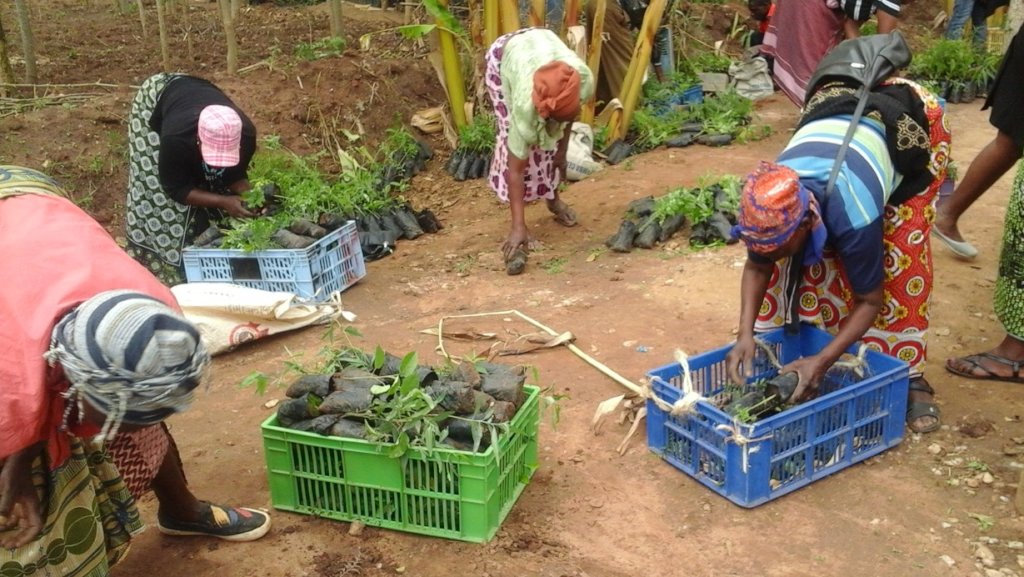 Introduction
Happy New Year. We trust your year is off for a good start. We are happy to share with you a progress report on Moringa to support Kenyan farmers' health and wealth. We must say 2017 was a good year for our 600 farmers and 6 schools we serve and DNRC as an organization. Your kind continuous support to this project has enabled us to continue to plant more moringa trees while tending already those existing in the farmer's farms. The farmers continue to harvest moringa leaves for domestic consumption and for sale through DNRC. In this case they are therefore improving their health and increasing their wealth.
During the quarter, main activities for this project included mainly maintaining Moringa seedlings in the nursery, issuing the moringa seedlings during November December rains and follows to the farmers farms to advice and bench mark as they plant more moringa trees. Below are the detailed activities taken during the quarter.
Tree nursery activities
In the beginning of the year, we had targeted to propagate 5000 moringa seedlings to be issued to the 600 farmers and the 6 schools to plant during November-December rains. Before the rains came, we had already 6,000 moringa seedlings flourishing in our tree nursery ready for issuance. So we maintained these seedlings through watering and weeding till the rains came. DNRC waits until there is enough moisture on the ground then we announce to the farmers to come and pick the seedlings so that when they plant don't water because water is a big problem and our farmers are in dryland. Through this innovative way we have been able to attain over 80% survival rates.( see attached picture of our nursery before issuance).
Issuance of the Moringa seedlings
During November rains, we were able to issue to our farmers and schools 6000 moringa seedlings to plant in their plots as they expand moringa acreage. Since we work with 13 groups and 6 schools, we schedule the issuance such a way that each group has their time and date to come for the seedlings so that there is order and efficiency.(see attached picture of farmers picking moringa seedlings and other species)
Follows and trainings
DNRC model is that before farmers plant the seedlings, they prepare their land and holes and our staff follow up to see that is done and train them on farm. It's during this time we also get to know how many seedlings a farmer is able to plant depending on his or her capacity. So during this quarter, all the 600 farmers were visited and the schools and trained on farm.
Challenges
Water scarcity remain our major challenge and also transport. Given resources, DNRC would love to have sustainable source of water and also a vehicle for transport.
Focus for the next quarter.
Moringa propagation and maintenance
Trainings and outreach work