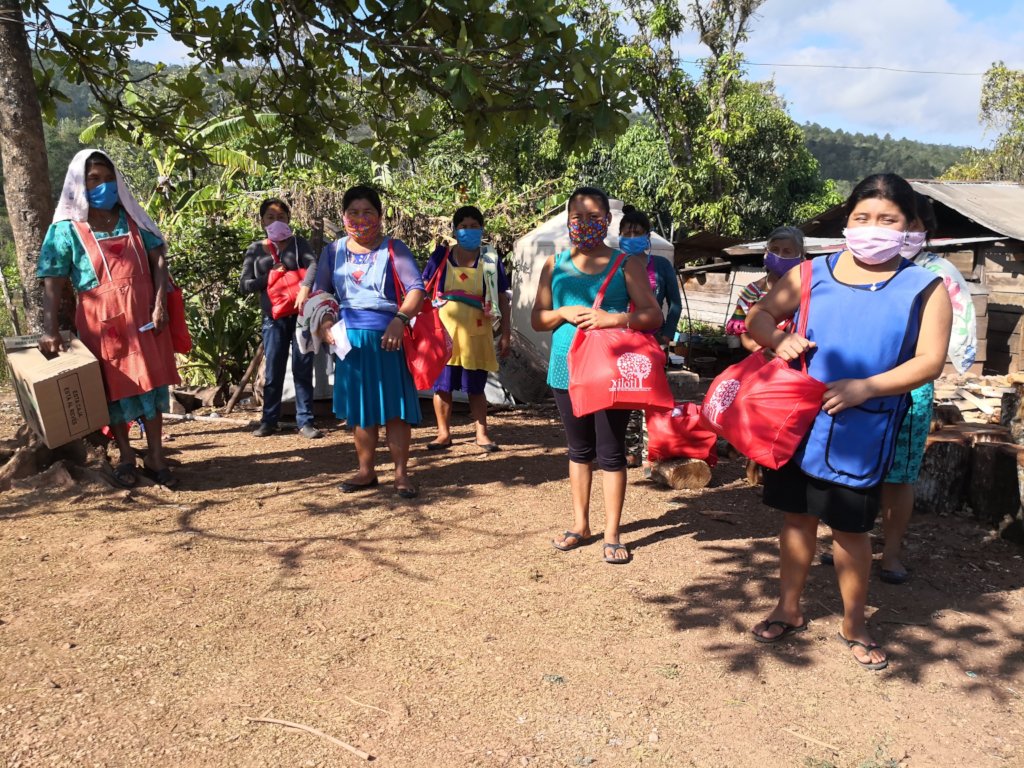 ***English version***
COVID19 relief for families in Ocosingo, Chiapas
COVID19 has come to change the lives of all people in the world, but indigenous communities are the most affected by this type of pandemic, the lack of access to basic services such as health, drinking water and information, make it more difficult for they.
Thanks to the donations that we have received to our cause in these months of contingency, we have supported families in the Lacandon jungle with cleaning and protection supplies so that they can use them in their daily lives.
In these months during the collection time it has been achieved:
Deliver a kit of reusable mouth covers and cleaning supplies to 40 families in the communities of Patathe, las Tazas, San Miguel and Atotonilco, in the municipality of Ocosingo, Chiapas.
Give a seed kit to each family with various species of short-cycle vegetables.
Print informative brochures on prevention measures and avoiding the spread of the virus, as well as the correct use and care of the reusable mouth cover.
It should be noted that during the delivery of supplies we seek to comply with the recommended prevention measures, as well as invite families to do the same.
Again, thank you for being a part and so that we can contribute to the families that need it the most to overcome the pandemic.
We invite you to visit our other projects at https://www.globalgiving.org/donate/61768/xilotl-asociacion-para-el-desarrollo-social-a-c/
***Versión en Español***
Alivio del COVID19 para familias de Ocosingo, Chiapas
La COVID19 ha venido a cambiar la vida de todas las personas en el mundo, pero las comunidades indígenas son las más afectadas ante este tipo de pandemias, la falta acceso a servicios básico como salud, agua potable e información, hacen que sea más difícil para ellos.
Gracias a las donaciones que hemos recibido a nuestra causa en estos meses de contingencia, hemos apoyado a familias de la selva lacandona con suministros de limpieza y protección, para que puedan utilizarlos en su vida cotidiana.
En estos meses durante el tiempo de recaudación se ha logrado:
Entregar un kit de cubre-bocas reutilizables y artículos de limpieza a 40 familias de las comunidades de Patathe, las Tazas, San Miguel y Atotonilco, del municipio de Ocosingo, Chiapas.
Entregar un kit de semillas a cada familia con diversas especies de vegetales de ciclo corto.
Imprimir folletos informativos sobre las medidas de prevención y evitar el contagio del virus, al igual que el uso correcto y cuidados del cubre-boca reutilizable.
Cabe resaltar que durante la entrega de los insumos buscamos cumplir con las medidas de prevención recomendadas, al igual que invitar a las familias a realizar lo mismo.
De nuevo, gracias por ser parte y que así podamos aportar a las familias que más lo necesitan lo necesario para sobre llevar la pandemia.
Te invitamos a visitar nuestros otros proyectos en https://www.globalgiving.org/donate/61768/xilotl-asociacion-para-el-desarrollo-social-a-c/