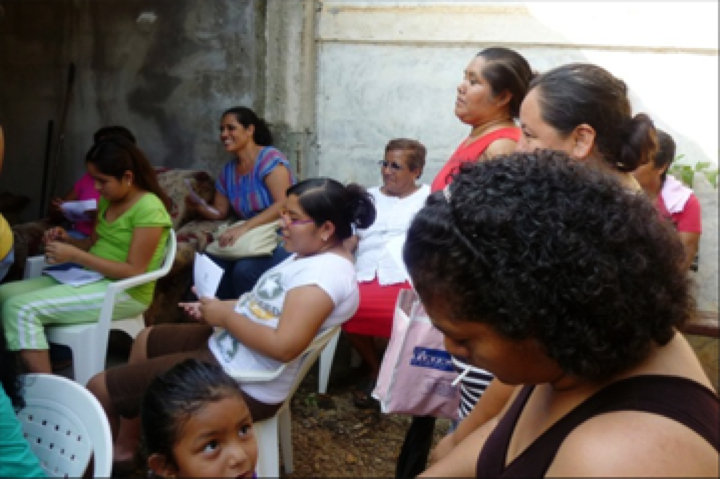 August and September were very exciting months both for IMIFAP - Yo quiero, yo puedo and for community banks in Tuxtepec, Oaxaca. As the month of August ended, IMIFAP - Yo quiero, yo puedo received some incredible news - we won the Juscelino Kubischeck Award of Merit for Regional Development in Latin America and the Caribbean 2011, which is awarded annually by the Inter-American Development Bank (IDB)! There were 337 nominations and four winners in total. IMIFAP – Yo quiero, yo puedo is the only winner from Mexico and shares the award in the social, cultural, and scientific category with the Salesian Project for the Street Children of Ecuador.

We also received positive reports from each of the four community banks established through our program in Tuxtepec, Oaxaca. Savings increased in the bank el Sureste, and the bank 5 de Mayo reported good results at the end of its cycle and an increase in members. Members of El Banco Paraíso were highly motivated by a workshop they attended, given by an IMIFAP - Yo quiero, yo puedo facilitator, and also reported that the bank was operating smoothly and continues to recruit new members. El Banco de la Colonia Obrera reported a good month, although 16 of its members had to withdraw from participation in the bank due to personal problems. On September 11th, El Banco de la Colonia Obrera had a meeting to discuss the end of their cycle, and accept new members. As of the end of September of this year, the four banks had a combined total accumulated savings of $253,113 MXN (about $19,000 US). All of these resources will allow new businesses to begin and allow established businesses to continue to grow and flourish.

Your continued support to our microfinance projects in Oaxaca, Hidalgo, Michoacán, and Puebla will help to allow individuals in these marginalized communities to lift themselves out of poverty and create better lives for themselves in a sustainable manner. Thank you for your donation!
_________________________________________________________________________________
Los meses de agosto y septiembre fueron muy emocionantes para el equipo del IMIFAP - Yo quiero, yo puedo, así como para los bancos comunitarios de Tuxtepec, Oaxaca. A fines de septiembre, en el IMIFAP - Yo quiero, yo puedo recibimos noticias increíbles: ganamos el Premio Mérito al Desarrollo Regional de América Latina y el Caribe Juscelino Kubitschek 2011, que otorga el Banco Interamericano de Desarrollo (BID). El IMIFAP - Yo quiero, yo puedo fue el único ganador de México, y compartió esta edición del premio en la categoría "Social, Cultural y Científica" con la Fundación Proyecto Salesiano "Chicos de la Calle" de Ecuador.
También hemos recibido informes positivos de cada uno de los cuatro bancos comunitarios, establecidos a través de nuestro programa de microfinanzas en Tuxtepec, Oaxaca. En el banco el Sureste se registraron más préstamos que ahorros al inicio del mes, y se dio seguimiento a la recuperación de los préstamos para subsanar la situación financiera del banco. Por su parte, el banco 5 de Mayo cerró su ciclo en este mes y reflejó buenos resultados; incluso hubo un incremento en el número de socias. En cuanto al banco El Paraíso, los integrantes se encontraban aún muy motivados por el taller de formación recibido por parte del instituto; sus operaciones van por buen camino y también se registraron nuevos socios. El banco de la Colonia Obrera también registró un buen funcionamiento, aunque 16 socios suspendieron sus ahorros por problemas personales. El pasado 11 de septiembre tuvieron una reunión para informar los resultados del término de su ciclo, y aceptaron la integración de nuevos socios. A finales de septiembre, los cuatro bancos tenían un combinado total de ahorro acumulado de $253,113 pesos ($19,000 dólares). Todos estos recursos permitirán la continuación de la creación de empresas nuevas y el crecimiento y florecimiento de las empresas establecidas.
Su apoyo continuo a nuestros proyectos de microfinanzas en Oaxaca, Hidalgo, Michoacán y Puebla, ayudará a las personas de estas comunidades marginadas, a salir por sí mismas de la pobreza y crear mejores condiciones de vida de manera sostenible. ¡Gracias por su donación!
Links: