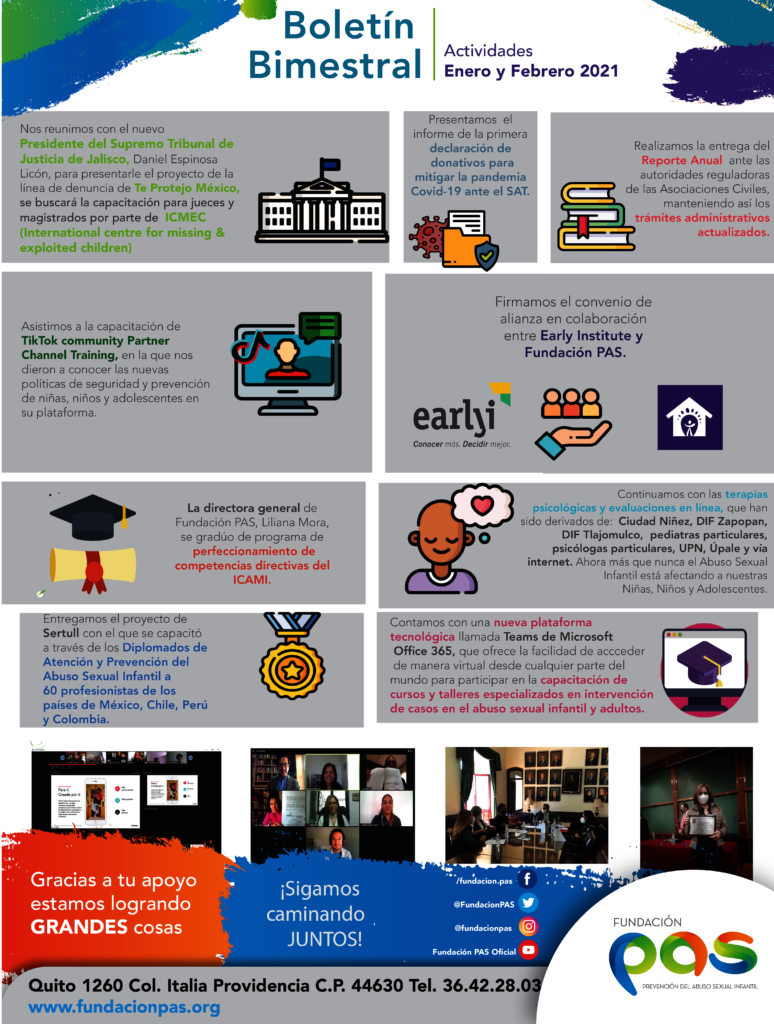 Activities January and February 2021
We met with the new President of the Supreme Court of Justice of Jalisco, Daniel Espinosa Licón, to present the project "Te Protejo México" online, and we will provide training for judges and magistrates from ICMEC (International Center for Missing & Exploited Children).
We present the report of the first declaration of donations to mitigate the Covid-19 pandemic to the SAT.
We submit the Annual Report to the regulatory authorities of the Civil Associations, keeping the administrative procedures up to date.
We attended the Tiktok community Partner Channel Training, where we were introduced to the new safety and prevention policies for children and adolescents on their platform.
We signed the partnership agreement between Early Institute and PAS Foundation.
The general director of Fundación PAS, Liliana Mora, graduated from ICAMI's management skills development program.
We continue with psychological therapies and online evaluations, which have been referred from: Ciudad Niñez, DIF Zapopan, DIF Tlajomulco, private pediatricians, private psychologists, UPN, Úpale and vía internet. Now more than ever, child sexual abuse is affecting our children and adolescents.
We delivered the Sertull project with which 60 professionals from Mexico, Chile, Peru and Colombia were trained through the Diploma in Care and Prevention of Child Sexual Abuse.
We have a new technological platform called Teams of Microsoft Office 365, which offers the facility to access virtually from anywhere in the world to participate in training courses and workshops specialized in intervention in cases of child and adult sexual abuse.
Thanks to your support we are achieving GREAT things.
Let's keep walking together!