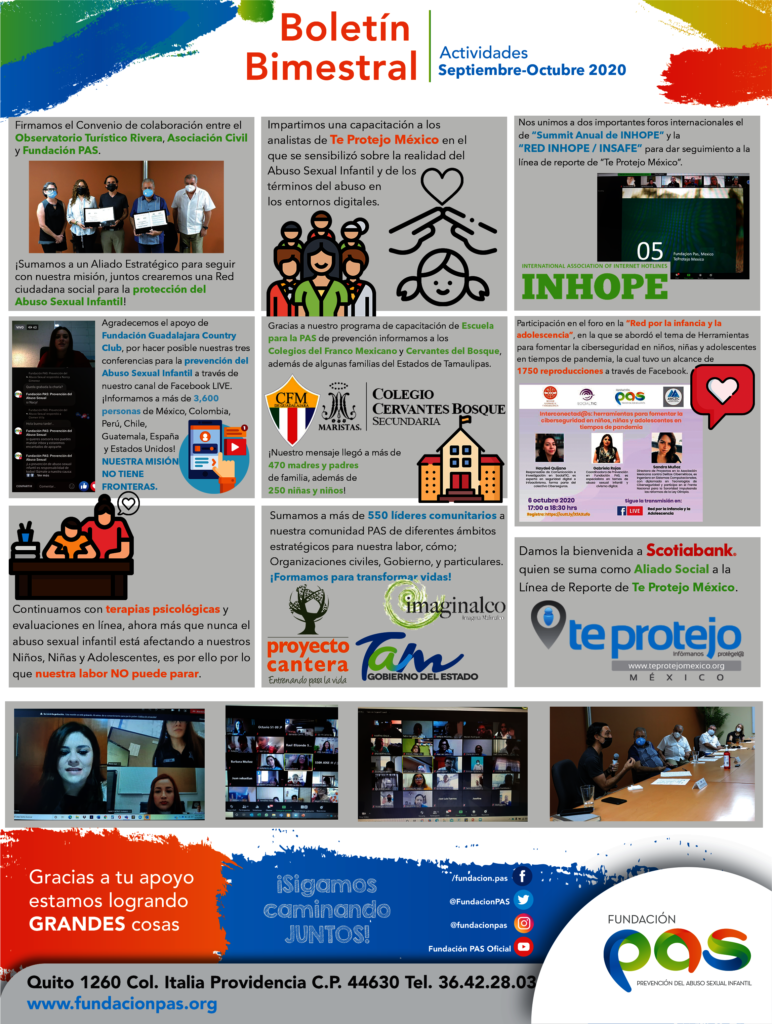 -We signed the collaboration agreement between the Rivera Tourism Observatory, Civil Association and PAS Foundation.
-We are grateful for the support of Fundación Guadalajara Country Club, for making possible our conferences for the prevention of Child Sexual Abuse through our Facebook LIVE channel. We informed more than 2,600 people from Mexico, Colombia, Peru, Chile, Guatemala, Spain and the United States. Our mission has no borders.
-We continue with psychological therapies and online evaluations, now more than ever child sexual abuse is affecting our children and teenagers, that is why our work cannot stop.
-We provided training to the analysts of Te Protejo Mexico where we sensitized about the reality of Child Sexual Abuse and the terms of abuse in digital environments.
-Thanks to our informative prevention PAS training program to the Franco Mexicano and Cervantes del Bosque Schools, as well as to some families in the State of Tamaulipas, ¡our message reached more than 470 mothers and fathers and 250 children!
-We added more than 550 community leaders of our PAS community from different strategic areas for our work, such as: Civil organizations, Government, and Private organizations ¡we train to transform lives!
-We joined two important international forums, the "INHOPE Annual Summit" and the " INHOPE RED/ INSAFE" to follow up on the reporting line of "Te Protejo México".
Participation in the forum "Network for Children and Adolescents", which discussed the topic of Tools to improve cybersecurity in children and teenagers in times of pandemic, which had a reach of 1750 reproductions through Facebook.
- We welcome Scotiabank as a social ally to Te Protejo Mexico's reporting line.
Links: