Project Report

| May 26, 2023
Digital tools used with fishing communities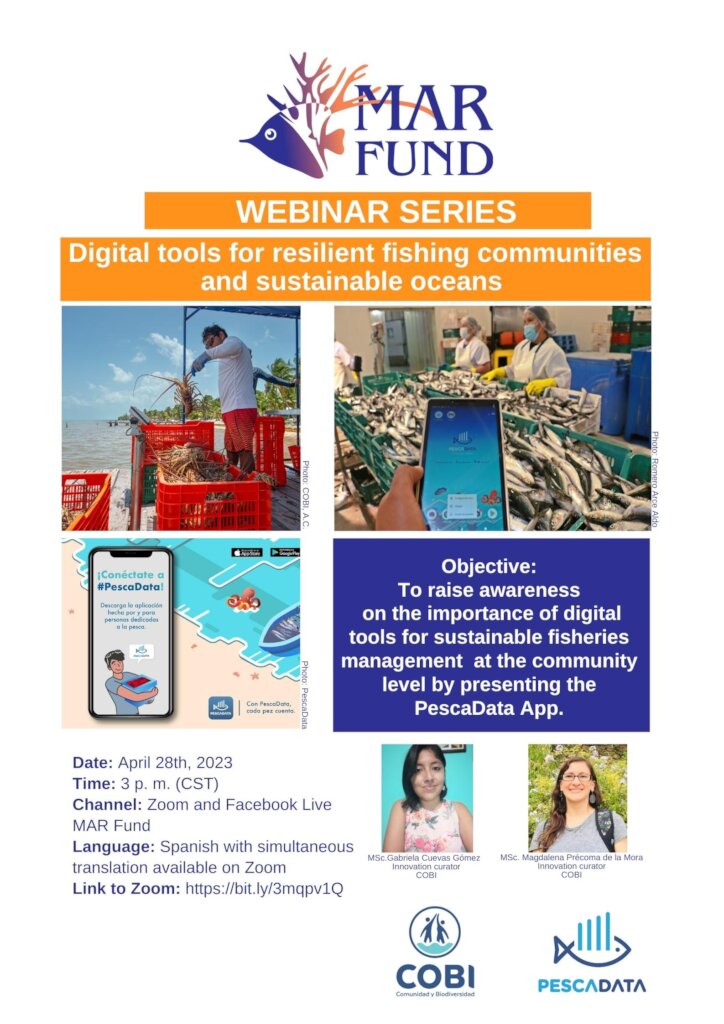 As part of MAR Fund's webinar series, where partners are invited to present results, lessons learnt, experiences and share information regarding projects they have developed, the Comunidad y Biodiversidad, A. C. (COBI) presented their work on digital tools for resilient fishing communities and sustainable oceans.
This webinar was carried out on April 28th, 2023 with the participation of 46 people and the goal was for COBI to raise awareness on the importance of digital tools for sustainable fisheries management at the community level.
In recent years, innovation and technologies have progressed and are permeating all sectors, including the fishing industry. In order to reduce the digital gap in the fishing sector, the involvement of fishers (men and women) in these changes is vital. Furthermore, the importance of being connected as a fishing sector is essential to co-create, scale, and implement solutions for the recovery of marine resources, as well as the resilience and well-being of the communities themselves.
COBI presented the importance of integrating digital tools such as PescaData for the sustainable management of fisheries. This application, used to systematize information and link the fishing sector, empowers the community, which participates in science-based decision-making for the sustainability of small-scale fisheries, through access to fishing information and data.
We continue to work with the fishing sector, providing tools that will help them manage their resources and empower them to make decisions that will support them and future generations.
You can find more information on the PescaData tool here: www.pescadata.org
If you are interested on viewing the webinar, you can find the recording here: https://marfund.org/en/mar-fund-events/#Seminar9Recording
We will keep you posted on any other community fisheries topic presented in MAR Fund's Webinar Series.
The MAR Fund Team.